Marcus Denmon wills Tigers to OT win
December, 9, 2010
12/09/10
8:22
PM ET
Missouri coach Mike Anderson didn't expect Marcus Denmon to play against Vanderbilt on Wednesday after hearing the news that his cousin, Marion, had died a day earlier from gunshot wounds in a Kansas City crossfire.
"I was surprised that he came back,'' Anderson said on Thursday morning about Denmon. "I could tell he had a heavy heart. I could tell in practice.''
[+] Enlarge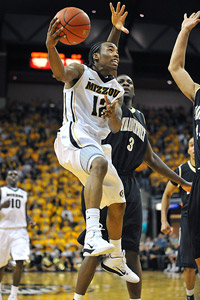 Denny Medley/US PresswireMarcus Denmon had 21 points, 6 rebounds, 4 assists and 2 steals in Mizzou's win over Vandy.
Basketball doesn't compare to that grief. Nothing does. But Denmon was able to channel his pain into production, albeit for a few hours, on the court. He was focused in the second half and in overtime of a thrilling 85-82 win over Vanderbilt -- Missouri's second OT game in a week. The Tigers lost on Nov. 30 at Kansas City's Sprint Center in overtime to Georgetown.
Anderson said that poor fundamental basketball plays and clock management issues led to the loss to the Hoyas. But those were fixed in the home win over the Commodores Wednesday night.
One of the reasons the Tigers won was Denmon.
He converted a three-point play off a steal of a Brad Tinsley telegraphed pass to the side. That play took an 82-82 game and ended it with an 85-82 final, after Tinsley's last-second, game-tying 3-pointer on the ensuing possession hit the back of the rim. Denmon had made a 3-pointer with 1:20 remaining in overtime to give the Tigers an 80-79 lead before the teams traded baskets and a free throw, which forced the tie with eight seconds remaining.
Denmon, a junior guard, finished with 21 points, 6 rebounds, 4 assists and 2 steals for the 7-1 Tigers. "He willed us to that win,'' Anderson said. "He is starting to become one of the leaders. He's more vocal now. It just tells you what kind of player Marcus Denmon has become. He wants to be that guy. He's one of the guys that isn't just talking about it but actually doing it. And it's not just on offense but also defense. He's doing all the little things.''
Anderson said that during the latter part of the second half and overtime, it was Denmon who came to him in a timeout and said he wanted to guard Vandy's star forward Jeffery Taylor.
"That showed me we're starting to get it; the players are getting it. They want to take ownership, be a leader and make plays,'' Anderson said.
Anderson and Denmon had a quiet conversation after the game. Denmon wasn't made available to the media late Wednesday night. He said he wasn't sure of the funeral arrangements but that the team would know soon. You can expect Mizzou to support the Denmon family in any way possible. "He understands that we're his family, too,'' Anderson said. "His teammates are there for him, as well.''
The Tigers have been on ESPNU twice (Georgetown and Vandy) but haven't had the national stage as much as other top-15 teams. The play of junior college transfer forward Ricardo Ratliffe (14 points and nine boards against Vandy), and at times Kim English (six boards) and Michael Dixon (15 points versus Vandy), has been consistent enough.
The heralded freshmen class, led by guard Phil Pressey, has had its moments but will clearly take a leap up if Tony Mitchell is eligible in January. Anderson said Mitchell, the ESPNU top 50, 6-foot-8 forward out of L.G. Pinkston High in Texas, is at home while seeing if he can get through the NCAA Eligibility Center in time to play this season.
"We're still hopeful,'' Anderson said. The Tigers are also trying to integrate former starter Justin Safford, who tore his left ACL last February, back into the lineup. "He's at 75 to 80 percent,'' Anderson said. "We're getting everybody's best shot. We've got a tough schedule. I know we're a young team.''
The Tigers beat Pac-10 bottom-dweller Oregon by three points on the road Dec. 2. They also took out a potential mid-level Atlantic 10 team in La Salle. The signature victory came against Vandy, and the near-miss to the Hoyas will go down as a quality loss. Important potential power-rating games remain against Oral Roberts (Dec. 16), against No. 17 Illinois (Dec. 22) in St. Louis in the Braggin' Rights rivalry and then a sneaky, tough game against Old Dominion on Dec. 30 in advance of opening the Big 12 schedule at Colorado on Jan. 8.
"I just want us to get better, " Anderson said. "We're coming together. Against Georgetown, we were up four. We fouled, we missed free throws and then saved the basketball [under their own basket] when we should have thrown it out or knocked it out of bounds. Those were mental errors. We've had growing pains. We have a lot of new faces. It's a thrill-a-minute here.''
Anderson's mantra is the fastest 40 minutes in basketball, a takeoff of his mentor Nolan Richardson's 40 minutes of hell at Arkansas and Tulsa.
While at times the fastest 40 minutes can lead to control issues by not working the clock ("sometimes the clock should be your friend,'' Anderson said) -- like scoring too quickly against Georgetown in the final minute -- the Tigers are a good watch every time they're on TV. "We didn't panic,'' Anderson said of the Vandy game. "We were down and we were in attack mode, but we made the right plays and the ball was in the right guys' hands. We were fortunate because the shot at the end of regulation [by Tinsley] and at the end of the overtime [by Tinsley] nearly went in.
"We're building confidence and we're fortunate. We made plays. Marcus got us going and ignited us. Vanderbilt is really good. They're going to beat a lot of people.''
I told Anderson that his team is a good watch. He agreed.
But it's only an appropriate label if they win, which they are right now. That will likely continue at a high percentage throughout the season.