Tough scheduling taking its toll on some
December, 10, 2010
12/10/10
2:25
PM ET
Butler, Gonzaga and Michigan State have scheduling down right.
Each team wants to play as many challenging games as possible, on the road, at neutral sites and at home.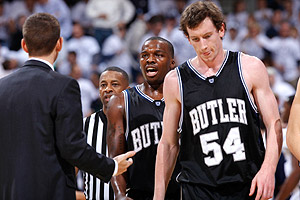 Joe Robbins/Getty ImagesButler has taken its lumps with a difficult early schedule, limping to a 4-4 start to the season.
And they should be applauded for it. The alternative -- a soft slate filled with automatic nonconference wins -- isn't much cause for excitement and certainly doesn't leave much to circle on one's résumé.
Sure, the Bulldogs, Zags and Spartans have all taken their lumps at this point in the season. You can argue that they have all underachieved based on the expectations each program had coming into the season. But they're taking chances at least, challenging themselves and learning exactly who they are and what they need to become.
"You know how we do this," said Ohio State athletic director Gene Smith, the chair of the NCAA tournament selection committee, in a text message Friday. "Total body of work: where you play. WHO YOU PLAY, and how did you do. Great games have been played."
It would be easy to get down on Butler because it lost at Louisville, to Duke in New Jersey and at Xavier on the final possession. Less excusable is a home loss to Evansville in overtime, despite being without top defensive guard Ronald Nored, who was out with concussion symptoms.
Opportunities still remain on Butler's schedule -- the Bulldogs still have Stanford at home before going to the Diamond Head Classic in Honolulu, where possible tournament teams (Mississippi State, Washington State, Florida State and Baylor) are also in the field. Having an undefeated Cleveland State in the Horizon League doesn't hurt, either. But the Bulldogs are getting better and it showed in the loss to Xavier. They also showed they're willing to play teams in power conferences and aren't shying away from difficult nonconference games on the road.
Smith said in a text that it's "way too early to really be down on anyone. Lots of games left and some teams are going to get better and better."
Butler coach Brad Stevens stands by his team's early-season schedule. He would much rather continue to challenge his team than take a pass with home games (which it can buy now more than ever) or dial down the load his team is facing. Butler didn't have to open the season at Louisville in its new KFC Yum! Center (although it's getting a return game) or take a rematch against Duke in New Jersey. But it did. And the Bulldogs will be better off and it should work in their favor if they don't win the Horizon League's automatic berth and are in consideration for an at-large bid.
"I'd rather play a great schedule so we know exactly what we have to improve on," Stevens said in a text Friday. "If you're hit with injuries it forces the other guys [into] playing, which can prove to be invaluable down the road."
Under Mark Few, Gonzaga has traditionally been a team that schedules up. The Zags are struggling this season with a schedule that the staff has called "unrelenting." Friday afternoon the Zags were boarding a plane to fly to South Bend, Ind., for a game at Notre Dame after playing at Washington State on Wednesday, a game the Zags lost handily, as they did to Illinois in Seattle. And while the Zags did beat Marquette in Kansas City, they lost to Kansas State a day earlier and at home to San Diego State the previous week. Losing four of their first eight games is not the norm in Spokane. But the Bulldogs haven't had their top player healthy in Elias Harris, who started the season missing the first week of practice with a shoulder injury, followed by an Achilles injury against SDSU in which he heard something pop, limiting how much he has been able to practice.
But Gonzaga wouldn't change a thing and, like Butler, needs to be viewed in a different prism with upcoming games against Baylor in Dallas, Xavier and Oklahoma State at home and at Wake Forest (which should be a win against the ACC's worst team) prior to beginning WCC play.
Michigan State coach Tom Izzo said after losing to Syracuse in the Jimmy V Classic on Tuesday night at Madison Square Garden that his team was a bit spent. The Spartans had odd start times and were in East Lansing, Maui, Durham, N.C., and New York over a three-plus week period. Korie Lucious was playing with a rib injury at one point and Kalin Lucas is still less than eight months removed from rupturing his Achilles. Still faced with upcoming games against Oakland and Texas, the Spartans wouldn't change a thing. Izzo said his teams are used to losing some nonconference games because he traditionally schedules so tough.
Smith's words should resonate: "Total body of work: where you play. WHO YOU PLAY, and how did you do." That's how teams should be judged. And if Butler, Gonzaga and Michigan State improve, each will credit playing a rough slate early for testing their players and proving to the selection committee, whether it's for an at-large bid or a high seed, that they did what they were supposed to do.