Bulldogs hit the road looking for wins
December, 13, 2010
12/13/10
12:02
PM ET
Mississippi State coach Rick Stansbury's grand scheduling plan -- jamming in as many games as possible to ensure the eligibility of Renardo Sidney for key nonconference games and Dee Bost for the SEC opener -- may have blown up on him when the Bulldogs lost to Florida Atlantic and East Tennessee State at home.
Or did it?
If the Bulldogs can rally and win in the Bahamas (Virginia Tech), Honolulu (Washington State and likely Baylor plus one more team, which could be Butler or Florida State) or Las Vegas (Saint Mary's), and if they can do well versus the SEC East, will stumbling at home without two key players really matter?
[+] Enlarge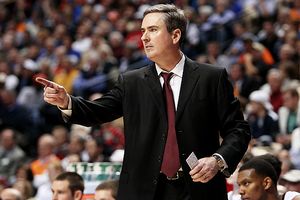 Andy Lyons/Getty ImagesRick Stansbury hopes a couple of bad home losses won't hurt MSU's NCAA chances in March.
Well, it depends on who is judging. "I always weighed the end of the season stronger,'' said Princeton AD Gary Walters, the former NCAA tournament selection committee chair. "I believe you build your team to becoming an effective team at the end of the season. You tweak, and you make adjustments. I view the last 12 games of the season with more weight than the beginning of the season. However, that doesn't mean you can't ignore what took place at the beginning of the season. As a member of the committee, you're responsible for putting in the best at-large teams in the tournament. I want to know the best at-large teams at tournament time.''
There's still a chance Mississippi State will be one of the top 37 at-large teams in March.
Right now the Bulldogs aren't close. "It's never good to drop games, but that's where we are right now,'' said Stansbury. "We're not darn good enough to give them away in the last 30 seconds. We've got to scratch them out and hope the NCAA looks at us and understands that we'll be a totally different team [in March] than we are now.''
The Bulldogs lost by two at home to FAU on Nov. 30. Then, in the first game of a bizarre five-games-in-five-nights stretch, they fell to East Tennessee State 63-62 on Saturday. On Sunday, Mississippi State beat North Carolina A&T 74-58.
Nicholls State is up next on Monday, followed by Alabama State on Tuesday. The fifth game is an exhibition game on Wednesday against Belhaven University, an NAIA school in Jackson, Miss. Sidney and Bost can play in that game.
Sidney, the highly touted 6-foot-10 sophomore, is eligible to start playing Saturday against the Hokies at the Atlantis resort on Paradise Island in the Bahamas. He'll also play in the Diamond Head Classic in Honolulu and then against the Gaels in Las Vegas -- all on one long trip. Sidney had to sit out the first nine games due to an amateurism violation. He was sidelined all of last season while the case was pending, but was allowed to practice with the team.
Bost had to sit out the first semester due to academics and then another nine games due to his violation of NBA draft rules. He declared but didn't withdraw in time for the new May 8 deadline.
"[Sidney] gives us something we don't have inside -- the ability to score,'' Stansbury said. Stansbury said the plan was to go with junior forward Elgin Bailey in place of Sidney. But Bailey, who played in only four games due to an ankle injury last season, is averaging six points and four rebounds per game. Forward Kodi Augustus is averaging 13.3 points and 9.3 rebounds but isn't getting consistent help.
"We can't score inside right now, so in turn people are playing us differently,'' Stansbury said. "We're having a hard time throwing the ball inside for easy baskets.''
Stansbury added Belhaven to give Sidney at least one competitive game before the Hokies. Sidney hasn't played in a game of consequence since high school in the winter of 2009.
"There will be a learning curve,'' Stansbury said. "He has to get in game shape, and we're hoping that we can throw the ball inside and he'll get fouled. He hasn't played a basketball game in a year and nine months. I know it's going to be an adjustment for him.''
Bost will be an immediate impact since he was the point guard last season. The Bulldogs have had options at guard with Riley Benock (3.7 apg), Brian Bryant (2.7 apg) and Twany Beckham (3.1 apg). But Bost is the leader on this squad and can play with guard Ravern Johnson (23.9 ppg) quite well.
"[Bost's] game is at a different level, and he makes everyone better,'' Stansbury said. "He's our best defender, and he can get others easy baskets. We don't do that well right now.''
With their two key additions, the Bulldogs will be judged differently on Jan. 1. But they still need to win games. The five upcoming nonconference games, from the Bahamas to Hawaii to Las Vegas, are key. But the games against the SEC East will be even more critical. And while the SEC still fights to keep itself in two divisions, schools like Mississippi State are hurt with the unbalanced schedule.
It plays at Tennessee, Kentucky and Georgia. The Bulldogs get Florida, Vanderbilt and South Carolina at home, but they may need to win at least one of the those three road games to enhance a damaged power rating.
"We're trying to go through this schedule,'' said Stansbury of the five straight games and the crazy trip from the Caribbean to Hawaii to Las Vegas and back to Starkville. "But there's no question that we're going to have to earn it. We get our whole team back Jan. 1. It will be a new season. If we take care of our business, we'll be fine.''