Game suffers with players bolting in-season
December, 14, 2010
12/14/10
5:14
PM ET
Memphis junior center Angel Garcia told coach Josh Pastner that the contractual offer to play professionally in Spain was too good to turn down.
So he's gone, just like that, eight games into the season.
Iowa State junior guard Lucca Staiger said nearly the same thing after two games in the Big 12 last season. He left the Cyclones for a professional contract in Germany.
[+] Enlarge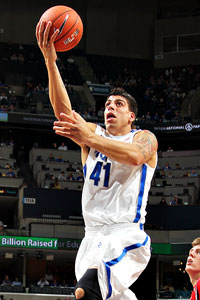 Joe Murphy/Getty ImagesAngel Garcia told Memphis his contract offer to play professionally in Spain was too good to turn down.
Nebraska sophomore forward Christian Standhardinger, who has missed the past four games due to an academic suspension, could be next after he meets with coach Doc Sadler later in the week.
When Florida sophomore guard Christian Drejer pulled this stunt in February 2004, it seemed like an anomaly.
Six years later, it seems like a trend.
"Two in less than a year? I think this, without question, has to make coaches think twice about recruiting kids from overseas,'' said Creighton coach Greg McDermott, who coached Iowa State last season. "It killed our team last year to lose your starting guard two games into the Big 12 season. What leverage do you have as a college coach? You have no leverage.''
Pastner didn't fight Garcia's decision. In his brief head-coaching tenure, he's shown that he will not stand for players who aren't buying into what he's selling/coaching. He didn't tolerate Jelan Kendrick's issues and jettisoned the talented freshman off the team. And when Garcia wanted to take his modest 6.1 ppg and 3.0 rpg overseas, Pastner couldn't say much.
Like Staiger and Drejer, Garcia is failing to fulfill a commitment. No one is asking any player, whether they're American or foreign, to play more than one season. But there is something to finishing what you started, whether you're playing soccer as an 8-year old or playing Division I basketball. You should finish a season, and if in March you're out the door for a professional contract, then go for it.
Garcia told Pastner what Staiger said to McDermott: It was an offer he couldn't refuse. But the players don't push the foreign teams to ask if the offer is available in March.
Pastner said Garcia was crying when he told his teammates. But with Kendrick gone and D.J. Stephens out with a groin injury, the Tigers are down to nine scholarship players. Hippolyte Tsafack will no longer redshirt and will replace Garcia up front. He'll play Thursday against Austin Peay.
"What this shows you is that if a guy is good enough, then at any time they can get a contract,'' Pastner said. "U.S. kids are year by year, but the foreign kids are more semester by semester.''
McDermott said he is concerned that it could get to the point where U.S. players are tempted to leave during the season, as well. "It's a scary trend, and it's bad for our game,'' McDermott said. "It's unfortunate. And it's a trend that we've had this all of a sudden twice in a short period of time.''
Nebraska has four foreign players. But Sadler doesn't see issues with the other three at this juncture (Jorge Brian Diaz, Andre Almeida and Christopher Niemann).
"The biggest question before any of us [coaches] commit a scholarship should be to get a commitment that the reason you're coming over here is for academics,'' Sadler said. "This is scary. The kid can play well in the first semester and leave. You've got to do a lot of research. Some kids are here with the wrong idea, just trying to improve their marketability over the season more than trying to get an education and help the name on the front of the jersey win.''
No one would argue against a foreign player's leaving after one season for a professional contract, even if he can't make it in the NBA (see: Vanderbilt's A.J. Ogilvy). But leaving during the season is essentially quitting on the players you've shared a locker room with for six months. "The saddest thing about it is the effect it has on the players on your team,'' Sadler said. "For the most part, they've been committed to the team and then a kid leaves midterm. It affects your team.''