Opportunity knocks for Dawgs, Gamecocks
December, 16, 2010
12/16/10
11:08
PM ET
Georgia and South Carolina are the two programs in the SEC East that probably get the least amount of publicity.
But that could change if the SEC East continues its upward climb.
Three of six East teams are ranked in the Top 25 (No. 7 Tennessee, No. 16 Kentucky and No. 24 Florida) and a fourth -- Vanderbilt -- has made its case to be included. South Carolina is 7-1 and its loss was at Michigan State on Nov. 16. The Gamecocks' double-OT victory at Western Kentucky could be a quality win, too. And beating rival Clemson at home keeps South Carolina moving in the right direction heading into Saturday's game at No. 2 Ohio State. The last test on the nonconference slate comes from suddenly surging Boston College on New Year's Day.
South Carolina coach Darrin Horn was prophetic when he promoted freshman point guard Bruce Ellington as Devan Downey's replacement. Ellington is the team's leading scorer (13.4 ppg) and assist man (4.1 apg).
"He's good, really good, an athletic point guard, and he's going to make plays when they count,'' Horn said. "He's been so good, and the scary part is he's going to be a lot better.''
[+] Enlarge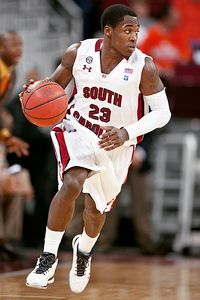 Jake Drake/Icon SMIAs Devan Downey's replacement at South Carolina, point guard Bruce Ellington is averaging a team-best 13.4 ppg.
The preseason expectation for South Carolina was sixth in the division because of Downey's departure.
Horn said he knew his team would compete from the first day of practice. "I never thought this team wouldn't bring it,'' Horn said.
The Gamecocks will have played four true road games before they hit the SEC schedule (at Michigan State, at Western Kentucky, at Ohio State and at Furman). The key for this team will be to survive a brutal SEC stretch (everyone will have something similar in the East) at Vanderbilt (Feb. 5), Florida (Feb. 9), Georgia (Feb. 12), at Tennessee (Feb. 16) and at Kentucky (Feb. 19).
Georgia coach Mark Fox has more talent at his disposal with preseason SEC player of the year Trey Thompkins. The forward missed the first month of the season with a high ankle sprain, and the Bulldogs stumbled in Orlando by losing in double overtime to Notre Dame and to then-No. 20 Temple. But those are losses to teams that will likely be in the NCAA tournament. Wins over Colorado, at Saint Louis, UAB and at Georgia Tech may not be against NCAA teams, but they showed Georgia's steady improvement.
The SEC West has two of the worst teams in major college basketball (Auburn and LSU), two average squads (Arkansas and Alabama) and two programs in Mississippi State (once it gets its whole team back Jan. 1) and erratic Ole Miss that can at least make runs as bubble teams.
But the SEC East by itself could place all six teams in the NCAA tournament, which would be a first for the conference, according to league spokesperson Craig Pinkerton.
"There are no bad teams,'' Fox said. "Every team in the SEC East is good. It's got to be the strongest from top to bottom ever in the SEC East.''
The reason for NCAA tournament optimism at Georgia and South Carolina is due to the quality schedules both teams with benefit from playing in the SEC East. Each SEC East team gets 10 games against potential NCAA teams. The SEC West teams have only six, three at home and three on the road. "I went and played at Michigan State without a return to get some national exposure. I'm going to Ohio State [and will get a return next season], and I know this year I'll get Georgia, Florida, Kentucky, Tennessee and Vanderbilt -- all at home,'' Horn said.
"That's 10 for sure résumé games in our division,'' said Fox, almost finishing Horn's statement. "I don't think the other power conferences, except the Big Ten, are as deep."
"I think if you win eight or nine games in the SEC, but four or five are within our division, which would be against NCAA tournament teams, [then you've got a great chance to get an at-large bid],'' Horn said. But he added that Georgia can't afford to lose a home game like Arkansas State, or South Carolina can't lose a home game against Jacksonville State.
The Bulldogs have options on offense with Thompkins, Gerald Robinson Jr., Travis Leslie and Jeremy Price, who are all capable of putting up more than 15 ppg. But their 3-point shooting (33.6 percent) is still suspect and the free throw shooting is mediocre (61.8 percent).
"Trey is probably at 95 percent right now, and once the league starts he'll be good to go,'' Fox said. "We had to reinvent our team when he got hurt [Thompkins missed the first three games]. And we had no time with Colorado, at Saint Louis, Orlando, UAB and at Georgia Tech. But I'm happy at 6-2. It could have been a disaster. We've got more guys who can score, and it takes the heat off a bit [from Thompkins and Leslie]. Both have to be good for us to do what we want to accomplish.''
And that's get to the NCAA tournament. This collection of Bulldogs still hasn't won in the postseason. Georgia has a tremendous opportunity to get out in front in the SEC East with a three-game homestand against Tennessee (Jan. 18), Mississippi State (Jan. 22) and Florida (Jan. 25) before a game at Kentucky (Jan. 29). The toughest sledding for the Bulldogs may come soon after with a nonconference home game versus Xavier on Feb. 8. They then visit South Carolina (Feb. 12), play Vanderbilt at home (Feb. 16), visit Tennessee (Feb. 19) and Florida (Feb. 24) and host South Carolina (Feb. 26).
"We have raised our programs at Georgia and South Carolina,'' said Fox, "where none of us are afraid to put our five against your five.''