Rick Pitino's style fits new challenge
December, 20, 2010
12/20/10
1:13
PM ET
Rick Pitino's up-tempo style should be a good fit for the Puerto Rican national team's current makeup, but Pitino still must overcome some hurdles to ensure that his voyage into international coaching is a success.
USA national team assistant coach and longtime Syracuse coach Jim Boeheim, for whom Pitino once worked, said his former pupil shouldn't have a hard time teaching the Puerto Rican national team his style of play.
"They've got a lot of good shooters and guys who can dribble, penetrate and kick,'' Boeheim said Monday. "It will be really good for his style.''
[+] Enlarge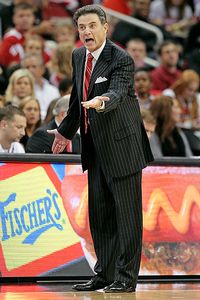 Andy Lyons/Getty ImagesRick Pitino's uptempo style of play will benefit the Puerto Rican national team.
Former Temple forward, NBA veteran and three-time Puerto Rican Olympic forward Ramon Rivas said that the younger Puerto Rican nationals will be able to "click with his style of coaching because the team is so very athletic and young.''
Rivas, who is currently an analyst for the Orlando Magic's home Spanish radio broadcasts, did have some concerns about Pitino's time commitment. "Rick has experience in college and at the pro level, but the concern is how much time will he spend to prepare that team?'' Rivas asked. He added that Puerto Rico needs to restore the national pride in its basketball program.
"How much time will he have to prepare the national team? He needs time to put his system in place and be familiar with those guys as well,'' Rivas said.
Pitino said at a news conference on Monday in Miami that he planned on having the national team in Louisville next summer. He plans to take his Cardinals -- and the Puerto Rican team -- to the Bahamas for a round-robin tournament in preparation for the Tournament of the Americas in Mar del Plata, Argentina. The FIBA Americas Olympic Qualifying Tournament will be held Aug. 23-Sept. 4. The top two finishers of the tournament, which includes Argentina and Brazil, will qualify for the 2012 Olympics in London. The United States earned its automatic bid to the Olympics after winning gold at the FIBA World Championship earlier this year in Turkey.
Pitino still can lead Puerto Rico to London -- and join Boeheim and USA national team coach and Duke's Mike Krzyzewski to form a star-studded roster of college coaches. But the Puerto Ricans have to finish anywhere from third through fifth in the tournament in Argentina and then ultimately high enough in the 2012 FIBA Olympic Qualifying Tournament (sites and dates TBA) to make that happen. That tourney will feature 12 nations from each of the five 2011 FIBA zone qualifying tournaments. There will be two from FIBA Africa (silver and bronze medalists), three from FIBA Americas (third through fifth), two from FIBA Asia (silver and bronze), four from FIBA Europe (third through sixth) and one from FIBA Oceania (silver).
If Great Britain gets an automatic bid from FIBA as the Olympics' host country, only three of the top finishers in the Olympic qualifying tournament will qualify for 2012. If Great Britain does not, and an announcement is due in March, the top four will earn berths.
USA Basketball's men's national team director Sean Ford confirmed that Pitino had previously never sought to coach USA Basketball for whatever reason.
The difference between this and former Arkansas coach Nolan Richardson's decision to coach Mexico's national team in an attempt to reach the 2008 Olympics was that Richardson was unemployed at the time. Still, Boeheim doesn't expect a time-commitment issue for Pitino. "It doesn't take away from your regular job,'' Boeheim said. "It doesn't affect us. I don't think it has hurt Duke too much.''
Boeheim said that with 346 Division I coaches and only one major summer team in USA Basketball, there aren't many opportunities for the coaches to coach internationally.
"We get the best coaches [that want to participate],'' Boeheim said. "The hard thing in the past with USA Basketball has been getting the players. Now they want to get the gold medals. All the best players are playing now in every age group, and now we can win. We weren't getting that before.''
Pitino wanted to see the commitment from the Puerto Ricans, and that's why he met with Dallas Mavericks guard J.J. Barea in Miami on Sunday before accepting the job.
"We need to reinforce a good cycle of basketball,'' said Rivas, who added that Pitino might be able to deal better with the politics of gathering a team that fits his players than a local Puerto Rican coach who might have to deal with island politics. But Rivas said it will be key for Pitino to pick players who fit his style.
He also believes that Pitino's lack of Spanish-speaking skills won't be a problem. "I guarantee you that everyone knows English,'' Rivas said. "They all understand English.''
Pitino said he wanted to coach the team if it would help Louisville. Clearly it will, because the Cardinals can practice against the professionals. But don't expect any other major recruiting haul from coaching the Puerto Rican national team.
"I'm not sure how much it helps a program when you coach [a national team],'' Boeheim said. "Duke always got players. We've always gotten players. I don't think coaching [a national team] helps you, but it doesn't hurt you. Mike did get a lot of exposure.''
And so will Pitino if he coaches the Puerto Ricans to the Olympics. If he can pull it off, it will be a way for him to reinvent himself on the national and global stage.