Wildcats have work to do after first loss
December, 22, 2010
12/22/10
9:16
AM ET
NEW YORK -- If you left Madison Square Garden at halftime Tuesday night, you might start to believe that this is finally the season Northwestern earns its first NCAA tournament bid.
But if you stuck around for the second half and saw the Wildcats' defense shredded by offensively-challenged St. John's, then it would be natural to pause yet again.
So, we're still unsure if the Wildcats are going to make a historic run to the tournament, especially in a season in which the NCAA selection committee gave them three more chances thanks to the increase in at-large berths from 34 to 37 for the 68-team field.
"We don't talk about it too much but it's on our minds, and everyone knows that's what we're trying to do,'' Northwestern coach Bill Carmody said after the Wildcats lost for the first time this season, 85-69 to St. John's in the final of the Holiday Festival. Northwestern led 40-37 at halftime but got blitzed by the Red Storm's 80 percent shooting in the second half. Suddenly, St. John's Justin Brownlee (21 points) and Dwight Hardy (24) played like first-team all-Big East players. While they deserve credit for their proficiency, the looks they got weren't being contested.
[+] Enlarge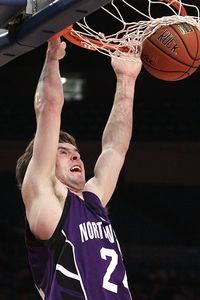 AP Photo/Kathy WillensJohn Shurna led the Wildcats with 28 points, but it wasn't enough against St. John's.
"We have work to do on the defensive end,'' Carmody said. "We have to develop this team, get wins and then get good. We're pretty good offensively, been pretty good on the defensive end but not for an entire game.''
The Wildcats do have scorers, especially junior forward John Shurna. He doesn't have the intimidating physique or a fundamentally sound shot. But that doesn't matter.
Shurna's push shot 3-pointer goes in and his ability to take contact and finish was evident with three three-point plays en route to scoring 28 points. Drew Crawford (17 points) can light it up as well, Michael "Juice" Thompson (eight assists and one turnover) is a strong, sturdy point guard who can control a game, and freshman wing JerShon Cobb gives the Wildcats an athletic wing in the Devin Ebanks mold that they've lacked.
"I think we're better prepared for the Big Ten this year,'' said Thompson. "I definitely think we're mentally tougher than last year and more experienced. Last year left a bad taste in our mouth, not making the NCAA tournament. We don't want to go through that again. It's a constant reminder that we have to work harder.''
But there are weak links, like Luka Mirkovic's aversion to scoring. The big man in the middle can board (11 rebounds) but was 1-of -6 from the field, and at one point, he was two feet from the basket and instead of going up strong, he decided to kick the ball back out. He will have his hands full with Ohio State's Jared Sullinger, Purdue's JaJuan Johnson, any of the trio of big men at Michigan State and the plethora of bigs at Minnesota, or if he has to help on Wisconsin's Jon Leuer or Illinois' Mike Tisdale.
And the bench doesn't give the Wildcats much either, save for Alex Marcotullio (one 3-pointer, eight points against St. John's).
"I feel good about Crawford, Shurna, Thompson and Cobb, but I've got to get the bench to help out,'' Carmody said. "We have to play eight or more.''
Carmody said the Wildcats may have worn down a year ago with the near 40-minutes-per-game-averages by Thompson (37.7) and Shurna (36.4). That team was trying to figure out how to play without Kevin Coble, who broke his foot prior to the season. He didn't return. This season, he left in the summer, before the Wildcats even had to adjust to playing without him.
Still, losing games late last season to Penn State (twice), at Iowa and at Indiana killed any NCAA chances.
The Wildcats started this season 8-0 before falling to the Red Storm. But the schedule wasn't strong, as their best wins came at home over a mediocre Georgia Tech team and rebuilding Creighton.
If Northwestern is going to make history with a bid, it will have to be earned in the Big Ten. The start of conference play is unforgiving with games at Purdue (Dec. 31), vs. Michigan State (Jan. 3) and at Illinois (Jan. 6).
"What do you want us to do -- play Wisconsin and Minnesota? It's a great conference,'' Carmody said. "I think we'll be ready. We have to stay healthy.''
Shurna said the NCAA tournament hasn't been discussed by the coaching staff. But it's the white elephant in the room. Everyone knows the Wildcats have a chance this season and can't let it slip away. Northwestern will get plenty of power-rating points in the Big Ten, but the Wildcats must win games against the elite teams. Winning nine games in the league -- at a minimum -- won't mean as much if it's not the right nine.
"Last year we dropped games at the back end of the schedule that we should have won,'' Shurna said. "Hopefully, things will turn out better this year.''
Had the Wildcats knocked off St. John's, it would have given them a true road win against a Big East team that has a shot to finish in the top 10 in the conference.
Sure, the Red Storm had already lost to St. Bonaventure at home and at Fordham, but they have a shot to make something of their season and become a pest in the Big East. St. John's, which still plays Duke and at UCLA, will likely have a decent power rating when the season ends.
Beating the Red Storm would have looked better than Northwestern's two other true road wins -- at Northern Illinois and Texas-Pan American. Those games won't do much for the Wildcats when the résumé is examined by the selection committee.
Northwestern's long-suffering and loyal alumni are like Cubs fans in Chicagoland, seemingly optimistic but always ready for a letdown.
The Wildcats were dejected after the loss Tuesday night, but there was no sense of despair. This team truly believes it can win enough games in the Big Ten to make the NCAA tournament. The players have known all along they would have to earn it in the conference.
"We do feel we have a great chance,'' Thompson said. "It's up to us. We have to work hard. We need to win games we should win and get better each day. ''
But that won't be enough if the Wildcats don't knock off the Big Ten's elite. If they do, they'll make history at season's end.