KSU's Frank Martin looking for leadership
December, 23, 2010
12/23/10
1:26
PM ET
During Kansas State's run to the Elite Eight in last season's NCAA tournament, Jacob Pullen was the Wildcats' top scorer and the most recognizable and quotable player on the team.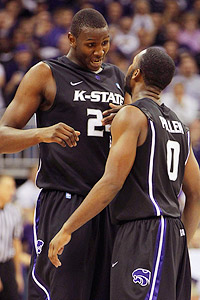 Jamie Squire/Getty ImagesCurtis Kelly, left, and Jacob Pullen were suspended for receiving impermissible benefits.
He was not, however, Kansas State's leader. And he hasn't filled that role yet on this season's team, which was supposed to be his. Pullen and fellow senior Curtis Kelly were suspended for receiving impermissible benefits in connection with the purchase of clothing at a local department store. Pullen will miss three games, beginning with Tuesday night's loss to UNLV. The length of Kelly's suspension has yet to be determined.
"Everyone said Jacob was our leader last year," Kansas State coach Frank Martin said a day after the suspensions were announced. "But last year it was [departed seniors] Denis Clemente, Luis Colon and Chris Merriewether. Jacob talked. The media talked to him. Denis didn't like talking to the media because he was challenged in English. Luis scored two points a game so no one talked to him. Denis, Luis and Merriewether taught people how to work. Those were the guys when the game started that got us through games. We lost that.
"… the difficult thing is to replace character, and that's what we lost on last year's team and that's what we're trying to replace," Martin said. "The only way to try and get that is for this team to get through the hard part."
The absences of Pullen and Kelly, the only two seniors on the team, are a crushing blow for the Wildcats. Martin said the school is still investigating Kelly's involvement in the incident to determine the extent of his punishment. The Connecticut transfer already was in Martin's doghouse at various times this season and was benched for Kansas State's first three games because Martin wasn't happy with his work ethic.
The Wildcats, who were picked to win the Big 12 for the first time in school history and are a trendy Final Four pick, should have no trouble with University of Missouri-Kansas City and North Florida -- the next two games Pullen is scheduled to miss. But what the incident has underscored is the issue of where Kansas State's leadership is going to come from if it's to achieve those goals.
"Leadership has not been good," Martin said. "Those young kids on this team, they've sat back and they're trying to figure out what exactly am I supposed to do and haven't had anyone show them the way."
Martin said the Wildcats' 63-59 loss to UNLV in Kansas City on Tuesday night was a way for his team to figure out how to help each other in difficult circumstances.
"I was pissed we lost and I'm still pissed, but it was the first time I saw a glimmer of light, and that got me excited," Martin said. "We were dealing with adversity instead of crumbling. We forged ahead and got strong.
"Rodney McGruder played with an unbelievable sense of urgency and with a responsibility that he had to do something," Martin said. "I saw a group of guys who were working their tails off, relying on each other and accepting one another, and that was encouraging. We had times on the floor [against UNLV] with freshmen and sophomores and nothing else. It is what it is. These are the guys fighting for us and competing for us."
[+] Enlarge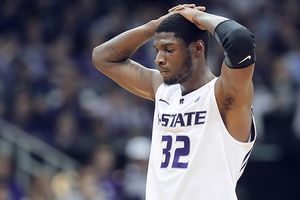 Jamie Squire/Getty ImagesKansas State will rely more heavily on players such as Jamar Samuels in the absence of Pullen and Kelly.
Martin said he has seen Jamar Samuels, Nick Russell and Martavious Irving become more assertive and show more emotion.
Martin was clearly irritated that his two seniors have jeopardized the Wildcats' momentum toward competing for a Big 12 title. Even when Pullen and Kelly return, the Wildcats have to be projected below Kansas, Texas and Missouri in the league pecking order.
Martin wouldn't comment on Pullen's suspension specifically, but added, "I coach the guys who do things the right way who were in uniform." He said the facts in Pullen's case were agreed on by all parties. Kelly's situation is apparently more complicated, with Martin saying the school is conducting an internal investigation into his role in the incident.
"When it's clear, then we'll hand it over to the NCAA," Martin said.
Martin said he was alerted to Pullen's involvement in receiving the impermissible benefits Sunday after the Wildcats returned from Florida; he received an e-mail from his superior explaining the situation.
"Once [the NCAA] got the answers they needed, they did what was appropriate," Martin said.
Martin didn't seem miffed at all by the preseason hype that was put on Kansas State.
"I thought it was the most talented team from an individual standpoint, but I also knew it was a newer team with 10 freshmen and sophomores, and I guess we were expecting there to be leaders from those who had never been leaders," Martin said. "How that works out will determine who we are.
"The season is 35 games, and if we end up 32-3, then the so-called expectations should be there," Martin said. "Let's understand that we lost to the No. 1 team in the country and all three of our losses are away from home. It's not like we're the disappointment of the year or a bunch of frauds. We've had some tough losses. We'll right the ship and we will be better."
But whether Pullen and Kelly will lead this team to a Final Four, let alone a top-two finish in the Big 12, is still to be determined. So far, neither has been able to lead the Wildcats very far on his own.