Classic teams could make noise later
December, 26, 2010
12/26/10
11:18
PM ET
LAS VEGAS -- For a few stretches Thursday night, Northern Iowa had found its stroke like it was March of 2010 yet again, taking down a team of higher stature.
Last March, UNLV and top-ranked Kansas fell victim to the Panthers, before Michigan State clipped them in the Sweet 16. The daring 3-point shot by Ali Farokhmanesh that was one of the shots of the NCAA tournament to ice a win over Kansas, the play of Jordan Eglseder and Adam Koch inside and out were memories that will live in Panther lore.
But the Panthers are quickly proving that this is no longer just the team Ben Jacobson built on the heels of Greg McDermott's initial startup.
Northern Iowa has a program, and the pieces are in play for the Panthers to be in the thick of the Missouri Valley Conference race and once again potential NCAA tournament pests.
With Koch watching in the stands at the Orleans Arena, the Panthers won the Las Vegas Classic on Thursday with a 66-60 win over New Mexico. Koch's brother Jake, a sophomore, made a 3-pointer and got to the line nine times, making all nine. Junior Johnny Moran made a few crushing 3s, but the new Farokhmanesh on this squad is sophomore Anthony James, who made three 3s, finished with 23 points and had an answer every time the Lobos pushed back.
The two returning starters from Northern Iowa's most memorable team -- Kwadzo Ahelegbe and Lucas O'Rear -- are still the role players they've been, and they had their moments.
But this team's moxie will come from making 3s offensively and, of course, locking up teams defensively.
Northern Iowa enters Monday's Valley opener against Missouri State as a real threat, with the Bears and favorite Wichita State, to win the conference title. Sure, scoring 39 points in a loss to Iowa was a lowlight this season. Falling by two at Milwaukee and losing by 22 at Syracuse in the opener wasn't a stunner. But beating Iowa State at home, TCU on the road and then coming to Las Vegas and sweeping Indiana and New Mexico shows this younger team has a chance to develop into an NCAA team with a run in the Valley once again.
"These guys are now feeling like it's their team," Jacobson said. "I think our guys are at a point right now where they expect to win when they walk out there, regardless of who they are playing against."
Jacobson, like Butler's Brad Stevens, was a hot name in March but decided to stay put. He did so because he loves what he has helped build and wanted to see it come to fruition. So far, it appears there's a carryover.
• New Mexico hasn't had the pub of San Diego State, BYU or UNLV so far in the Mountain West. And there is a reason. Last season's Mountain West regular-season champs took some offseason hits with Ramon Martinez finishing his eligibility and Darington Hobson declaring abruptly for the NBA draft.
And of course the Lobos' schedule so far this season hasn't been comparable. There is hope that this squad can be a real contender in the MWC and for an NCAA bid, but there is also concern once again for a key interior player.
[+] Enlarge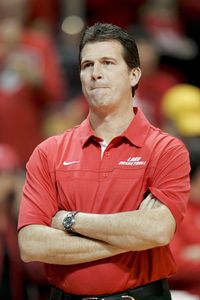 Marc Sanchez/Icon SMISteve Alford has his New Mexico Lobos off to a 10-2 start.
Emmanuel Negedu, who had a defibrillator put in his chest after he collapsed during a workout at Tennessee, is officially "under the weather," Lobos officials said. Negedu said after the loss to Northern Iowa that he would be back. But New Mexico coach Steve Alford said Negedu would meet with doctors Monday.
Negedu wasn't cleared to play at Tennessee or at Indiana, his first choice after he decided to leave the Vols. So far this season Negedu had played in 10 games, averaging 4.7 points and 5.4 rebounds off the bench. He didn't play against Colorado or Northern Iowa.
Sources within the New Mexico program said they won't ever chance anything with Negedu if he's not feeling well and will proceed with caution. On the court, Negedu's absence does hurt the Lobos, especially with UCLA transfer Drew Gordon still largely ineffective due to a knee injury.
Gordon, who has played in three games, is averaging nine points and four rebounds but was 3-of-10 against the Panthers. UNM has a developing MWC star inside in A.J. Hardeman, who knows the role of putback specialist and post option quite well. Hardeman scored 16 points and grabbed seven boards in the loss. And Alex Kirk is a serviceable big man, but the Lobos are thin in the post when foul trouble exists (Hardeman and Gordon fouled out) without Negedu. They also need his rebounding.
"I'm feeling good, but I'm rusty as all get out," Gordon said. "It's tough coming back here and everyone is in full swing. My touch is a little off and I'm not crashing the glass as I'd like. I'm hesitant with the knee. I've got to progress better."
The Lobos have a stud in Vinnie Johnson-like guard Dairese Gary, but he can over-penetrate (six turnovers) and tries to do too much sometimes. The good news for the Lobos is that freshman Kendall Williams has the look of being a headliner for the Lobos. He's second on the team in scoring at a dozen a game, plays with confidence and can get his own shot. If Phillip McDonald can be more consistent on 3s (30.2 percent), the Lobos have a shot to be a factor in the MWC race.
But you'll know more about this team if UNM can survive two winnable road games at Texas Tech (Wednesday) and at Dayton on New Year's Day.
"We just won eight in a row, and we're learning," Alford said. "We had a bad second half against Cal [a 89-64 loss] and a bad start here [down 13 in the first half against UNI]. But I'm pleased. We beat a Colorado team from start to finish. I'm happy with our start. We'll have plenty of chances [in the MWC]."
• Colorado has had an odd season so far. The Buffaloes, a trendy pick to be a top-six finisher in their final year in the Big 12, lost at Georgia by nine, at San Francisco by two in overtime and by 16 at Harvard. Yet Colorado -- which boasts two players of intrigue for NBA draft personnel in Cory Higgins and Alec Burks -- blew out Oregon State in a game in which it looked like it could take on anyone. The win over Colorado State in overtime, the 13-point home loss to the Lobos and a nine-point win over Indiana continue to show the inconsistency.
So what's it going to be for this squad?
"I feel good; I know we've been up and down, but we established a team effort," Higgins said. "We were too many individuals, but now we're together and I'm encouraged we're heading in the right direction. We haven't lost sight of our goal."
Higgins said it took a while for the Buffaloes to get used to coach Tad Boyle after playing for Jeff Bzdelik last season.
"We're finally on the same page," Higgins said. "We've got a way to go, but we're aggressive now."
The Buffs don't have enough for an at-large profile unless they win a number of key games against the Big 12 elite. You'll know early in the conference season with a three-game stretch of Missouri (Jan. 8), at Kansas State (Jan. 12) and Oklahoma State (Jan. 15).
"We kept our poise and made plays when our backs were against the wall," Boyle said. "The challenge for us is consistency. We need Cory and Marcus [Relphorde] to play well and Alec to play well. We can't have nights when those two or three guys don't play well for us to be good."
Boyle said the win over Indiana stabilizes the Buffaloes and gives them the momentum needed heading into the Big 12.