Rick Stansbury closing in on decision
December, 28, 2010
12/28/10
10:13
AM ET
LAS VEGAS -- Mississippi State coach Rick Stansbury said Tuesday morning that he has gathered the facts of the televised, in-the-stands fight last Thursday in Honolulu between little-known Elgin Bailey and one-time McDonald's All-American Renardo Sidney.
Stansbury said he will make a decision on the final penalties for the suspended players a few days after the team returns to Starkville, Miss. The Bulldogs play Saint Mary's on Wednesday at Las Vegas' Orleans Arena (ESPNU, 11 p.m. ET). It's the last stop on what has become a nightmare trip for the preseason SEC West favorite.
[+] Enlarge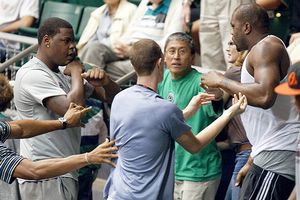 AP Photo/Eugene TannerThe fight seen around the world is not the kind of attention Mississippi State was seeking.
Stansbury won't make the facts public yet, but sources close to the team told ESPN.com that he's working off an investigation that Bailey was the instigator of the scuffle because he didn't move his feet in the aisle while Sidney was trying to walk past him, antagonizing the previously-suspended Sidney into a fight. According to Stansbury, had Sidney been the one who started the scuffle -- instead of the one who Stansbury believes tried to walk away -- Sidney would likely be dismissed.
The now-sophomore sat out all of last season during an amateurism investigation, and he was sidelined for the first nine games of this season as a result of the violation penalty.
Outside of what occurred in a practice in Honolulu last week, Stansbury said Sidney hadn't been a problem for the team. He had yelled at a walk-on who was trying to encourage him during the practice, and it escalated to the point that Stansbury had to get him off the court. He was then suspended for the Bulldogs' first game of the Diamond Head Classic, an 83-57 loss to Washington State on Dec. 22.
Sidney made his college basketball debut against Virginia Tech on Dec. 18 at the Atlantis Hotel on Paradise Island, Bahamas. He finished with 12 points in 25 minutes before fouling out. He then scored 19 points with six boards in 20 minutes in the 69-52 consolation-round win over San Diego last Thursday. Later that night, he and Bailey got into the fight that was seen on ESPNU.
Bailey and Sidney were sent home before the Christmas Day fifth-place game, a 68-57 loss to host Hawaii. Stansbury said they traveled on separate planes to their respective home-state destinations -- Bailey to Louisiana and Sidney to Mississippi.
Stansbury will not disclose what he will do yet, but there is a strong sense in the program, according to sources, that based on the information Stansbury received from players and staff at the site, Bailey could be dismissed while Sidney is retained. Stansbury was in the arena, scouting the Utah-Hawaii game, when the fight occurred. He took his scout seat, across from where the players were sitting, and was informed of the pre-game scuffle five minutes into the game. He then saw it on multiple television screens in the arena.
"It's going to be my decision,'' Stansbury said. "Our athletic department can be a part of it, and Scott [Stricklin, the Mississippi State athletic director] and I have talked about it. But the one thing I've always done in my program is to make the right decisions about my program. This was an embarrassing situation for everybody.''
Stansbury said he has already talked to upper administration about the incident that went viral all over television and the Internet. "I don't think there's anything that they've got to prove to me now,'' Stansbury said of his two players. "Some of it has already been proven to me. I went through this period to get all the facts of what took place that night.
"A fight takes place all the time, but I don't know if there's ever been one that has taken place on national TV in the stands. If it's in the locker room or the playing [practice] court, it can happen a lot of times but no one hears about it. This time the camera was on it, and it gets magnified. It doesn't make it right, even if there hadn't been a camera on it.''
[+] Enlarge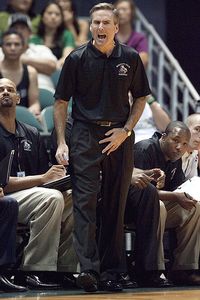 AP Photo/Eugene Tanner Rick Stansbury will make a final decision on what happens to Renardo Sidney and Elgin Bailey when his team returns to Starkville.
Stansbury doesn't view Sidney's amateurism violation as something that he did. Rather, it occurred as part of an out-of-whack system in which an elite, 6-foot-10, 270-pound forward was coddled along by sneaker companies and an entourage from the deep South to the West Coast.
Still, Sidney wasn't able to control his emotions last week. If he returns to the team, he'll be on thin ice and one incident away from a dismissal.
"When I get back from this trip, [the decision] will be pretty quick,'' Stansbury said. After their game with Saint Mary's, the Bulldogs don't play again until the SEC opener on Jan. 8 against Alabama.
Junior point guard Dee Bost will return for that game after completing a 14-game suspension that was a combination of his failure to withdraw from the NBA draft by the May 8 deadline (nine games from the NCAA) and his academic ineligibility for the first semester.
"I don't like the perception, but anybody who knows our program over the past 13 years knows we've had no problems,'' Stansbury said. "In my 13 years, there hasn't been a public embarrassment. This isn't the norm. It just happened. I won't understand why it happened. It just happened. And if people don't do right in our program, then we'll hold them accountable.''
The one thing Stansbury could have controlled was the schedule. And it has now officially backfired.
Mississippi State's haggard, travel-weary basketball team shuffled into the Orleans Hotel past midnight Tuesday morning for one last stop, one last game against Saint Mary's.
The cumulative nature of this rough schedule has taken its toll. It started with an unprecedented four games in four consecutive nights in Starkville, an exhibition in Jackson, Miss., a trip to the Bahamas and an overnight stop in Las Vegas en route to the Diamond Head Classic in Honolulu (three games in four days over Christmas), in which MSU went 1-2. And then a final stop in Vegas again.
It's left a team that had preseason dreams of the NCAA tourney battered and bruised. "It's very taxing. We've put a lot of miles between us, and there's been a lot of sickness on this team,'' said guard Ravern Johnson, one of three seniors on the team. Johnson was so sick that he didn't practice from the time the team left the Bahamas until after the Washington State game four days later.
Stansbury created this schedule to jam as many games as possible into the first semester, so Bost would be eligible for the SEC contests. He also did it to account for Sidney's suspended games. That's why he had an exhibition game against Belhaven College in Jackson before Virginia Tech, which allowed Sidney one competitive game prior to his debut. "It looked a whole lot better when we put it together than having to go through it,'' Stansbury said. "The Diamond Head Classic was put together a few years ago. The Bahamas part we put together in May or June, not knowing we wouldn't have Dee. This one here [against Saint Mary's] was added late because we needed another game. The truth is we thought we'd have Dee too as part of this, and we thought it would be a quality game. We had no idea that some of these circumstances with the suspensions [of Bailey and Sidney] would occur and having to play these two games [at Hawaii and against Saint Mary's] without them. Then not playing Washington State with Sidney made that more difficult.''
But that still doesn't excuse the bad home losses to Florida Atlantic on Nov. 30 and East Tennessee State on Dec. 11 -- the first of the four games in four nights. Stansbury's plan was to win the nine guaranteed home games (buy games without a return) before the difficult five-game stretch.
"There were a lot of different egos on the team, and it was hard to please everybody, and sometimes as a coach you have to make certain decisions. But coach has been on the right track,'' Johnson said. "Everybody now is coming closer together as the trip ends. I know everybody is ready to go home, but this is another stop and we can't be so eager to get home and forget about this game. We have to talk about this, get this win and then go home.''
Stansbury said he will never schedule like this again. "You can't play four straight [in four nights] unless you have a veteran, tough team,'' Stansbury said. "You can't do this without your best player, your leader, or it makes it a real challenge. We had a bunch of new guys with Kodi [Augustus] and Ravern as the only two returning starters. You take Dee, Barry Stewart [a senior last season] and Jarvis Varnado [a senior last season] off this team and do this [schedule], and it gets magnified. The roles change. I'd never do this again unless I had a veteran team.''
Johnson said Bost will provide the leadership this team lacks. The junior point guard will be one of the top guards in the SEC as soon as he's eligible. "He's a good leader. He'll give a lot of assists and make this team better,'' Johnson said. "I'm looking forward to him coming back and taking that leadership role.''
Stansbury echoed Johnson, saying the team needs Bost, who averaged 13 points and 5.2 assists last season. "He gives us that one thing we don't have: our leader. A guy who can break people down off the dribble, create easy plays for everybody else, shoots it off the catch and bounce and is our best shut-down defender,'' Stansbury said. "He'll give everybody else a swagger.''
But can he heal a team that has been fractured by a fight seen by almost everyone? Stansbury and Johnson said they believe so. And it appears more likely that Stansbury will have to be the one to keep Sidney in check. "We just have to get all the pieces back,'' Stansbury said. "We haven't had Dee, and there will be some adjustments, like there was with Sidney, since Dee hasn't played the first 14 games. But I still like what we can become; we just have got to do it quickly.''