Number of teams are relying on one player
December, 29, 2010
12/29/10
1:50
PM ET
Jordan Taylor
led Wisconsin with 22 points in the Big Ten opener, a 68-60 victory over Minnesota on Tuesday night in Madison.
Jon Leuer
finished with 16 points.
And while Taylor's steady play at the point is critical to Wisconsin's climb toward contender status in the Big Ten, the Badgers will rise and fall with Leuer.
[+] Enlarge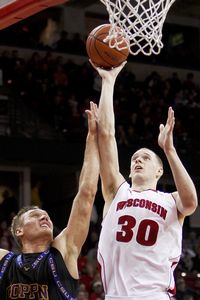 AP Photo/Andy ManisJon Leuer finished with 16 points in the victory over Minnesota.
There are a number of teams that are relying on one key player this season.
• Junior guard Kemba Walker will determine if Connecticut makes the NCAA tournament. He is clearly one of the frontrunners for national player of the year and Big East player of the year, and he's been one of the most dominating performers in the nation to this point in the season. But if he's off his game, then the Huskies likely have no chance against elite competition.
• Washington State relies heavily on Klay Thompson to be on his game. He has been in nearly every contest. But even when he did score well against Butler (31 points), it wasn't enough to beat the Bulldogs in the Diamond Head Classic final. If Washington State is going to challenge for the Pac-10 title, it will be due to Thompson, even if he gets help from guards Faisal Aden and Reggie Moore and DeAngelo Casto inside.
• BYU got a stellar game out of Jackson Emery, but does anyone really believe the Cougars can win the Mountain West if Jimmer Fredette isn't playing at a high level? Fredette is the money player who can change a game with his shot.
• And Boston College's rise as a potential second-place finisher in the ACC is all because of Reggie Jackson. Jackson had the talent to be a star the past two seasons, but he's really blossomed in Year 3. He gets help at times from Corey Raji, Biko Paris and Joe Trapani. But Jackson is the one player on the Eagles who can create good offense out of poor execution.
Leuer has become that kind of player for the Badgers, despite being a big man. "That's a position he has put himself in by delivering,'' Wisconsin coach Bo Ryan said Wednesday. "It's not like he got all these accolades, and everybody is supposed to move aside. The other guys need to play well defensively, rebounding and scoring-wise but he's a threat, and he gets the attention from the other teams.''
Ryan concurred that Leuer is that "guy," much like Fredette, Walker, Thompson and Jackson. Jackson didn't have his best shooting game against the Badgers in Orlando (6-of-21, 18 points), and the Eagles lost, 65-55.
When Leuer was injured last season, Trevon Hughes was the player the Badgers leaned on to get out of broken plays. Taylor has assumed Hughes' role, but when the offense goes awry, Leuer is the one who can change the direction of the possession. "If he's guarded by a big and someone is helping on Jordan penetrating, then that leaves Jon open,'' Ryan said. "He's a big factor for us. He's tough, hard-nosed. Jon is our go-to guy. We do have one big and one small like that so we're pretty steady.''
The reliance on one player is hardly a new development. But it shows the difference among some of these potential NCAA teams and the ones that are more likely to challenge for the title.
Ohio State has been led by freshmen Jared Sullinger, Deshaun Thomas and guards William Buford and David Lighty.
Duke lost the top guard in the country in Kyrie Irving, but having All-Americans Kyle Singler and Nolan Smith and role players Mason and Miles Plumlee make the Blue Devils balanced. Kansas, arguably the third team in the race for the national title at this juncture, has an elite lead guard now in Josh Selby and power players in Marcus and Markieff Morris. The Jayhawks don't need just one player to perform to win at a high level.
And that's why Walker, Leuer, Fredette, Thompson and Jackson should be applauded for their play. They are taking on more than most, with the need to be on for every game and provide leadership for their teams.