Stags suffer big loss with canceled game
December, 30, 2010
12/30/10
4:23
PM ET
The fallout from Florida and Fairfield canceling their game because of Tuesday's Northeast snowstorm will be felt long after the season ends for one team.
Florida won't feel any effects from it. The Gators will return the money from purchased tickets and continue as if nothing happened. But the sting will last for Fairfield.
The Stags were due a guaranteed sum of $75,000 to $80,000 for playing the game, a standard fee for teams that play a road game against a power-six school without a return.
[+] Enlarge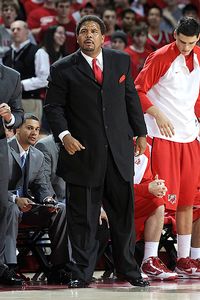 G Fiume/Getty ImagesIts canceled game versus Florida hurts Ed Cooley's team and program in multiple ways.
Florida has confirmed that because the game wasn't played, it isn't responsible for paying Fairfield. The money that Fairfield was due would have been used in a variety of ways, including helping pay for coach Ed Cooley's salary and for the recruiting budget. The Stags played one other guaranteed game this season (at Penn State), but the exposure wasn't the same. Fairfield was also due to be on ESPNU on Tuesday night against the Gators, but instead lost a rare nationally televised appearance.
As the MAAC favorites, the Stags still have two other nationally televised games on ESPNU -- at Loyola (Md.) on Jan. 14 and against Iona on Feb. 4. The Gators already lost a home to Jacksonville on Dec. 20, so a chance at a potential upset is now gone, as is the possible power-rating points for playing the SEC East preseason favorites.
"We haven't played a very good schedule, [it's] good enough for who we are right now, but to get a strength of schedule game like that, it would have helped our RPI in case you go on a long run,'' Cooley said of his 8-3 Stags (2-0 in the MAAC). "We lost a national spotlight game in recruiting, a chance to sell our university and a chance for people to watch us play that normally wouldn't.''
And then there is the financial hit.
"These are funds that we would use in recruiting that we need for subscription services for opportunities to recruit," Cooley said. "All of this money goes into the program. I'm just pissed off that we didn't get on television, too. We sacrificed with our team early with competition that wasn't as stiff but we got better, and we've won seven in a row. I thought the way we've been playing and practicing that we had a chance. We were going there to win. Whether or not we did, who knows. But we had a lot going for us.''
Cooley said both coaching staffs, especially Florida coach Billy Donovan and assistant Larry Shyatt, did everything they could to help the Stags reach Gainesville in time to play the game.
Cooley said the original plan was for Fairfield to fly to Orlando on a direct flight Monday at 11:10 a.m. from White Plains, N.Y. But that flight was canceled Sunday night during the snow storm. Cooley said the Stags then tried to get out on a charter flight but couldn't get charter service to pick them up.
"We couldn't get anything out of the Northeast. We tried Monday night and even Tuesday, the day of the game,'' Cooley said. "We were trying to fly day of the game and tried to do it from Manchester, N.H., all the way down to Washington, D.C. Everything was sold out. There wasn't one ticket to buy to get to Orlando, Tampa or Jacksonville or Miami.''
Cooley said the Stags looked into a number of possibilities, one of which included Cooley, one assistant, a trainer and nine players making the trip.
And another option was even more desperate. "It came down to seats at one point, and we thought maybe if I fly down with the top six guys,'' Cooley said. "It was some crazy stuff. I was on the phone with Billy and Larry, class guys, they wanted to play the game as much as we did. It was a matter of Mother Nature. This is a big, big loss for our program not playing the game.''
The Gators and Stags were looking into alternative dates, but they couldn't play this week. Florida plays at Xavier on Friday, while Fairfield hosts Army. The schools looked at open dates later in January and then into February but couldn't agree on a slot that wasn't an issue for their respective conferences.
"There was just no way to squeeze it in there,'' Cooley said. "Now we'll have 11 days in between games.''
Fairfield likely has to win the MAAC tournament to get an NCAA tournament bid, but not having the game against Florida will hurt the Stags' overall RPI for seeding in March.
• New Mexico coach Steve Alford said Wednesday that Emmanuel Negedu won't play for the foreseeable future after his defibrillator went off at halftime against The Citadel on Dec. 19. Negedu collapsed while at Tennessee in September 2009. He didn't lose consciousness but the "bad read" of his defibrillator meant he had to be held out of competition while undergoing more tests. Negedu was in Las Vegas last week for New Mexico's games against Colorado and Northern Iowa. He said at the time that he was "under the weather" and was going to have some tests. Alford said that Negedu would go on the trip to Texas Tech (a 61-60 win Wednesday) and Dayton (Saturday). New Mexico cleared Negedu to play, but Indiana -- his first choice after Tennessee -- didn't clear him to play. Alford said everything had been fine with Negedu since he's been at New Mexico. When ESPN.com visited Albuquerque in October, Negedu said he had no issues throughout the summer and early fall. But this latest red flag may mean he won't play again.
"He's a great kid, and we're hoping for the best,'' Alford said. "He's a tremendous kid. He's only a sophomore. We'll wait and see how it plays out. But I told him the best thing is finding this out beforehand. Unfortunately others don't. We'll take care of him. We're glad he's with us.''