Bearcats know Big East offers tough tests
January, 3, 2011
01/03/11
12:36
PM ET
Cincinnati coach Mick Cronin has heard the criticism about his "soft" schedule. But he wants to make this point clear: He did go on the road. The Bearcats played two true road games -- at MAC schools Toledo and Miami (Ohio). That's two more than four Big East teams -- Syracuse, Connecticut, Pitt and Notre Dame. Those four didn't play a true road game in the nonconference schedule. They were all in neutral-site tournaments in New Jersey, Maui, New York and Orlando, but to their credit, they won them all. Of course, the criticism of Cincinnati is that its competition isn't comparable to what the Orange, Huskies, Panthers and Fighting Irish faced in their neutral-site games. Toledo and Miami (Ohio) are a combined 8-19.
[+] Enlarge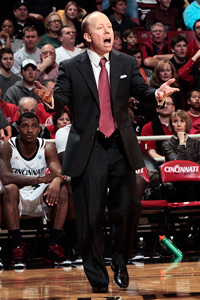 Brett Hansbauer/US PresswireMick Cronin's UC team had an awful noncon schedule, but played its best against the Big East's best.
And the Bearcats played and beat a Dayton team in downtown Cincinnati (not on campus) during a time when the Flyers were struggling, even though they're now 12-3. The point Cronin is attempting to make is that the Bearcats did at least venture out on the road, but they weren't the only conference team to do so. Villanova visited Penn, La Salle and Monmouth. St. John's went to Saint Mary's and Fordham. Louisville played at Western Kentucky. Marquette went to Vanderbilt. Seton Hall visited Temple and UMass. West Virginia played at Miami (Fla.). Providence visited Boston College. Rutgers went to Princeton, Saint Joseph's and Monmouth, and DePaul played at Indiana State. Outside of Villanova and Rutgers, the only other Big East teams that played more than two true road games were South Florida (at Central Florida, Florida Atlantic, Kent State and Cleveland State) and Georgetown (at Old Dominion, Temple and Memphis). The Hoyas probably had the toughest of any neutral-site game when they played Missouri in Kansas City. Cincinnati also didn't do itself any favors when it played Big 12 bottom feeder Oklahoma in Oklahoma City. Cronin said the Bearcats were hoping to play Duke in the Izod Center at the Meadowlands, but they were pushed out when Butler was available for the game. Cincinnati (14-0) plays rival Xavier on Thursday before visiting Villanova in Big East play. The Bearcats, who are 2-0 in the conference after wins over DePaul and Seton Hall, play four of the next five games on the road -- at Villanova, home for South Florida, at Syracuse, at Notre Dame and at St. John's.
"I'm not saying we'll win all of those games, but we're ready to handle it,'' Cronin said. "We've got veteran guys. Our guys understand. We will get beat if we don't play well.''
Cronin thinks his team's road schedule will ultimately prove to be one of the toughest in the Big East. It includes road games against the projected top five teams in the league -- Pitt, Villanova, Syracuse, Georgetown and Notre Dame.
"It's five brutal road games,'' Cronin said. "And we play Georgetown twice … all we can do is keep winning. We had the most young players in the conference, and now we've got juniors and seniors leading us.''
The Bearcats are an interesting team this season after losing Deonta Vaughn and Lance Stephenson. "The offense didn't flow last year, and we couldn't get everything to fit,'' said Cronin. "We shot 29 percent on 3s, and people just packed it in on us. It made it tough on us offensively. We're making shots, and we're passing great [this season]." Cronin said the Bearcats are modeled after his Murray State team, which moved the ball around, hit the open shot and was not built around one player. "We run our offense and it flows, and we don't have to hide anybody,'' Cronin said. Cincinnati's balance is real with
Dion Dixon
,
Yancy Gates
,
Sean Kilpatrick
and
Cashmere Wright
all capable of scoring in double-figures on a given night. "The question is how good are we? We'll find out in the league,'' Cronin said. "What's hard for people to understand is when you walk into a situation, it's hard to recruit to losing. We had
Kemba Walker
coming to Cincinnati, but we were 2-14 in the Big East. UConn didn't get Brandon Jennings, and then they get Walker. It wasn't sexy or cool in the lunch room to commit to Cincinnati. We've recruited hard and gotten quality players and good kids in the program. But it is easier when you're hot.'' And so far Cincinnati is one of the seven hottest and undefeated teams in the country. But a 14-0 start doesn't guarantee an NCAA bid when the nonconference strength of schedule is 338. The Bearcats have one win in the RPI top-50 (Dayton), none in the 51-100, five in the 101-200 and eight from 201 and below as seen on its
InsideRPI Daily page
. And that's why the Bearcats, whether they are ranked or not, will have to earn the bid in the Big East. "If you look at our home games, our goal is to go 9-0 at home, that's our first goal,'' Cronin said. "Then we've got to steal some on the road.'' If they do that, they will make the NCAAs for the first time in Cronin's five seasons. And in helping get the program back to the Dance, he would reach a goal that other former powers (see: Indiana) are still struggling to accomplish.