Hamilton, freshmen lead Texas back
January, 5, 2011
01/05/11
5:16
PM ET
Jordan Hamilton
took shots when he wanted to, went one-on-one if the opening was there and didn't really differentiate between what was a quality shot, a poor shot, a rushed shot or a shot at the appropriate time.
Hamilton's inability to adjust to the college game in his first season was just one of the many issues that Texas faced last season. There were injuries, too many choices at the point and an overall inconsistency that contributed to a spiral that saw the Longhorns go from No. 1 in the country in January to a 7-8 stretch to end the season, including a NCAA tournament first-round loss to Wake Forest.
If you saw last season's Texas team (especially Hamilton) and then watched this season's edition, you might not recognize the latter.
[+] Enlarge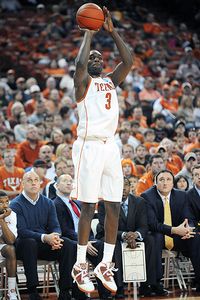 Brendan Maloney/US PresswireJordan Hamilton is averaging nearly 20 points for the Horns.
Hamilton has settled into his role, figured out Rick Barnes' coaching style and has become much more selective in his shooting. As a result, the sophomore from Los Angeles leads the Longhorns in scoring at 19.6 ppg (up from 10 last season) in 30 minutes a game (up from 19.9) and is shooting 41.9 percent on 3s (up from 36.5). His rebounding average (3.7 to 6.8) and free-throw percentage (57.8 to 73.6) are also way up.
According to teammates, UT's incoming freshmen class of Cory Joseph and Tristan Thompson has been stellar in its maturity level and overall contributions. Having a healthy Dogus Balbay at the point has been crucial defensively. And, according to Hamilton and Balbay, there are no team issues in the locker room.
Add all that together and the Longhorns are a viable Big 12 title contender, alongside Kansas and Missouri. Wins at Michigan State, over North Carolina in Greensboro and a crushing win over Arkansas at home Tuesday night are all strong indicators that the Longhorns will stick around this season instead of fade. One final nonconference test comes Saturday at home in a revenge game against No. 9 UConn (ESPN, 3:30 p.m. ET).
Hamilton is a large reason for the renaissance in Austin. He still needs to be consistent and has to work on his defensive game, but he's had only one off game so far and that was a nine-point, six-board game in 18 minutes against North Florida. He took two possessions off in that game and Barnes sat him down. But his overall attitude has been a win-win for his stature and for the team. He has 32 assists and 23 turnovers, another indicator that he's not messing with the ball anymore and driving and moving with a purpose.
Hamilton said Wednesday that a change in the offense, from coming off screens more and fewer one-on-one plays, has helped him find his focus even more. But his overall maturity is clear.
"I'm just doing everything Coach tells me to do,'' Hamilton said. "Last year I had a tendency to take bad shots. I would do what I did in high school and just take shots. But there's a difference between a good shot, bad shot and a great shot. This year I'm taking a lot of good shots.''
Hamilton said he didn't grasp how much harder it was to get open in college basketball than it was in high school.
"Now I do,'' he said. "This year has been so much fun.''
Hamilton said the Longhorns of 2009-10 -- which included Avery Bradley, Dexter Pittman, Damion James, Justin Mason and Varez Ward for four games before he got hurt -- took games off and the effort wasn't always there. Bradley left for the NBA draft, while Pittman, James and Mason were seniors. Ward transferred to Auburn.
"We went one-on-one too much,'' Hamilton said. "Changing our offense and doing what the Utah Jazz do with screens and picks for each other has helped. We didn't take games as serious last year as we do now.''
Balbay, who missed the past seven games due to his ACL injury, was even more blunt about the locker room disarray.
"The biggest difference is our team chemistry,'' he said. "We've got new guys who came in that are really mature. They knew what they were doing and it helped us a lot. It was really quick. They were mature. Everybody is covering each other's back. It helps a lot. We said we're going to stay together no matter what, even if coach gets mad at us and if something goes wrong with the refs or the game that we'll still stay together and help each other out.''
Hamilton agreed with Balbay and said he's been stunned to see how mature Joseph and Thompson, two Canadians who played as high school seniors at Findlay Prep in Nevada, were when they arrived in Austin in comparison to his freshman class last season. Thompson is second on the team in scoring at 12 points a game (he scored 20 points in the win over Illinois) and is averaging eight rebounds. Joseph is fourth behind holdover Gary Johnson (11.8 ppg, 7.4 rpg) at 11.2 points and 3.1 assists per game. Joseph hit the game-winning shot to beat North Carolina with 1.4 seconds left.
"I think it's because they came down to the States and been here awhile so they're used to [being away from home],'' Hamilton said. "I've never met a group of guys as mature as them at such a young age. They're doing a great job. They're just two great guys who are playing hard and doing everything coach says.''
The Longhorns do have holdovers like J'Covan Brown and Jai Lucas on the perimeter and Johnson and Matt Hill inside. But the reason this team is climbing is the low-maintenance of Hamilton this season, the health of Balbay and how seamless the transition has been for Thompson and Joseph.
"[Hamilton] realized he could have done a better job last year,'' Balbay said. "He's more coachable now. He's listening to what coach is saying and he's understanding it. He's trying hard on both ends, not just offense. If he makes a mistake in practice on defense he wants to fix it. Practice is fun and the one thing we want to see out of Jordan isn't just taking shots and dribbling the ball but doing everything and being a complete player.''
The turning point for Texas was being humbled at USC 73-56 on Dec. 5. The Longhorns haven't lost since, including the wins over the Tar Heels and Spartans. The only other loss was to Pitt in New York on Nov. 19, a night after beating Illinois.
"The loss to USC was a wake-up for us,'' Balbay said a day after the Longhorns hammered Arkansas 79-46. "We knew after that game we had to take everybody seriously. That was the big turning point. We learned from that loss. We're getting better. We've gotten better since that game and we'll continue to get better.''