Crimson just keep winning under Amaker
January, 6, 2011
01/06/11
5:07
PM ET
Harvard's win over Boston College Wednesday night was so ordinary that it didn't get a mention on SportsCenter, wasn't a headline item on our site, and is treated as just another win for the Crimson.
Amazing.
This is a sign that the much-maligned Tommy Amaker has a program. He had a pro as it turned out the past few seasons in Jeremy Lin, who was signed to a contract in the preseason by the Golden State Warriors. But did he have a program that could sustain a loss like Lin and still keep winning credible games?
[+] Enlarge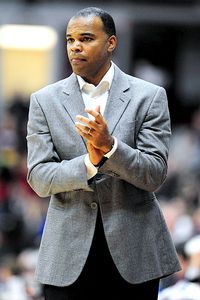 Kyle Terada/US PresswireTommy Amaker's Crimson beat Boston College for the third straight season.
You've got your answer.
Harvard had beaten Boston College in each of the past two seasons. When it occurred two seasons ago it was treated as a national headline. A year ago, not as much but it still got mentioned and in fact it was more of a stain on the Eagles.
Now, with a former Ivy League coach Steve Donahue the head coach at Boston College, the defeat of the Eagles -- fresh off their crushing win at South Carolina -- is seen as just another solid win for the Crimson. Harvard had already taken out Colorado at home earlier this season and the Buffaloes have two potential NBA players on their roster in Alec Burks and Cory Higgins.
You can argue that Colorado will be a middling Big 12 team and BC somewhere in the middle of the pack in the ACC, but it shouldn't matter. Harvard is now a serious player regardless of the opponent. The Crimson got smacked at Connecticut, but it was just a year ago when the Huskies had some anxiety in facing Lin and nearly got beat while getting lit up by the senior Crimson guard.
"We've shown if you've watched us that our program has grown," Amaker said Thursday. "We still have a ways to go. But I'd like to think we're on track to ultimately win the league."
Harvard had the unfortunate situation of climbing during Donahue's Cornell rise while he was dominating the league for three straight seasons. That came after a back-and-forth, decade-long tussle between Penn and Princeton.
As Cornell (3-10) has taken a plummet, Princeton (11-4) has ascended to its rightful place among the contenders under Sydney Johnson, with the expectation that Jerome Allen will have Penn a contender this season and for the foreseeable future. Yale, too, won at Boston College this season so the Bulldogs can hardly be dismissed while Kyle Smith is expected to ensure Columbia is competitive.
But the Crimson have led two high-major programs for most of the second half of their respective games and that's a significant improvement. Amaker won eight games in his first season (three in the Ivy), and then 14 in year two with a .500 record in the league.
Last season, Lin's finest, the Crimson made the postseason (CIT), won 21 games and were 10-4 in the Ivy.
Amaker understands that reaching the tournament -- the same nemesis that dogged him at Michigan -- is the ultimate barometer. The Crimson begin Ivy League play Saturday at Dartmouth. They play Princeton and Penn Feb. 4-5 on the road and conclude the conference season with those two schools March 4-5 in Cambridge.
While Northwestern attempts to get to the NCAAs for the first time ever, Harvard is striving for its first bid since 1946. That's also the only time the Crimson were in the NCAAs.
"You have to be lucky and we're still very young," Amaker said. ""We're one of the youngest teams. We have no seniors."
The Crimson have legitimate scorers in Keith Wright, Christian Webster and Laurent Rivard, as well as Oliver McNally and Brandyn Curry. The best news for Harvard would be if Kyle Casey, who has played in nine of 13 games, was healthy after dealing with a broken foot.
"He hasn't been the player we saw a year ago and that's understandable," Amaker said. "I like the chances of this being a pretty darn good team. We're not there yet. But we're hopeful."
Harvard has one more non-conference game -- at George Washington on Jan. 15. Beating the struggling Colonials is certainly doable and would give the Crimson its second win over the A-10 after beating Fordham. The only losses for the 10-3 Crimson were by three at Michigan, by 13 to open the season at George Mason and by 29 at UConn.
Look, no one expects Harvard to get an at-large. The Crimson have to win the Ivy. But like a year ago, Harvard is in contention. So much so that beating teams like BC and Colorado has become commonplace -- a sure sign that Harvard has arrived. Win the Ivy and get to the NCAAs and the program will have even more national appeal.