Pastner puzzled by Tigers' poor play
January, 7, 2011
01/07/11
12:27
PM ET
Memphis has to win Conference USA's regular-season title to earn an NCAA tournament berth.
At least that's the focus of second-year coach Josh Pastner. It has to be. He knows there are no guarantees for an at-large bid after the Tigers concluded all but one game in their nonconference schedule with an 11-3 record. All three of the losses came against three likely NCAA teams (Kansas in New York, Georgetown at home and at Tennessee). The best nonconference win came against Miami at home on Nov. 16. That's not enough for a bid.
[+] Enlarge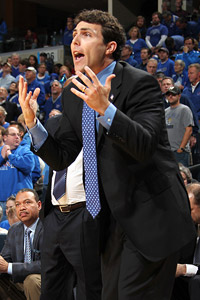 Joe Murphy/Getty ImagesMemphis coach Josh Pastner is struggling to find an answer for his team's defensive struggles in recent games.
But would it be catastrophic if the Tigers didn't win their conference and weren't an NCAA team? Hardly. This is a young team with only one player from the 2008 recruiting class in Will Coleman and only one remaining from the 2009 recruiting class in Wesley Witherspoon, according to Pastner. The team lost two key rotation players in Angel Garcia, who quit after eight games to pursue a professional contract in Spain, and Jelan Kendrick, who was dismissed for his poor behavior and ultimately transferred to Ole Miss.
The Tigers are essentially led by all freshmen, save Witherspoon (a junior who's missed two games with a knee injury) and a lone senior in Coleman and a junior transfer from New Orleans, Charles Carmouche. But Will Barton, Antonio Barton, Joe Jackson, Chris Crawford and Tarik Black are the core of this team. All are freshmen.
That doesn't explain getting pummeled at Tennessee by 20 Wednesday night. When asked to explain the Tigers' poor defensive effort and giving up 12 3s to the Vols, Pastner said Friday, "There was none."
Memphis opens up C-USA play at home against East Carolina on Saturday before going to SMU on Wednesday and hosting Marshall next Saturday. You would expect the Tigers to win those three games, but as Pastner said, nothing is certain with this squad.
If the Tigers are to be worthy of winning C-USA and taking it away from new favorite UCF and possibly Southern Miss, then it will come down to a one-month stretch:
Jan. 19: at Southern Miss
Jan. 22: at UAB
Jan. 26: vs. UCF
Jan. 29: at Marshall
Feb. 2: vs. Tulsa
Feb. 5: vs. Gonzaga (Spokane Arena)
Feb. 9: at Central Florida
Feb. 12: Southern Miss
Feb. 16: UAB
"We've got to find a way to win as many games in conference as possible," Pastner said. "We've got to find a way to get more wins. We're done talking about it. We need to win the league. Our goal is to win the league. We want to do that and it's not going to be easy. Central Florida is the favorite. Southern Miss, UAB, Marshall and UTEP are all good. East Carolina isn't going to be easy."
Pastner said he can't explain the poor defensive showing against Georgetown and Tennessee.
"Scoring isn't the issue; it's defense, we've got to defend," Pastner said.
Pastner said preseason expectations of winning a league title were based on the highly ranked recruiting class that hadn't accomplished anything. Take away Kendrick and the class dips a bit. Take away Garcia and the Tigers' depth is down a tad.
Pastner took over a program that was gutted with the departure of former coach John Calipari and his incoming recruiting class. This team is a work in progress and it may take more than one season -- time the Tigers likely have since no one on the roster is ready to be a one-and-done. That doesn't mean they can't win the league, but it will be a struggle.
"We have not peaked," Pastner said. "We've got a lot of games left. We've got to hang our hat on defense to [win]."
• Tennessee got further clarification on what head coach Bruce Pearl can and can't do during his eight-game SEC penalty that takes effect beginning with Saturday's game at Arkansas.
Pearl was with the team Thursday night as it flew to Arkansas. The Vols will practice and have the normal team meetings Friday in Arkansas. When Pearl meets with the team Friday night in Fayetteville, that will be the last time he can visit with the players and staff until after Saturday's game, according to a Tennessee spokesperson.
The eight-game penalty imposed by SEC commissioner Mike Slive after Pearl admitted to a recruiting violation (after he initially misled investigators) is effective only on the day of the game. Pearl cannot participate in any game-day activities, including the morning meal at the hotel. Normally, teams have their bags packed and leave to return home after a road game from the site. In this case, details are still being worked out as to whether Pearl will be picked up back at the team hotel by the bus after the game or if he will meet the team at the airport for the flight back to Knoxville.
Tennessee associate head coach Tony Jones will coach the Vols during Pearl's game-day absence. Pearl cannot have contact with the staff during the game, either.
It's still unknown when the notice of allegations will be sent to Tennessee, which is the first step in starting the process of getting a hearing in front of the NCAA committee on infractions. Once that occurs, likely in the spring, at the earliest, the Vols will learn of any further penalties. At this rate, those penalties won't be known until the summer.
• Kentucky freshman Enes Kanter, who was initially ruled permanently ineligible by the NCAA for a violation of amateurism rules, was the subject of a conference call late Thursday with the reinstatement committee. Kentucky resubmitted his case based on the clearance of Auburn quarterback Cam Newton, in which the NCAA ruled Newton was not aware that his father had made a pay-for-play offer to Mississippi State during his recruitment, an offer that was turned down. A final ruling on Kanter, a likely top-five NBA draft pick, could occur late Friday. Kentucky plays at Georgia on Saturday.