Gophers face tough road in Big Ten
January, 10, 2011
01/10/11
1:52
PM ET
Minnesota could be just fine in March as a top-four finisher in the Big Ten and a ranked team that's ready to win a few games in the NCAA tournament.
That's the global, more optimistic view for the Minnesota fan.
But it will be a dicey road to get to that point. The Gophers have left little room to navigate through the Big Ten schedule, which was front-loaded with three of the five hardest road stops in the league. Minnesota opened at Wisconsin (68-60 loss), then visited Michigan State (71-62 loss) before Sunday's game at Ohio State (67-64 loss). The toughest road game left on the schedule is at Purdue on Jan. 29, and it's not even February yet. The Gophers don't go to Illinois this season. In the unbalanced schedule, the Big Ten gave Minnesota a break, and Illinois comes to Minneapolis on Feb. 10 for its only meeting. And while Ohio State (Feb. 6) and Michigan State (Feb. 22) visit the Gophers this season, the Badgers don't.
Purdue visits Minnesota on Thursday. And with the Gophers at 1-3 in the league (the one win coming over four-loss Indiana at home by only four points), the must-win tag aptly applies to that game. "I don't look at the schedule,'' Minnesota coach Tubby Smith said Monday. "I thought we should be 3-1, and here we are 1-3. I really believe we had the opportunities [to win the games]. But we've had major setbacks.''
[+] Enlarge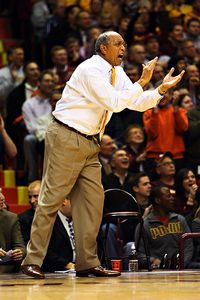 Brace Hemmelgarn/US PresswireTubby Smith and Minnesota are just 1-3 in the Big Ten.
Minnesota had issues off the court last season and was never able to put the team on the floor it hoped it could. Trevor Mbakwe waited out a legal case, and Royce White was suspended. White has since transferred to Iowa State. Al Nolen was then academically ineligible in February. The Gophers still advanced to the NCAAs after reaching the Big Ten tournament title game for the first time, and lost to Xavier in the NCAA first round. But it was a missed opportunity.
The Gophers had the look of a preseason Big Ten title contender. But before the season started, junior guard Devoe Joseph was suspended. Minnesota won the Puerto Rico Tip-Off, which included quality victories over North Carolina and West Virginia. Joseph returned just as Nolen went down with a foot injury, and the Gophers promptly lost to Virginia at home in the ACC-Big Ten Challenge. Joseph played in the next eight games, and Minnesota lost two more contests -- at Wisconsin and at Michigan State.
The loss to Ohio State on Sunday was the Gophers' first defeat with Joseph out of the lineup. He had been granted a release from his scholarship after deciding to transfer to another school.
"We were 7-0 without him until [Sunday], 5-3 with him,'' Smith said. In Puerto Rico, the Minnesota staff raved about the creativity of Joseph and his ability to score. But apparently Joseph wanted more of those opportunities, not less. He did attempt double-figure field goals in five of the eight games he played in this season. He was averaging 25 minutes and 11 points per game.
"He wanted more shots,'' Smith said. "Hard to understand. … The gratitude isn't there. He thought he deserved more. He wanted more shots. We're a ranked team. We knew early on to beat these teams we couldn't have disruptions, we needed everyone on the same page. How are we going to overcome it? We almost did [Sunday]. We'll get better and just need more consistent play out of everybody. We've been up and down.''
So Joseph is gone, reportedly to Oregon. Losing him hurts the Gophers' depth, but it may help the chemistry. What didn't help, maybe more so, was the season-ending knee injury to Mo Walker. The 6-foot-10, 289-pound freshman was starting to be a real factor. He scored 10 points on 5-of-8 shooting, grabbed five boards and dished out four assists from the post in a win at Saint Joseph's on Dec. 8. He would have given the Gophers more size and five more fouls against Ohio State's Jared Sullinger on Sunday.
Instead, Minnesota is now relying even more on its most consistent player -- Mbakwe (13.4 ppg, 10.4 rpg), and it needs to see if Ralph Sampson III and Colton Iverson can be much more aggressive, which may or may not be in their makeup.
"It's not even close that Trevor is our most consistent player,'' Smith said. "He's the guy we lean on right now. We're trying to get Ralph more aggressive. It's not his game. He knocked down a couple of jumpers, but he was going against one of the best players in the country in Jared Sullinger. We've got to get more out of Rodney [Williams, a slashing forward] and out of Ralph.''
Williams has been bothered by a back injury. And freshmen Austin Hollins, Chip Armelin and Maverick Ahanmisi are more than serviceable, but they're inexperienced right now. That means there's even more pressure on Nolen, who Smith said wears a protective boot when he's not practicing or playing, and on fellow senior Blake Hoffarber to defend, make shots and avoid mistakes.
The Gophers had 14 turnovers in the loss at Michigan State, and 15 in the setback to Ohio State on Sunday.
"Turnovers hurt us,'' Smith said. "We're shooting ourselves in the foot. Last year, we had experience with Lawrence Westbrook and Damian Johnson. They were strong, athletic and mentally tough. Al is a good player, but he has stamina and endurance [issues] with the bad foot. We may have to make Hoffarber more of a ballhandling role.''
But of course the Gophers need Hoffarber to be a game-changer with his 3-point shooting, too.
The schedule is in Minnesota's favor with three of the next four at home. But nothing should be taken for granted against Purdue, Iowa or Northwestern, let alone the road game at Michigan, which nearly beat Kansas on Sunday. The Gophers will have to slog through the Big Ten to reach their potential. But if they do, then their record should balance out with road games against Iowa, Penn State and Northwestern and home games against Michigan State, Michigan and Penn State. One would think that should be "easier" than games against Wisconsin, at Michigan State and at Ohio State.
"We've got to protect our home,'' Smith said of Williams Arena. "We'll win our share of games. We can play with anyone as long as we execute.''