Road challenges await Hokies in ACC
January, 12, 2011
01/12/11
1:18
PM ET
Virginia Tech was a disappointment earlier this season.
It had a chance to beat UNLV on a neutral floor at Anaheim, Calif., in the 76 Classic championship game, but was blown out late in the second half.
The Hokies then had a shot to beat Purdue at home in the ACC-Big Ten Challenge, but they lost in overtime, 58-55. And then the bottom fell out in a poor performance at home in the ACC opener against Virginia, 57-54, on Dec. 5.
Virginia Tech shouldn't be ripped for losing at Kansas State on Nov. 16, and it should be applauded for beating Oklahoma State two days before the loss to UNLV.
But by mid-December there was legitimate reason to question if the Hokies would live up to their potential as a second-place challenger in the ACC behind Duke.
While it's true that they were down bigs like J.T. Thompson (knee) and Cadarian Raines (foot), they still had their chances to win games that would enhance their résumé.
[+] Enlarge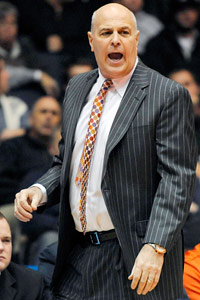 Richard Mackson/US PresswireSeth Greenberg's Hokies have a chance to impress the NCAA selection committee in the next four weeks.
But if you're familiar with Seth Greenberg, you know he loves a challenge. It begins with a road game at North Carolina on Thursday night (ESPN, 9 ET).
Greenberg deserve credit for getting the Hokies back on track.
Virginia Tech has won six straight games since the Virginia loss, and starting guard Dorenzo Hudson played in only one of the games -- against Mississippi State in the Bahamas -- before he was shut down for the season with a foot injury. Hudson sat out the first win of the streak against Penn State and then scored 17 points in the 88-57 win over the Bulldogs before the pain became too much to handle.
The Hokies are leaning heavily on the remaining starting five of Malcolm Delaney, Jeff Allen, Terrell Bell, Erick Green and Victor Davila. They all played at least 32 minutes and took all but six shots in the 71-59 win over the Seminoles on Saturday. That's going to be the way Va. Tech survives in the ACC, assuming it does.
"I played 40 minutes of zone against Florida State, that's not like me,'' Greenberg said. "Erick Green has emerged as a player who we can count on, making shots and getting Malcolm the ball. Our turnovers are down. Jeff Allen is playing at a high level. But we have to keep everyone out of foul trouble.''
The Hokies will know if they're a viable candidate in the next four weeks. After the Carolina game, they play four of their next six ACC games on the road -- at Maryland, at Georgia Tech, at NC State and at Boston College. All are winnable. But all could be losses, too. Virginia Tech hardly has any room for error.
"We've got to run and get easy baskets,'' Greenberg said. "We've got to shorten the game a bit. We've got a group of guys and a good cause to rally around. But it's a long season, and we'll have to watch fatigue. But I like the chemistry that we have.''
And in what can't be described as a shocker, Greenberg added, "I like to create causes. That's the way I've always coached. We've always had that underdog mentality, and we feed off that. I've probably been more upbeat in practice than I've ever been. We're not going to give in. We're going to grind and try to win these games.''
In the fight for second, Virginia Tech is in line behind North Carolina (1-0 with a road win at Virginia) and surprising Boston College (3-0). NC State (1-1) fell behind the Eagles after the loss at Conte Forum Tuesday night. Meanwhile, Maryland is off to an 0-2 start, while Florida State (1-1) is struggling offensively and has a must-have game against Duke on Wednesday night. Miami began with two road games (0-2), and Greenberg's sleeper is Clemson under new coach Brad Brownell, which opened with a win over Miami in its ACC opener.
The problem for these ACC teams vying for second through fifth is the lack of quality wins for the selection committee. The Tar Heels have the best shot at being ranked soon. But until North Carolina is ranked, ACC teams will not play any ranked teams -- save Duke -- the rest of the season. The only nonconference game remaining against a ranked team for any ACC team not named Duke is Maryland's visit to Villanova this weekend.
"North Carolina is a top-25 team; there's no doubt in my mind,'' Greenberg said. "Tyler Zeller runs the floor better than Tyler Hansbrough. Dexter Strickland might be the most improved player in the country. They're shooting the ball well.
"It was easy to write us off,'' Greenberg said. "But we're not overreacting to a win or a loss.''
The Hokies have missed the NCAAs the past three seasons, and Virginia Tech may not deserve a bid again this year. But if it finishes strong, it could earn a bid the hard way with all the injuries.
"Malcolm is always there, and he's in the back of everyone's mind that he's a threat every time down the court,'' Greenberg said. "That's a great thing to have.''
We'll see if that will be good enough soon.