Buffs, Aggies find early Big 12 success
January, 17, 2011
01/17/11
1:39
PM ET
Mark Turgeon let it be known during the Colorado hiring process that dismissing Tad Boyle's candidacy for the head-coaching position would be a mistake.
He knew that Boyle was the perfect fit. Boyle had made little-known Northern Colorado a contender in the Big Sky, and Turgeon knew Boyle was a winner since the two played together at Kansas.
[+] Enlarge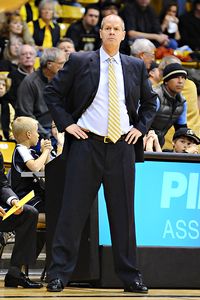 Ron Chenoy/US PresswireTad Boyle has helped Colorado get off to a fast start in the Big 12.
"He's one of my best friends in the world,'' Turgeon said.
Boyle returned the sentiment
"He's the guy I bounce things off of,'' Boyle said. "He's been in the league. He knows. I can trust everything he says.''
Check the standings three games into the Big 12 schedule, and what do you see? Texas A&M, coached by Turgeon, and Colorado, coached by Boyle, are atop the overall standings at 3-0, while the two traditional powers, Kansas and Texas, are a half game behind at 2-0.
Sunday night, Boyle and Turgeon talked again. They speak to each other multiple times a week, by either phone or text, to discuss recent turns in events.
Colorado had the buzz from NBA scouts with Alec Burks and Cory Higgins, but no one could have imagined the Buffaloes would be 3-0, based on their Big 12-opening schedule against Missouri, at Kansas State and home versus Oklahoma State. The reasons for optimism probably would have been muted, considering the Buffaloes lost at San Francisco and Harvard earlier this season.
"We probably went on the road too early,'' said Boyle, who had nothing to do with the road game scheduled at San Francisco. That was done by former head coach Jeff Bzdelik, who thought he was going to a better gig at Wake Forest, but instead, in the short term, Bzdelik is worse off, as the Demon Deacons are the worst team in the ACC. And it's hard to argue that Colorado, as a soon-to-be member of the Pac-12, won't have an easier road to the NCAA tournament than Wake will in the ACC.
"I knew as soon as we lost to San Francisco that that loss could kill us for a postseason résumé,'' Boyle said. "If we play those games around the time we went to Vegas, we win those games. But as a first-year coach at a place, it takes a while.''
Colorado's season turned around in Las Vegas, even though a split with New Mexico and Indiana on Dec. 22 and Dec. 23 came after impressive wins over Oregon State (a dominating 26-point win) and versus rival Colorado State in overtime by seven. The Buffaloes couldn't contain the Lobos' Dairese Gary in Vegas, losing 89-76, and had to hold off a furious Hoosiers rally in the second half to beat IU by nine, 78-69.
Burks then torched Missouri with 36 points to open the Big 12 slate with a huge victory. He's averaging 19.7 points, while Higgins is at 16.6 ppg, but the Buffaloes are hardly two dimensional after Levi Knutson scored 20 in the road win at K-State on Jan. 12. When Boyle talked to Turgeon, he quickly complimented the Aggies coach on his team's start, especially after A&M's overtime home win over Missouri this past weekend. Turgeon returned the compliments by saying he doesn't own a road win at Kansas State, so Colorado is better off at this juncture.
"It's great to see our team come together,'' Boyle said.
Of course, if the Buffaloes lose this week at Nebraska and Oklahoma, two teams that are near the bottom of the Big 12, the perception will be that they aren't as good as their early conference wins. "They're winnable games,'' Boyle said. "But I'm talking a lot about managing success. I'm concerned about it. We've got to be focused on the road.''
Boulder, Colo., was hardly a basketball hotbed in the previous decades, save a run with Chauncey Billups. But the atmosphere during the Oklahoma State game last Saturday was "electric,'' according to Boyle. That Colorado actually had an atmosphere is something new and different.
"But that's why it was so important that we won that game,'' Boyle said of beating the Cowboys. "If we had come out and stumbled [after winning at Kansas State], then I think people would have thought it was a fluke. Now they're believing, which makes the home court even better. We've put ourselves in a good position -- no doubt. But it's early.''
That's the party line from Turgeon, too.
"Turg is doing an unbelievable job with this team to be 16-1,'' Boyle said. "They know how to win. They grind it out. He's the coach of the year.''
[+] Enlarge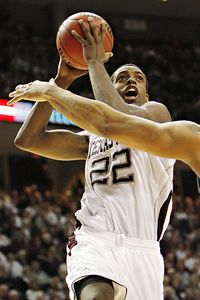 Brett Davis/US PresswireKhris Middleton has led Texas A&M to 13 straight victories.
The Aggies are a faceless crew nationally, but they do have a rising star in Khris Middleton, who scored 28 points, including 11 in overtime, in the victory over Missouri. Nathan Walkup, Dash Harris, David Loubeau and B.J. Holmes are solid college players and make these Aggies one of the least known, but most highly competitive college basketball teams around. They defend and are improving in ways to score. They continue to plod along by winning quality games.
Texas A&M's lone loss came on the final possession to Boston College at the Old Spice Classic in Orlando, Fla., in late November. The Aggies beat Temple in that tournament and Washington at home. They added necessary wins to their NCAA résumé by knocking off Arkansas in overtime in Dallas and winning at Oklahoma. The Aggies crushed the Cowboys of Oklahoma State 71-48 before the Mizzou win.
But like Colorado, Texas A&M will learn more about itself in the coming week after a road game at Texas on Wednesday and a home game against Kansas State on Saturday.
"We don't have four McDonald's All-Americans; we have to play well to win and grind,'' Turgeon said. "It's not easy for us to win. If we don't play well, we'll lose. It's early. We've had a good schedule. We've had a lot of home games. We've won our close games, but we could easily have four or five losses. We've had a couple of breaks.''
The Aggies go to Colorado, but the Buffaloes don't make the return trip to College Station. They also visit Kansas with no return game. Colorado gets Kansas twice and gets Texas in Colorado in their only meeting of the season.
"I don't get too caught up in the advantageous schedules,'' Boyle said. "We've got to win at home, and hopefully we can get a couple more on the road. I'm not talking to our players about this.''
Boyle isn't dismissing the possibility that games will matter later in the season for CU. If the current pace continues, its game in Boulder on Feb. 9 versus Texas A&M suddenly looms large. No one could have projected that when Turgeon was pushing for Boyle to land the Buffs job.