Bears impress with big Valley road wins
January, 19, 2011
01/19/11
11:50
AM ET
As the conference season nears its halfway point, there may not be another division leader with as many significant road wins in its league as Missouri State has in the Missouri Valley.
The Bears head into Wednesday night's game at Indiana State atop the conference standings with a 7-0 league record, a 15-3 overall mark and an impressive road streak in the Valley.
To be fair, some of the other conference leaders around the nation (Duke, Ohio State, Kansas and Washington) haven't been through the gauntlet yet.
But Missouri State has already won at preseason favorite Wichita State, at perennial MVC contender Creighton, at last season's Sweet 16 darling Northern Iowa and at Bradley. Possible trouble spots left on the road schedule include the surging Sycamores on Wednesday and at Southern Illinois on Feb. 23.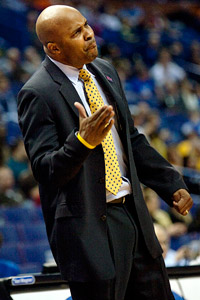 Icon SMIMissouri State's 15-3 start under third-year coach Cuonzo Martin is its best since 1967-68.
There are other road stops (at Drake and Evansville), but the Bears' run has been quite impressive. Finishing with a perfect conference mark isn't easy, regardless of the level. Teams like Gonzaga and Butler have the target on their backs in every game in the WCC and Horizon. Davidson went through the same thing in the Southern Conference with Stephen Curry. The Valley has annually been one of the tougher leagues to conquer on the road because there are passionate fans who follow the schools on a game-by-game basis.
If you watched the crowd and atmosphere at Wichita State on Jan. 9, you can appreciate the significance of Missouri State winning that game 59-56.
"It was one of the best environments I've ever been in, and that includes the Big Ten,'' said third-year Missouri State coach Cuonzo Martin. "The fans are right on top of you. That's a really good team. That was a tough, tough win for our guys.''
Martin is part of the Gene Keady coaching tree. On Tuesday he chatted with the former Purdue coach, now a special assistant to St. John's coach Steve Lavin, and keeps in regular contact with Purdue coach Matt Painter and Illinois coach Bruce Weber. Martin was always a possible candidate for jobs in the Midwest. When he landed this gig three years ago, it seemed to make the most sense then and it makes even more now.
"I was trying to find my way as a coach early,'' said Martin, who was 11-20 in Year 1 with a 3-15 Valley record. Missouri State then won the CollegeInsider.com Tournament a year ago (24-12 overall, 8-10 in the Valley) with a 78-65 win over Pacific in the championship game.
This is the program that prior to 2005 was referred to as Southwest Missouri State. It went to the Sweet 16 in 1999 under Steve Alford and made five NCAA tournament appearances (including the second round in 1987) under Charlie Spoonhour.
Martin said he wanted to be in a neutral-site tournament this season, but the Bears were already slated to play in the NIT Season Tip-Off at Tennessee. The Vols beat the Bears by four Nov. 17 and then two days later Tulsa beat Missouri State by 12. Martin didn't have any excuses for that loss. The Bears also lost at Oklahoma State 84-70 in December.
Missouri State has nothing to show in the nonconference to warrant an at-large berth. But the selection committee could reward it for possibly winning the Valley with a tremendous record, quality in-conference road victories and, for argument's sake, a Valley tournament title loss in St. Louis.
The Bears have put it all together despite not having two players they were counting on in sophomore Keith Pickens, who hurt his knee in the summer and is out for the season, and sophomore Michael Porter, who was involved in an offseason car accident and ultimately transferred to Southeast Missouri State to be closer to home.
The 15-3 start is Missouri State's best since 1967-68. Kyle Weems leads the team in scoring (16.4 ppg) and rebounding (6.9) and is the leader in the clubhouse for MVC player of the year. Winning the first four Valley road games is a school record and winning nine straight and 18 in a row at home are also worthy of praise.
If you look at the cyclical nature of Valley teams, from Drake to Creighton to Southern Illinois to Northern Iowa to Bradley to Illinois State to Wichita State, they've all taken their turn at the top over the past decade. The common denominator? They've been led by seniors.
The Bears start four seniors and Weems, a junior, is the only one who is not in his final season of eligibility.
"I just think we're playing really hard right now,'' Martin said. "We're making shots, we're handing out assists and we're not turning the ball over. We're doing a good job of scoring the ball and we're defending at the same time.''
Translation: The Bears are winning.
Missouri State has plenty to do before March. But if the Bears earn an NCAA tourney spot, this grinding team will likely again uphold the Valley name and be a tough out in the first or -- perhaps -- second round.
Of course, Wichita State could win the Valley tournament and end the Bears' NCAA hopes. But Missouri State has been more impressive to this point in the season. If it finishes the run with an NCAA bid, it will be quite an accomplishment.