Wolfpack running out of opportunities
January, 20, 2011
01/20/11
12:06
PM ET
RALEIGH, N.C. -- The RBC Center wasn't filled 10 minutes before the beginning of what was easily the most important game of the season for NC State against rival Duke.
It was arguably one of the most important games of Sidney Lowe's four-plus seasons as head coach.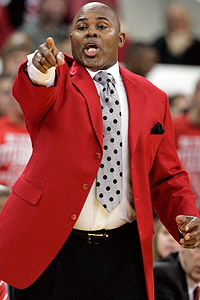 Mark Dolejs/US PresswireSidney Lowe and NC State have a lot of work to do if they're to avoid a fifth consecutive season with no NCAA tournament appearance.
Finally, as soon as the national anthem started, the crowd started filling into the empty seats.
The fans were ready for an upset, a signature win.
The players weren't -- at least not initially.
"I was nervous at first playing against Duke for the first time in the ACC," NC State freshman guard Ryan Harrow said. "They're such a good team and we had to make a statement. I made some poor decisions. I knew we had to beat Duke to make a statement across the world and help our standing in the ACC and not be at the bottom and not make the [NCAA] tournament."
Anxious moments from the Wolfpack contributed to poor first-half play, from execution on fast breaks, to shot selection (22 percent) to decision-making in the half court. The team looked young, out of sync and overwhelmed by the moment.
The Wolfpack rallied in the second half, cutting a 16-point deficit down to a manageable five before it ballooned back up to double digits.
And then the game was over.
But I came across something unexpected in speaking with NC State players as well as Lowe after the game: unbridled optimism.
No one was down, not one player or coach. Sure, they were upset they blew a chance to beat Duke and were well aware that this was a signature chance at home for a marquee win. But you couldn't find one player sulking about a lost season or a member of the coaching staff worried one bit about job security.
Lowe is no fool. He knows. He's been tossed aside as a head coach in the NBA and has seen as an assistant the strain losing has on a head coach. He knows the deal.
Fans want results. But after conversations with Lowe, I don't get the sense the situation is eating at him like it might someone else who is under siege, as I've seen, for instance, when Steve Lavin was being forced out at UCLA.
Former coach Herb Sendek didn't feel appreciated at NC State so he left for Arizona State after five straight NCAA tournament appearances. Lowe was not the first choice to replace Sendek. The Wolfpack flew then-Memphis coach John Calipari in on a private jet and on the flight back Calipari's staffers all raised their hands saying they wanted the job. But NC State's academic standards eventually scared them off and they decided to stay at Memphis. It turned out to be the right move, as the Tigers came within one shot of winning the national title in 2008 two years later which, in turn, led Calipari to Kentucky.
Lavin was wooed as well but ultimately decided to remain an analyst at ESPN. The Wolfpack eventually turned to Lowe, one of their own, who as a player won a national championship in dramatic fashion in 1983 under the late Jim Valvano. Lowe brought with him as an assistant Monte Towe, who helped the Wolfpack win the national title in 1974.
Recruiting has been erratic with the biggest stud being J.J. Hickson, who lasted only one season before leaving school and becoming a first-round pick in the NBA draft. NC State reached the final of the ACC tournament once and lost and postseason play during Lowe's tenure has been limited to two NIT appearances. The Wolfpack haven't won more than six ACC games in a season under Lowe.
Lowe doesn't live in a bubble. There were fans yelling from behind press row Wednesday night about who the coach would be next season. This kind of chatter is hardly new for a struggling team. And it may mean nothing considering athletic director Debbie Yow has publicly supported Lowe since she came from Maryland to take over for Lee Fowler.
Yow has basketball roots, coming from a family deeply entrenched in the sport -- her late sister, Kay, was a former Wolfpack women's coach long beloved for her work on the court and her courageous fight against cancer.
Lowe said he speaks with Yow often, adding that she provided a charter airplane for the team to travel and made the trip last week to Florida State to show support.
Predicting what Yow will do is moot at this juncture in the season. And she's not about to say whether Lowe's job is in jeopardy. No AD would say that in mid-January, knowing that's how you could lose a team.
If the attitude in the locker room is any indication, the team hasn't quit on Lowe.
"We can't hang our heads, we can't let this game put us behind, hopefully we'll win the next one, win out and get in the [NCAA] tournament," said senior forward Tracy Smith. "We can't lose to the bad teams. We've got to beat the good teams. We can't shoot 22 percent in the first half. That hurt us."
"There's nothing we can't fix in practice," said sophomore forward Richard Howell. "We're talented enough to beat anybody in the country. I mean, there's no reason why we can't get it together."
The core of this team, save Smith, is underclassmen: freshmen Harrow, Lorenzo Brown and C.J. Leslie; and sophomores Howell and Scott Wood. C.J. Williams, a junior, also plays quality minutes.
Losing to Duke Wednesday night made any thought of an NCAA tournament berth seem remote, save a win in the ACC tournament. The Wolfpack stand at 11-7 overall, 1-2 in the ACC, and lack quality wins. There simply aren't any chances left on their schedule to pull off a signature win outside of a visit to Duke on Feb. 5 -- which seems unlikely given last night's loss.
The Wolfpack better beat Miami Sunday first and foremost before even considering what they can or can't accomplish the rest of the way. Lowe said he reminded his team that the Wolfpack won five of their last seven games last season, before going out in the second round of the NIT to UAB and finishing with a 20-16 record. A similarly strong finish isn't out of the question with a back-end schedule with road games at Wake Forest and Virginia and home games against Clemson, Georgia Tech and toss-up games against North Carolina and Georgia Tech.
But the Wolfpack have shown that no game is a given. And playing in the shadows of Duke and North Carolina means the Wolfpack have to be special to stand out; they haven't under Lowe. Maybe they will be if the freshmen mature soon. Unfortunately, they don't have much time, with few opportunities remaining on the schedule to make a tourney push.
This isn't a case where the base doesn't want a coach to succeed. NC State has passionate fans and Lowe is one of their own. Whether or not he does stay as coach will be Yow's call and may depend on how much progress the team shows over the next month. Lowe is well aware of the deal here. He's not immune. He said how much he enjoys affecting young lives and seeing this team mature, adding that he "hates losing."
No one knows more than he does that it would be prudent for all those involved to start winning consistently, starting Sunday against Miami.