Should early-entry withdrawal date move?
January, 21, 2011
01/21/11
9:11
PM ET
The NFL draft early-entry deadline passed last weekend.
College football players had to be either in or out.
There was no wiggle room to test the process.
If the Atlantic Coast Conference gets its way, that will be true for the first time in college basketball in 2012.
A new NBA draft proposal by the ACC would push the early-entry deadline to the day before the first day of the spring signing period for national letters of intent, which is usually the second Wednesday in April. The proposal was presented at the NCAA convention in San Antonio last week for comment and will come up for a vote at the next board of directors meeting in April.
"It is a further impediment to the athlete and his ability to analyze his options," said agent Bill Duffy, whose firm, BDA Sports Management, represents NBA players such as Steve Nash, Yao Ming and Rajon Rondo. "It is definitely self-serving for the institutions. I don't think it impacts prospects in the top 10 but mid-to-late first-rounders looking to position themselves higher in the draft are harmed significantly."
Two years ago, the ACC pushed for a similar proposal to move the early-entry withdrawal deadline from 10 days before the June draft to April. But according to ACC assistant commissioner Shane Lyons, a compromise was reached to push the deadline to May 8. That new date was put in place in 2010 and will continue to be the withdrawal date for college basketball players in 2011. The deadline to enter the draft is April 24. That means college players have just 14 days to test the draft process, unlike in previous years when they had just shy of two months.
[+] Enlarge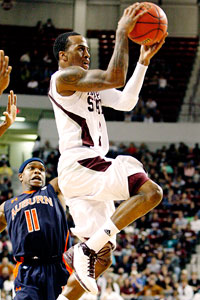 AP Photo/Rogelio V. SolisMississippi State guard Dee Bost had to apply for reinstatement and serve a nine-game suspension after missing the withdrawal deadline for last year's NBA draft.
The NBA controls its own withdrawal date of 10 days before the draft and that won't change since it is a collective bargaining issue, though it could come up during this summer's CBA negotiations with the players' association; as could the NBA's rule that a player must be one year out of high school and at least 19 years old during the draft's calendar year to be eligible for entry. But the change in college basketball to implement its own withdrawal date of May 8 -- and possibly earlier, in April -- affects the amateur status of its players. If a player doesn't withdraw by the NCAA deadline then he would be ineligible to compete, regardless of the NBA's June deadline. One player has so far been burned by this new rule -- Mississippi State's Dee Bost, who withdrew after the May 8 deadline. Bost also claimed he didn't know that the NCAA had adopted a new rule that stipulates a player can no longer go through the NBA draft unselected and still return. Bost's appeal for reinstatement was granted and he served a nine-game suspension this season.
The purpose of moving the date up from May 8 to early April is to ensure that college basketball coaches can sign players in the spring knowing their roster. But it could have an adverse affect on their team.
Agent Mark Bartelstein said he regularly fields calls from players' families seeking information on draft status. He also said that in his daily talks with NBA general managers he's been told GMs are in no position to offer up draft advice in January or February since the draft is too far away to be on their minds.
"It will be a disaster because college coaches will be wondering why players are distracted," Bartelstein said. "I've been a huge proponent for years to let the players focus on the season. I've told them they'll have plenty of time to figure out what the right thing to do is because there are no sure answers in January, February or March. No one knows in even late April what's happening [with the draft]. You're asking kids to make decisions without accurate information. Teams don't know what they're doing. It's going to be a nightmare for college coaches."
Bartelstein said if the date is moved up to early April there will be "all kinds of people telling [players] what they want to hear and don't have the real answer."
The legislation would take effect on Aug. 1, 2011, if adopted for the 2011-12 season.
The rationale listed by the ACC in the legislation reads:
"Before the adoption of the current rule, student-athletes had approximately 50 days to decide whether to remain in the draft and tryouts with NBA teams could occur only in the last 20 days. During that period, collegiate head coaches were often in limbo regarding the status of their rosters for the upcoming season. Further, student-athletes typically spent a large part of that time away from campus training for pre-draft workouts, which resulted in academic concerns.
"The current legislation reduced the problem by setting the withdrawal deadline May 8, which is 40 days earlier than the previous withdrawal deadline but still 22 days after the first day of the National Letter of Intent late signing period for men's basketball in April. This year, NBA teams did not spend money to have workouts with student-athletes until the withdrawal deadline passed. By moving the withdrawal deadline, coaches will have flexibility to address roster issues at the beginning of the spring signing period while viable prospects are still available. Evaluations by professional scouts and others during preseason practices, regular-season games and postseason games should provide student-athletes with adequate information to credibly determine NBA draft status."
Boston Celtics general manager Danny Ainge said he can understand why the ACC wants to put this rule in place.
"I wouldn't have a problem having the draft on the same day," Ainge said of the early-entry deadline proposal for early April. "But guys are looking for promises and who are they going to base that information on? From what they read on the Internet?"
Ainge said that if this rule had been put in place a year ago players like BYU's Jimmer Fredette and Purdue's JaJuan Johnson, who declared and withdrew, wouldn't have been able to get a sense of their draft status in early April. Ultimately, they didn't get that in early May, either, and chose to return to school.
"I understand from a college coach standpoint you want to know the sooner the better," Ainge said. "The NBA teams usually know who's in and who's not in. But it will force [players] to gather information during the conference [season] and NCAA [tournament]."
The ACC's proposal began as a reaction to coaches saying that they were held hostage while waiting for decisions by key players. The most notable case in the ACC was three years ago when Ty Lawson, Wayne Ellington and Danny Green didn't decide they were withdrawing from the NBA draft until June. They returned and North Carolina won the 2009 national title.
Lyons said that NBA teams and the student-athletes should know by the time their season ends who is going into the draft. He said the student-athlete advisory committee spoke with men's college basketball players and concurred.
"There's no need to prolong the issue any longer and that's why the day before spring signing period suits all parties best," Lyons said.
Lyons said the preliminary vote was close at the convention but the legislation did have a simple majority. He said that it needs two-thirds majority to be passed at the convention and that's why it went out for vote.
"At this point we're optimistic," Lyons said of the legislation passing in April. "Unless something changes. We were just wasting time to waste time [with the longer draft-testing process]. Coaches don't know if they can sign a player. We're putting everybody in a bad situation."