BracketBusters games that should happen
January, 25, 2011
01/25/11
11:23
AM ET
What you won't see during February's BracketBusters weekend are a few teams -- Oakland, Belmont, Florida Atlantic, Harvard and Princeton come to mind -- that could end up being a story in March.
For one reason or another, these teams weren't selected to participate or their conferences may not have chosen to join the event.
But there are still enough teams with a realistic shot of winning their regular-season conference titles or have automatic bids in the conference tournaments to fill the 11 televised games.
Some have a chance to be NCAA first-round winners with the right matchups. ESPNU will announce the pairings for the Feb. 18-20 games on Monday, Jan. 31 (6:30 p.m. ET).
Here are my suggestions for the 11 TV games on ESPN/ESPN2/ESPNU (the other 92 teams will be paired up over the same weekend). Remember, home and road designations were set prior to the season with a return game scheduled for the following season:
1. Utah State at Saint Mary's: This has been a BracketBuster game in the past, in large part because these two teams are the two best teams in the field. Utah State and Saint Mary's are en route to being at-large candidates, even if neither wins the WAC or WCC, respectively. Organizers shouldn't let anything influence them on this decision, if either coach doesn't want to the other again. This is important to make the event work. This game has to happen since it is the most obvious of the 11 to occur.
[+] Enlarge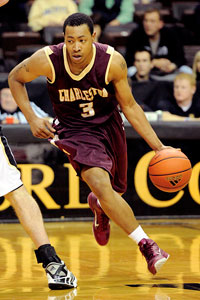 David Allio/Icon SMIWho wouldn't want to see Charleston's Andrew Goudelock take on Hofsta's Charles Jenkins?
2. Hofstra at College of Charleston: If Utah State versus Saint Mary's is my No. 1, this is easily No. 2. Two of the top guards in the country not named Jimmer Fredette and Kemba Walker reside in this matchup. And the teams are on their way to challenging for the CAA and Southern Conference titles, respectively. Charleston's Andrew Goudelock (23.4 points per game) and Hofstra's Charles Jenkins (23.7 ppg) are 20-plus scorers, and both have a legit shot to play in the NBA. This would be one of the better one-on-one matchups of the season.
3. VCU at Wichita State: The projected favorites in the Colonial and Missouri Valley should play in this event. VCU is in a tussle with Hofstra and others in the CAA, while Wichita State is trying to best Missouri State and Indiana State for the Valley title. This type of game won't shift either school into the at-large pool, but it would be a solid power-rating game for possible seeding. Oh, and it would be a high-octane affair that's up and down with few delays.
4. Missouri State at Valparaiso: The Crusaders and Bears are the surprise teams in the Horizon and Missouri Valley, respectively. Each team has a chance to unseat the prohibitive favorite in its conference in Butler and Wichita State. This would be a grinding matchup between two teams few would want to play in March.
5. Cleveland State at Indiana State: The Sycamores handed Missouri State its first conference loss, and Greg Lansing is conducting a revival in Terre Haute. Indiana State lost in three overtimes at Wichita State. Had they pulled out the victory, the Sycamores would be the favorites in the Valley. Meanwhile, Cleveland State, which won its first 12 games, is tied with Valparaiso atop the Horizon (7-2) heading into its two-game road trip to Illinois, in which it plays Illinois-Chicago and Loyola.
6. Creighton at Old Dominion: The Monarchs would have been higher up on this list a few weeks ago after it beat Clemson, Xavier and Richmond in late November/early December. ODU followed that up with a win over Dayton on Dec. 11. But the Monarchs have slipped a bit in the CAA with a 6-3 mark. ODU still has enough quality wins to be in contention for an at-large berth, and playing Creighton won't hurt -- as long as it wins that game. The Bluejays have been inconsistent so far at 5-4 in the Valley, but they did play a quality slate of games in the nonconference. The problem is they didn't win contests against Northwestern, BYU and others.
7. Austin Peay at Northern Iowa: Last season's NCAA darling (before Butler) has had its moments this season. The Panthers won the Las Vegas Classic over New Mexico and knocked off Iowa State, but they got off to a slow start in the Valley by losing three of their first four. Northern Iowa has now won five consecutive games. Meanwhile, Austin Peay is tied with Tennessee State atop the Ohio Valley, one game ahead of preseason favorite Murray State. The Governors nearly beat Memphis in overtime and have played six OT games so far, losing four of them.
8. Ball State at Murray State: The Racers were a trendy pick (by me) to be a top-25 team and possibly win the 76 Classic in Anaheim. But Murray State didn't fare well after beating Stanford, as it lost consecutive games to UNLV and Oklahoma State. It had already blown its other "up" game at Ole Miss in mid-November. But this team still has a chance to be a factor in an NCAA first-round game if it can win the OVC tournament. Meanwhile, Ball State has become the best team in the MAC with a 5-0 start in the West and a 13-5 record overall. The Cardinals got drilled at Butler early, nearly beat St. John's in overtime, own a quality win over Indiana State and beat the Big East's worst team in DePaul in OT.
9. Maine at Fairfield: Lost amid the Penn State euphoria of beating Michigan State and Illinois at home was that Maine defeated the Nittany Lions in State College by 10 points on Dec. 21. The Black Bears have also won at UMass and are currently 6-1 in the America East. They're one game up on Vermont after beating the Catamounts in Burlington, which is no small feat. Fairfield was the preseason pick to win the MAAC and is holding serve with an 8-1 record atop the standings. The Stags aren't going to get an at-large berth, and unlike Maine, they couldn't win at Penn State. Pitting the leaders of the America East and the MAAC in February simply makes too much sense.
10. Montana at Long Beach State: The 49ers are atop the Big West with a 6-2 record and have played a tough slate of games against San Diego State, Clemson, Washington, Utah State, North Carolina and Saint Mary's. They lost every single one of those games, but at least Long Beach State has been tested. Montana won at UCLA and beat Oregon State. The Grizzlies were an NCAA tournament team last season under coach Wayne Tinkle. Montana is a half game behind Northern Colorado in the Big Sky standings after losing to the Bears on the road. The standings could tighten up the week before the event, when Northern Colorado goes to Missoula.
11. Boise State at UC Santa Barbara: The Broncos have been one of the surprise teams in the WAC behind first-year coach Leon Rice. Boise State just won at rival Idaho, and that should be enough for it to get one of the final televised games. Rice took over an experienced team, which lacked quality wins in the conference. But the Broncos are 5-2 in the league this season and have matured. Santa Barbara is 3-3 in the Big West, but it does have road wins at UNLV and at Santa Clara -- which Gonzaga couldn't get -- so that should elevate the Gauchos ahead of Cal Poly.