Boilermakers must regroup after blowout
January, 26, 2011
01/26/11
9:34
AM ET
COLUMBUS, Ohio -- Purdue coach Matt Painter had never seen his team play with so little discipline, toughness and intelligence this season.
As Painter headed back on the court Tuesday night for the second half, he was at a loss for how to explain the Boilermakers' stunning 20-point halftime deficit.
His opinion didn't change much after the game ended, a stunningly embarrassing 87-64 loss to top-ranked Ohio State.
"I wish it was something from a strategic standpoint that I could look in the mirror and make a correction," Painter said. "I told our team when people across the country think about Purdue, the first thing they think about is toughness. That was the case. We've got to go back to square one from a competing standpoint."
The Big Ten, much like the Big East has been, can be unforgiving. Wasn't it just two days earlier that Purdue looked like a real Big Ten title contender by beating Michigan State by double-digits in front of a crazed crowd at Mackey Arena?
[+] Enlarge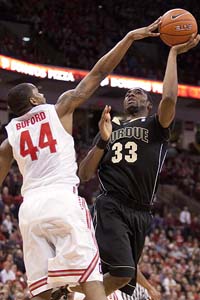 Greg Bartram/US PresswirePurdue simply couldn't get anything going against Ohio State.
"It was uncharacteristic," said Purdue senior forward JaJuan Johnson, who was essentially the Boilermakers' offense in Columbus. "Lot of it is mental. We did things we didn't traditionally do."
The Buckeyes drilled 11 3-pointers, including even one from Jared Sullinger. The Bucks shot better than 50 percent overall and on 3s. They crushed Purdue on the boards, too. If you were to take a snapshot of this game, you'd be fairly certain the Boilers could not catch Ohio State in the Big Ten this season.
But this was just a snapshot -- a horrible outing for the Boilermakers but hardly an indicator of what this team is capable of, going forward. Purdue is facing the gauntlet of its Big Ten schedule.
Minnesota is up next on Saturday, with trips to Wisconsin and Illinois over the next three games before UW and Ohio State come to West Lafayette.
But with Minnesota trying to win without injured senior guard Al Nolen, Illinois having lost three of its past four and Michigan State dismissing Korie Lucious for yet another distraction, the only team left outside of the Boilermakers capable of challenging Ohio State is Wisconsin.
The Badgers still play Ohio State twice -- in Madison on Feb. 12 and here in Columbus on March 6.
"It's definitely possible for us, but we're going to have to need help from another team," Johnson said of catching Ohio State now that Purdue is two games behind the Buckeyes. "We're definitely going to need help from another team, but it's possible."
"It's awfully tough to beat them in their backyard," Painter said. "It'll be interesting. Someone is going to have come in here and beat them. But teams have proven like Minnesota and Penn State that they can get it close, but no one has been able to get over the hump yet. There are still 10 games left to play. Last year, Michigan State started 9-0 and we were able to catch them and so was Ohio State. But if they play like this, nobody will catch them."
Even with an unbalanced schedule, the Big Ten regular-season title is cherished, maybe more so than any other conference. Ohio State is a lock for a No. 1 seed if it wins the league title. OSU coach Thad Matta said earlier in the day that he didn't think the Buckeyes can go undefeated, believing that the conference is too tough to do something of that nature.
As for Purdue, this performance was so not the norm for the Boilermakers that it's hard to single out one reason. Purdue hasn't had an issue finding scoring lately, even beyond Johnson and E'Twaun Moore. But this team had never been a complete no-show defensively.
The Boilers have been one of the feel-good stories of the season with their play sans Robbie Hummel. Hummel, who is out for the year with an ACL injury, said he would consider playing for Painter in the World University Games in China in August if he's healthy. Painter said the decision will be up to his family since he has gone through two ACL surgeries.
For now, Hummel's role is to be a mentor and motivator for the younger players on this team. They'll need it now more than ever. Johnson and Moore have to be leaders to ensure that this game is forgotten and the Boilermakers move on as though this never happened.
"This was all mental," Moore said. "We've got to stay together. We know we have more good ball games to come."
Nevertheless, the snapshot now says Purdue is tied with Wisconsin, two games behind Ohio State and no longer with momentum. The Badgers, coming off a drilling of Northwestern in Evanston, Ill., need to beat Penn State on Saturday to stay in stride with Purdue and just behind Ohio State with two shots left against the Bucks.
But if Tuesday is an indication, the only real race in the Big Ten might be for second place.