Jimmer Fredette could carry BYU in NCAAs
January, 27, 2011
01/27/11
1:59
PM ET
Jimmer Fredette
is not Stephen Curry. They are not the same type of player. Fredette is not a lock for the lottery, as Curry was. And BYU is hardly Davidson.
[+] Enlarge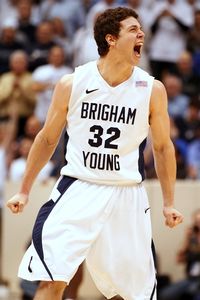 AP Photo/George FreyBYU's Jimmer Fredette has scored 40 or more points in three of his past four games.
BYU is not a mid-major. The Cougars play in front of 22,000 fans at the Marriott Center. BYU has enough money to venture off as an independent in football and not sweat. Few schools could do this. BYU also has a lengthy list of NCAA tournament appearances (25) but never reached a Final Four.
And BYU is possibly headed for a seed on the two or three line while Davidson under Curry in 2008 was a No. 10.
But there is a similarity between the two special talents.
Fredette is the focus of his team every game, and for every opposing scout, yet he still is putting up monster numbers. And he's a fantastic shooter.
Curry had to deal with the same and was characterized in a similar light as a specialist at times.
How much is what Fredette is doing for BYU similar to what Curry had to deal with at Davidson?
"You have to have that competitive spirit and know that you're going to be defended very hard and physically," said Dell Curry, Stephen's father, who was a shooter himself in the NBA in Charlotte (then Hornets) and is now working as a broadcaster for the Bobcats. "The opposing team is doing whatever it can to take you out [of what you're doing]. You have to be a smart player, tough minded and [know] how to use your teammates."
And while the spotlight continues to shine on Fredette because of how much he is dominating the point production of his team, it is a credit to his teammates that they fully understand he needs to be fed.
"Your teammates have to buy into the system," Curry said. "There can't be any animosity or jealousy because you need this guy to play well for us to be successful. That's the bottom line."
And that's what worked so well for Davidson in getting to the Elite Eight and a possession away from beating Kansas en route to the Final Four in 2008.
"He had a great group of teammates," Davidson coach Bob McKillop said. "It was a powerful mixture for us. They worked to get him shots."
McKillop cited Curry's unselfishness when Loyola (Md.) coach Jimmy Patsos basically huddled his squad around Curry in the corner, challenging the other four players to beat his team.
"And they did and we won by 20," McKillop said. "How many guys in the country that have a chance to lead the country in scoring would make that kind of sacrifice? He just sat there in the corner holding the double-team. That was the special nature of Stephen."
Fredette does have a better supporting cast. Jackson Emery is more than capable of making 3s in bunches. Brandon Davies has emerged as a solid face-up 4 and Noah Hartsock can convert putbacks. But Fredette did take 24 of the team's 56 shots in the win Wednesday over San Diego State, scoring 43 of the team's 71 points.
[+] Enlarge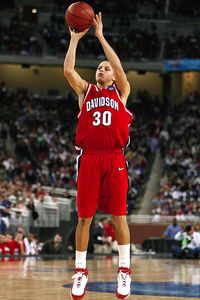 Gregory Shamus/Getty ImagesStephen Curry nearly led Davidson to the Final Four in 2008.
Stephen Curry proved with his play for the Warriors and USA Basketball that his game could transition to the NBA. It didn't matter that he played at a lower-level or that he was slight of build.
Dell Curry isn't worrying about Fredette's 6-foot-2 size, either.
"He has wonderful form," Curry said. "Regardless of where he's at on the court, every shot is the same. He has unlimited and unbelievable range. That's what makes him so dangerous. You can't let your guard down at all. He's very crafty and he knows when and how he wants to shoot it. I may be biased but any time you can shoot the basketball there should be a place for you on a team. In the NBA, you don't see a lot of shooters. I think Steph is more of a point guard but in the right system. [Fredette] is a guy who can shoot the basketball and there will be a place for him in the league."
But like Curry, Fredette can lead the Cougars deep in March, even with every opposing scout focusing on him. He is essentially always open, with the ability to light up an opponent, bail out bad offense and change the momentum of a game.
"It gives you great confidence as a coach," McKillop said. "It makes your other players better than they really are. Because of Stephen's presence he was able to get open looks for other people. Bryant Barr hit [three] 3s against Kansas. He was a capable shooter but he got open because of Steph."
Emery may benefit from that in March from Fredette. And if not there's a good chance Fredette can take and make the shots even when he's defended well -- just like Curry.