Mickey McConnell lifts Gaels with epic shot
January, 28, 2011
01/28/11
3:22
PM ET
Jimmer Fredette
had the game of the week with 43 points against San Diego State.
But Mickey McConnell of Saint Mary's had what is so far the shot of the week -- the one that beat Gonzaga late Thursday night at the Kennel in Spokane.
[+] Enlarge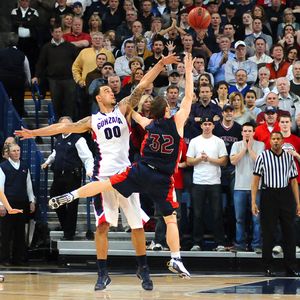 James Snook/US PresswireThe final two points of Mickey McConnell's 27 came at the most opportune time on Thursday night.
With the score tied at 71, McConnell hit a curling, one-handed runner with 1.2 seconds left to take down the Zags in front of a stunned crowd not used to seeing a loss in person. McConnell finished with 27 points and the Gaels won in Spokane for the first time under head coach Randy Bennett and for the first time since 1995.
"It was one of those things where we've been fighting so long to do this," McConnell said by phone Friday. "I knew I had to get it off. I wasn't sure how much time was left on the clock, but I knew I had to get it off in time. I knew when it left my hand that it felt good."
The Gaels were coming off a 19-point road loss at Vanderbilt. But now, with the win at Gonzaga, Saint Mary's is 6-0 in the West Coast Conference, a game ahead of San Francisco, two ahead of Santa Clara and a full three games ahead of preseason favorite and 10-time reigning champ Gonzaga (3-3).
"Until someone knocks them off for the regular-season title, Gonzaga is the top in the WCC," McConnell said. "This was a great win for us and our program and puts us in the right direction.
"This shows our toughness that we can pull this game out," McConnell said. "It shows what we're capable of doing. We still have confidence that we can play with anyone. We can play on the big stage on a given day with anyone."
Saint Mary's made the Sweet 16 last season with McConnell complimenting big man Omar Samhan. But Samhan is gone and so is an anchor in the post. So McConnell has to be the lead guard to shoot the Gaels to wins. SMC has a finisher inside in former San Diego forward Rob Jones, but if the Gaels are going to win the WCC and advance, then McConnell has to be the answer.
By the way, the senior guard from Saint Mary's is well-versed in all things Jimmer after Fredette scored 24 points and hit a 3-pointer with 10 seconds left to beat the Gaels 74-73 in the South Padre Island Championship on Nov. 27.
"I saw his performance and it was ridiculous," McConnell said of Fredette's 43 against San Diego State. "The thing that impressed me is how efficient he is. He doesn't take a ton of shots and doesn't take bad shots.
"It's crazy to think how consistently a good scorer he is and he does it within the offense," McConnell said. "He's not forcing too much. What he's done in the past and what he did against us, it's hard not to give him a good look for him for player of the year. BYU has lost one game all year. He makes everyone on his team a lot better."
As for the Gaels, they have a game at Portland on Saturday and have two more difficult road games at Santa Clara and at San Francisco. SMC ends with Gonzaga on Feb. 24 and then Portland again on Feb. 26.
As for McConnell, he doesn't get the national attention that other WCC stars from, say, Gonzaga have received in the past, or even his former teammate Samhan, who was a bit of a ham and loved the headlines and the camera. But McConnell is quietly having one of the best seasons on the West Coast, along with Fredette, Derrick Williams and Klay Thompson.
McConnell is averaging 15.1 points, 6.4 assists, 47.3 percent on 3s, 52 percent overall and 89.1 percent at the line.
And more important than anything, he lifted his school and his teammates to a monumental win in Spokane.
• North Texas coach Johnny Jones said former Missouri recruit Tony Mitchell is on campus, enrolled and will be eligible to play in December for the Mean Green.
Mitchell was ruled ineligible by the NCAA and not admissible to Missouri earlier this week. The Texas native committed early to Kansas State and went to a prep school in Florida. He returned to Texas to go to school in Dallas and he decommitted from Kansas State and committed to Missouri. The prep school grades sent in to get him eligible through the Eligibility Center didn't clear, so he fell short of qualifying. Missouri appealed to no avail and officially separated from Mitchell this week with the final NCAA ruling.
"We thought we had a good chance of getting him out of high school," Jones said on Friday. "He's a special player. Mike [Anderson at Missouri] did a tremendous job on him. But unfortunately things didn't work out for him."
Mitchell is from the Dallas area out of L.G. Pinkston High, and Jones said his mother didn't want to pay out-of-state tuition. The 6-foot-8 Mitchell was ranked No. 24 in the ESPNU 100 for the class of 2010.
Jones said since Mitchell is a non-qualifier, he can't be on scholarship this season, but can be starting next year. And he'll be able to play after final exams in mid-December.
"I think he can have an impact in any conference," Jones said. "He could have gone to Missouri and been pushing for freshman of the year in that league. He has the ability to come in the Sun Belt and raise our team to another level, as well. He'll definitely be an impact in our league and have a bright future."
Jones said Mitchell would be considered a sophomore when he's eligible.
"I think he's one of the most highly rated recruits to come to our conference," Jones said. "It will draw a lot of attention. Along with him, our recruiting class will be a top recruiting class."
North Texas made the NCAA tournament in 2007 and 2010 and is 16-5 overall through Friday, knocking off lower-level teams in power conferences like LSU and Texas Tech. UNT was the preseason pick to win the Sun Belt, but is currently 5-3 and in second place in the West Division behind 6-1 Denver.