Nittany Lions need strong finish
January, 31, 2011
01/31/11
9:16
PM ET
Penn State coach Ed DeChellis gathered his team Sunday before practice and didn't hide from the obvious.
"We're 5-4 after the first round of the Big Ten and we've got nine more games to play to make our mark," DeChellis told his team, notably his four senior starters. "These nine games will define you, your career at Penn State and if we're successful in those nine games we've got a great opportunity."
[+] Enlarge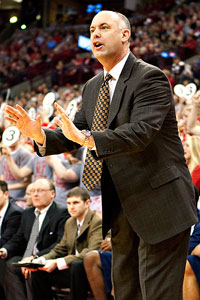 Greg Bartram/US PresswireEd DeChellis was the Big Ten coach of the year in 2009.
Penn State has had one of the more impressive in-season turnarounds to even be in a position to make the NCAA tournament for the first time in DeChellis' eight seasons.
Penn State, which hasn't been to the NCAA tournament since 2001, whiffed on a number of chances in the nonconference portion of its schedule, losing at Ole Miss, versus Maryland in an embarrassing 62-39 final, at Virginia Tech by 10 and then by 10 at home to Maine.
It didn't matter as much at the time that Penn State had knocked off what would be the league leader in the MAAC (Fairfield), co-No. 1 in the A-10 (Duquesne) or that the loss to Maine (America East leader) could be at least rationalized.
The win at Indiana to start the Big Ten gave Penn State a false sense of security that things had turned, especially when that was followed up by consecutive losses at Michigan and at home to Purdue, a humbling 15-point loss.
"I wish I could say it was something that turned it," DeChellis said. "I don't know if there was an awakening. The kids were so disappointed in the way we played. The kids just bought in and all of a sudden what we're trying to do -- of preaching defense and rebounding from day one -- happened. I had been trying to tell them that Maine was a good basketball team. We went to Indiana and won, then went to Michigan and fooled around in the last minute and then Purdue beat us here."
And then Penn State went on a run that has put it in position to be relevant for a bid.
Penn State beat Michigan State and Illinois at home in consecutive games, holding the Spartans and Illini to 62 and 55 points, respectively. Penn State was then within one possession of tying Ohio State before losing 69-66 in Columbus, and lost to Purdue on a JaJuan Johnson last-second shot (63-62) in West Lafayette, Ind.
Penn State then held serve again at home, beating Iowa by 15 and taking down Wisconsin by four (56-52), despite being down nine at the half.
DeChellis laid out the scenarios for his senior starters -- Talor Battle, Jeff Brooks, David Jackson and Andrew Jones.
The Nittany Lions have five road games left -- at Illinois (Tuesday), at Michigan State (Feb. 10), at Wisconsin (Feb. 20), at Northwestern (Feb. 24) and at Minnesota (March 6). And none of the home games are a given -- Michigan (Sunday), Northwestern (Feb. 13), Minnesota (Feb. 17) and Ohio State (March 1).
"I told them if they want to get to the NCAA tournament then this is what you have to do," said DeChellis of winning more key games and staying above .500 in conference play. "There are no second chances for the seniors, no do-overs, no feeling sorry for yourself. You've got to commit to defense and rebounding."
Battle can bail out the Nittany Lions if the offense goes awry. But Penn State can manufacture points.
"Our margin for error is not great because we're not a high-powered team off the bench," DeChellis said. "We play our seven guys. That's who we are. We've embraced that and understand it. I told these seniors it all comes down to these nine games. I really believe that. Two years ago we were 10-8 in the league but our nonconference schedule hurt us. Now our strength of schedule is nine.
"Our one-plays in the league were Indiana and Iowa and we're done with those," Dechellis said. "We play everybody else twice."
According to ESPN.com's InsideRPI Daily, Penn State's SOS is actually four. Playing a strong home-and-home conference schedule in the Big Ten will help keep that SOS strong. The three top-50 wins Penn State has are all in the Big Ten against Michigan State, Illinois and Wisconsin. The only other top-100 win was against Duquesne.
Penn State has drifted in anonymity for some time in the Big Ten, save for that 2001 Sweet 16 blip under Jerry Dunn. DeChellis' best chance to get a bid was two seasons ago when the Nittany Lions finished 10-8 in league play. Ultimately, the Nittany Lions won the NIT.
But the Nittany Lions suffered a major setback a year ago when they were 3-15 in the Big Ten, 11-20 overall.
Having four senior starters and an impact recruit, Taran Buie (Battle's brother), was supposed to change everything. But the nonconference didn't go well overall and Buie was booted from the team after the Maine loss for a compilation of issues from a summer fight to a drinking incident to the need to step it up academically, according to DeChellis. The two will meet in the spring to determine his position in the program.
"I think that [Buie's suspension] was a wake-up call that we're serious," DeChellis said.
The reality is that if the Nittany Lions fail to make the NCAAs this season -- with four senior starters -- they have no one to blame but themselves.
"Our staff and kids would be disappointed," DeChellis said. "Right now we believe we can find ways to win. Some teams hit a lull. I'm knocking on wood that we don't hit that lull since we don't have a margin for error. Sometimes the intangible is a resilient factor, you dig deeper, play harder and get yourself going. There isn't a drill for that. The seniors are committed to making the tournament."
DeChellis said he isn't feeling any pressure to get to the NCAAs. He did receive a three-year extension after the NIT title. But it's clear this is a golden chance with a senior-laden team and the recent resurgence.
"I want it for them, for the players," DeChellis said. "They've worked hard and had disappointment. This would be what they've worked for and what I dream for them. I told them we've got to give what we have and see where this thing ends up after nine games."