Oakland coach admits scheduling gaffe
February, 2, 2011
02/02/11
1:04
AM ET
Oakland coach Greg Kampe chose not to participate in BracketBusters weekend because he didn't see the benefit for the Golden Grizzlies.
He does now.
And he regrets telling the Summit League that he didn't want to be a part of the event.
[+] Enlarge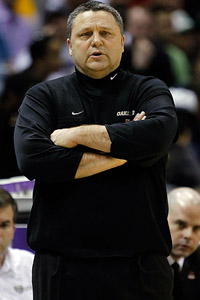 Jonathan Daniel/Getty ImagesGreg Kampe now thinks a BracketBusters game would have benefited his team.
"I was skeptical we could get an at-large and honestly with travel in our conference where we have to go all over the world, I was worried we would have to go to Pacific or something like that and then we have to go to Kansas City and Southern Utah, where you have to take a three-hour plane flight and then bus for two hours [to end the season] and then go to South Dakota [for the conference tournament].
"Those three days [in the Summit] are the most important days of the season," Kampe said. "People are upset with me now because they think we would have had a national televised game against a good team. But my question is would that be more important than a trip to the NCAA [tournament]? That was my reasoning."
Oakland's chances of getting an at-large bid are slim, but do exist because the Grizzlies won at Tennessee by seven and played a strong nonconference slate that included a one-point loss to Michigan State at the Palace in Auburn Hills. The losses at West Virginia, Purdue, Illinois and Ohio State weren't as close, but have helped Oakland's overall power rating, which hovers at 78 due to a weaker Summit League. But the nonconference strength of schedule is 13.
Oakland is 11-0 in the Summit League, 15-8 overall, and would likely have to run the table in the Summit League and then lose in the conference tournament title game to even be in the conversation for a possible at-large.
But if Oakland had been in the BracketBusters, then the Grizzlies would have been in one of the 11 televised games, possibly playing a team like VCU, Old Dominion, Wichita State, Northern Iowa or Missouri State.
The Summit League offered up only Oral Roberts. Next season, according to Summit League officials, every Summit League team will be available to participate.
Kampe now thinks that he let the players down, missing out on an opportunity for national recognition for a possible NCAA team and one that has a potential first-round NBA pick in Keith Benson, who would have been on display.
"Last year, our RPI was 51 and we still got a 14-seed while Houston's was 107 and they got a 13 so when we talked about this in the summer I didn't see the reason to do it," Kampe said. "I didn't want to do it before the biggest weekend of the year."
BracketBusters is slated for Feb. 18-20, a week before Oakland's final road swing to UMKC and Southern Utah and then the conference tournament.
"Do I feel bad that we're not in it? I wish we were playing at Wichita State or Northern Iowa or Old Dominion," Kampe said. "If we had made a free throw in the final minute we would have beaten Michigan State and then we would have really had a chance for an at-large. We were 51 or 52 in the RPI before we started league and now we're at 78 and we haven't lost a game.
"I'm scarred from last season's tournament when I thought we'd be a 12 or 13," Kampe said. "We've played all these teams tough [in the nonconference]."
Kampe also made the decision to bypass BracketBusters because he thought he would be playing at Ohio State on Feb. 7. But prior to the season Kampe said Ohio State wanted to move the game to Dec. 23 and so Kampe obliged.
The Buckeyes beat Oakland 92-63.
Benson is averaging 17 points and nine rebounds a game. He could be a mid-major star in the NCAA tournament if the Grizzlies get a bid. The Grizzlies lost to Pitt in the first round of the NCAA tournament last March.
The other aspect of getting in the BracketBusters would have been to get a return game next season against a quality opponent. But Kampe said he doesn't have a problem scheduling, which is unique for a team in the Summit. He said he has Tennessee returning the game on campus next season. He said the staff scours rosters of high-major programs to see who wants a game in Detroit. Oakland has played Oregon in a similar situation.
"My philosophy is to track the local kids and start calling to do a home-and-home," Kampe said. "That's why I've shied away [from BracketBusters] in the past. Do I feel like I hurt my team not being in it this year? Yes I do. We could have maybe gone to Wichita State. I guess I'm learning. I don't know everything. I have a first-round pick on my team and that may never happen again. So I do feel bad. He deserves it."
And he may get a nationally televised game now only if Oakland wins the Summit and gets into the NCAA tournament.