Vandy struggles with closing out games
February, 2, 2011
02/02/11
11:06
PM ET
Here's what's happened since the Puerto Rico Tip-Off Classic semifinals in late November:
• Tournament champ Minnesota has been besieged by injuries to Al Nolen and has seen the defection of Devoe Joseph while trying to survive in the rugged Big Ten schedule.
• Runner-up West Virginia had to deal with the suspension of leading scorer Casey Mitchell and had a player walk off the bench and out of the program while it grinded its way through the Big East.
[+] Enlarge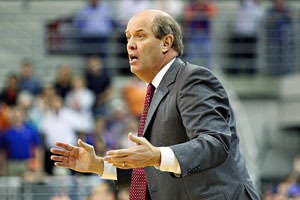 Douglas Jones/US PresswireLate-game struggles continue to haunt Kevin Stallings' team.
• Fourth-place finisher North Carolina made a move at the point guard position (from Larry Drew II to Kendall Marshall), while preseason All-American Harrison Barnes found his college basketball footing to emerge as a go-to scorer who can put up 20-plus points a night. Oh, and the Tar Heels are playing in the weaker ACC, allowing them to be tied for the top spot and be a realistic challenger to Duke with two games still left to play against the Blue Devils.
• Vanderbilt, which beat UNC for third place, has had one consistent problem since November. It hasn't been able to finish off games.
And that's in large part why the Commodores are 3-4 in the SEC East after another frustrating defeat in overtime Tuesday night -- this time at Florida.
Vanderbilt had already lost overtime games at Missouri and at South Carolina after losing leads in the second half. The Commodores also blew a 17-point lead at Tennessee, and now Florida joins the list.
Yet, in the same breath you can make the argument that Vandy has had moments when it looked like the best team in the SEC and could potentially be a real threat to go to the Sweet 16. The Dores were impressive in home wins over Georgia, Ole Miss and Saint Mary's in a nonconference game and at Mississippi State.
The one blip on their résumé came in a home loss on Saturday against Arkansas, while the team was grieving the loss of Curline Parker Meriwether, the mother of walk-on guard Chris. Curline went to the Commodores game against Saint Mary's on Jan. 22. And then, two days later, she died of an apparent heart attack at the age of 56. The team went to Mississippi State to play the Bulldogs and then returned home for her funeral, the day before hosting Arkansas.
"It was an emotional funeral,'' Vanderbilt coach Kevin Stallings said. "She had a massive heart attack and never regained consciousness. Arkansas was fantastic that day. But we weren't there [emotionally].''
So, from a basketball perspective, toss out the Arkansas game.
But what else can be discerned about a Vandy team with a sub-.500 league record and nine games remaining, two of which are against Kentucky? "I'm optimistic,'' Stallings said. "I'm not fine with where we're at. But I'm fine with the effort we continue to show. We've got some cases where individual guys have to play better, and we need to play with a clear mind.''
The Commodores have two stud guard/wings in John Jenkins and Jeffery Taylor. Lance Goulbourne, Festus Ezeli and Steve Tchiengang are more than capable of being finishers in the post. The point guard combination of Kyle Fuller and Brad Tinsley can play the position even more efficiently, but not having Andre Walker healthy (he hasn't played since Dec. 29) hurts.
But this is a squad that can be an extremely tough out in March -- at least if it gets there with some momentum.
"When we lost at Tennessee and South Carolina we stopped being the aggressor late in the game,'' Stallings said. "Conversely at Mississippi State we got down eight, and we were the aggressor and came back and won. If we were getting beat by 10 points and there were questions that we weren't very good or hadn't been competitive on the road, then that would be different. But the fact of the matter is that we have been extremely competitive in every road game. We haven't won as many as we'd like.
"If we get healthy by season's end, we could be dangerous,'' Stallings said. "We've got a long way to go, and we've got three home games coming up [South Carolina, Alabama and Kentucky]. We just have to take care of business at home before we go back on the road.''
Stallings is convinced that the SEC East winner will have four to six losses. He's probably right. But if Vandy is going to be the team that wins the division, then the margin for losing is down to two more games -- max. That means the Dores needs to go 7-2, at the minimum, in their final nine contests. That's more than plausible. But is it possible if Vandy continues to be inconsistent in its ability to finish?