Irish still have eyes for Big East prize
February, 7, 2011
02/07/11
11:34
PM ET
Mike Brey put up the Big East standings last Monday in the Notre Dame locker room and added his own slogan for the Irish: chase it down.
The "it" here is the Big East regular-season title that suddenly is a realistic achievement after the Irish beat Pitt at the Petersen Event Center on Jan. 24.
Since then, the Irish won at DePaul on Thursday and beat Rutgers at home Sunday. Pitt hasn't lost either, holding on to a two-game lead in the loss column over the Irish. But Sunday night the Panthers got word that junior point guard Ashton Gibbs is out for 10-14 days with an MCL injury to his left knee, which likely puts him out for the next three Pitt games, including Monday at West Virginia and Saturday at Villanova.
[+] Enlarge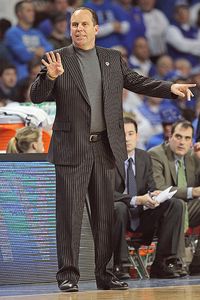 Andy Lyons/Getty ImagesMike Brey has his Fighting Irish in contention for a Big East regular-season title.
Suddenly, the Irish's chance to win the Big East regular-season title doesn't seem like a reach. Sure, they need Pitt to lose a few games and the Irish still have to win, with three of the next four on the road.
"I told our guys that it was great to cut down the nets in Orlando [at the Old Spice Classic in November], but wouldn't it be great to be the regular-season champs?" Brey said Sunday night after their win over Rutgers. "I've included the phrase to chase it down in everything we do now. I've said to beat DePaul we have to defend and rebound to chase it down. We're two games behind Pitt, let's keep the pressure on. We're going to talk about this."
Brey said his initial hope with the Irish in the preseason, and especially after winning the Old Spice Classic, was to be a top-four Big East seed and get a double-bye in the Big East tournament. Barring a collapse, that scenario seems like a lock. The perennial on-the-bubble Irish are possibly looking at their highest seed ever under Brey (the previous high was a five).
And all of this is occurring after losing former Big East Player of the Year Luke Harangody and Tory Jackson.
"We've never felt more confident as a group and they're growing and believing in each other," Brey said. "We can be better on the road. This group talked about [winning the Big East] in the summer and the preseason. They need to hear it from me to make a run for it, to verbalize it and talk about it. This is an older group that can handle things really well. If we come up short and get the double-bye, then that's still mission accomplished."
Brey said beating Pitt on the road was the defining moment for this team so far. It took any concern about being on the bubble off the radar. It also sets up the Irish to reach 20 wins earlier in the season (24 games) than it ever has in the history of the program, he said, if Notre Dame beats Louisville on Wednesday.
Notre Dame won in Orlando by beating Georgia, Cal and Wisconsin -- the latter two likely will be in the NCAAs. Taking down Gonzaga, Georgetown, Connecticut, St. John's, Cincinnati and Marquette at home only added to the résumé and power rating. The losses on the road to Kentucky in Louisville, at Syracuse, Marquette and St. John's were almost expected. The win at Pitt was not.
To beat Pitt, Brey deployed the "burn" offense, a tactic he came up with last season when Harangody was hurt. And now it's his specialty offense that he'll bring out on command, especially with a finisher in Ben Hansbrough. He said the Pitt game was the first time he used it for an entire game.
"We were looking like a bubble team a year ago after Luke got hurt and we talked as a staff that we needed to play slower in the league, that we couldn't keep up with the track meet," Brey said. "We know there are times we can [score] 85 but we had to shorten this thing. So we taught them to get it to single digits [on the shot clock] and make a play. Last year it was at Marquette we did it and against Pitt in the Big East tournament. There are other times we may use it at the end of a half or coming out of timeout to burn it down."
Brey said he hasn't had any problems selling the offense to the team. He said the team has bought in completely and is confident that opposing teams get frustrated when the Irish go to the burn.
"I had to come up with something to survive [in the Big East this season and the end of last season]," Brey said. "This league is about adjusting to the personnel. We had to give ourselves a chance to win and this group believes in it and there may be no one better at the end of the clock, nobody better in the country than Ben Hansbrough."
Hansbrough has put himself in the conversation with Connecticut's Kemba Walker and Georgetown's Austin Freeman for Big East Player of the Year. Hansbrough has been the primary reason the Irish are even looking at challenging Pitt for the conference title. He scored 19 points in the win over Pitt and that was after he put up 28 in the victory over Marquette. He had another solid week with 24 at DePaul and 25 against Rutgers.
No one could have projected Hansbrough would be this much of a star while he was a role player at Mississippi State, which was an odd match for Tyler's little brother.
"Ben is driving us," Brey said. "There's a will and a drive and a competitiveness to him and he's channeling it correctly for us to pick his spots. He's a flat-out assassin. He's really led and is setting a great tone. He's a hungry guy and one of those gym rats."
This Irish team has players who manage the clock, are coachable and don't make many mistakes. Hansbrough, Tim Abromaitis, Carleton Scott, Scott Martin, Tyrone Nash, Eric Atkins and Jack Cooley have all bought into the burn offense and the possibility that the Irish can contend for a Big East title.
"It's not a pipe dream," Brey said. "If you look at Pitt's schedule and now about Ashton Gibbs, this thing is going to be interesting. We just have to keep the pressure on everybody in our cluster at the top of the standings. We're verbalizing it now. Our theme is to chase it down, chase down the Big East regular-season championship."