Buckeyes to honor Flight 3407 victims
February, 11, 2011
02/11/11
3:29
PM ET
A year ago, Ohio State coach Thad Matta shocked assistant Kevin Kuwik by saying he wanted to do something to remember Kuwik's former girlfriend on the one-year anniversary of her death in a commuter plane crash outside of Buffalo.
So the Buckeyes wore patches with the flight number -- 3407 -- on their uniforms at Illinois on Feb. 14, two days after the anniversary but the first game Ohio State had that weekend.
[+] Enlarge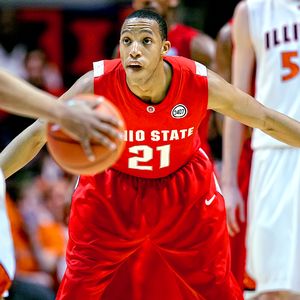 Robin Alam/Icon SMIEvan Turner and Ohio State wore the "3407" patch last season against Illinois.
Patches on sports uniforms usually have shelf lives of the current season in which someone close to the team/program/franchise dies.
But the grieving doesn't stop after one year. And apparently neither does Matta's respect for Kuwik's loss and the continued fight for a cause that ensued. Ohio State will wear the patches again Saturday when the top-ranked and undefeated Buckeyes visit Wisconsin.
"Time goes on and everyone expects you to move on but it's a lot easier said than done," said Kuwik, who is Ohio State's video coordinator but is essentially one of the key assistant coaches. "I appreciate that Thad recognizes how important this is to me and to everyone else and he has stuck with us all the way through."
Kuwik was with Butler in 2009 when he told coach Brad Stevens he was going to Buffalo to meet his 30-year-old girlfriend, Princeton athletic administrator and former NCAA employee Lorin Maurer, in Buffalo for his brother's wedding. He couldn't wait for Maurer, who was more than likely going to be his fiancée, to share the moment with his family. Maurer boarded Continental flight 3407 from Newark to Buffalo on Feb. 12. The plane crashed before landing due to pilot error.
This was a life-altering moment, more so than when Kuwik had served two tours in Iraq looking for roadside bombs while a member of the Indiana National Guard. Kuwik, a Notre Dame graduate, is a clear leader, and he wasn't going to let a tragedy like this pass without something positive emerging -- like changing commuter flight regulations.
Kuwik, who then went to Ohio State last season to join Matta's staff, huddled with the victims' families, including Maurer's parents, as they formed a strong victims' lobbying group that got legislation passed last August to change law.
The National Transportation Safety Board's initial finding into the crash was in May 2009 and it detailed a number of safety gaps in regional airlines. The families of Continental Flight 3407 pushed for tougher standards. President Obama ultimately signed "The Airline Safety and FAA Extension Act of 2010" in August, arguably one of the more dramatic changes in airline legislation. The key components were changing rules regarding pilot fatigue and pilot qualifications for regional airlines.
Matta has said that this is an issue that affects everyone. He said he saw Kuwik last year tirelessly in his office and on bus trips, working the phones with senators' aides and congressional reps. And whenever Kuwik needed to go to Washington, D.C., to meet with a representative, Matta didn't hesitate to let him go.
Kuwik was in Washington last Tuesday to work with a number of new reps who were voted in last November.
"[Matta] has shown unbelievable support every time I've gone and I've been there over 35 times," Kuwik said. "He doesn't bat an eyelash. He just says, 'Go and get it done.' Honestly, it shows what kind of family we have here in this program. I couldn't have had two better places to be than Butler and Ohio State to go through this challenging time. I couldn't ask for two better head coaches."
Matta released a statement Friday through the 3407 families group saying:
"Obviously our basketball family has deeply felt this tragedy through what Kevin has faced, and we hope to honor those who were lost in a small way by wearing these patches. And I just continue to be amazed by the determination of the family members by fighting to make sure something positive comes out of this, as they have met with the president, gotten a new law passed, and even this week, went back to Washington to make sure that the law does not get weakened in any way possible. I know that the regional airlines are going to be safer for everyone who flies because of their efforts, and for that they have my deepest admiration and thanks."
Kuwik said now that the law is passed the families still have to ensure that it is enforced correctly. They were dealt an unusual blow to their cause, though, when Rep. Chris Lee (R-N.Y.) resigned this past week.
Kuwik said Lee, who represents the district in which the plane crash occurred, had been a strong advocate for the victims' families. He said Lee was working on creating a bipartisan caucus for aviation safety concerns prior to resigning.
What the families have to do now, according to Kuwik, is continue to lobby Congress to push the FAA to enact the regulations.
"We have to push the FAA to put pressure on them," Kuwik said. "We can't have [the airlines] weaken it with loopholes. The Senate essentially stayed the same but there was a change in the House, so we have to keep doing this to ensure that the high standards for the regional airline pilots continue."
Having the Buckeyes wear the patches Saturday will draw even more attention, considering the game is being nationally televised by ESPN at 2 p.m ET.
"Being from Ohio, there is no doubt that there is nothing bigger in this state than the Ohio State Buckeyes," Denise Perry of Loveland, Ohio, who lost her 27-year-old son Johnathan and his fiancée Nicole Korczykowski, said in a statement released by the families of 3407. "Throw in the fact that they are No. 1 in the country, and that we have family in Wisconsin, and this is a really big deal. But most importantly, what they are doing is another way to help our group get the word out about regional airline safety, and what all of our loved ones didn't know when they got on that plane, so that hopefully another family doesn't have to lose a son or a brother or any loved one because of a tragedy that was completely preventable."