FSU forges ahead without Chris Singleton
February, 14, 2011
02/14/11
1:32
PM ET
Florida State will likely have the résumé to be an NCAA tournament at-large candidate, but will it have a team that is capable of competing at a high level without its best player,
Chris Singleton
, if he can't return from a fractured right ankle?
That will be the subjective decision the NCAA tournament selection committee has to make in three weeks when it breaks down the Seminoles' at-large profile, as well as their possible seeding for the field of 68.
Singleton, who is FSU's top defender and best all-around offensive player, suffered the injury during the first half of Florida State's win over Virginia on Saturday. Singleton scored 11 points in 10 minutes before stepping on a teammate's foot. He was scheduled to have surgery Monday.
Florida State has two top-50 wins so far, most notably over Duke at home (Boston College, as well). There are four wins against teams rated 51-100 (Clemson, NC State, at Miami, versus Baylor in the Diamond Head Classic). Clemson might be an NCAA team and Baylor is also on the bubble. The losses at home to Florida and Ohio State are quality losses and the one loss in the sub-150 range was at Auburn. Overall, Florida State has an RPI of 47, a record of 18-7, a nonconference strength of schedule at 250 and an overall strength of schedule at 92.
The ACC mark is 8-3 and the opportunity is there for a few more wins (at Wake Forest, at Maryland, Miami, North Carolina, at NC State). Even without Singleton, Florida State should win three of those five.
It all adds up to a likely NCAA tournament berth.
"Normally what you do is look at the body of work and if it's decent with Chris in the lineup then that helps, but you still have to watch how this team plays and does it jell together and does it affect leadership or does it fall apart," said a former selection committee member, who preferred his name not be used. "Winning games on the road against anybody is going to help. But I'd like to watch how they play and see if there is an impact.
[+] Enlarge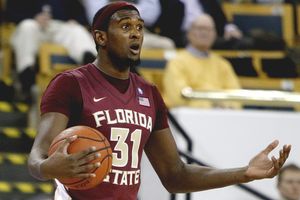 AP Photo/David GoldmanChris Singleton's foot injury is a severe blow to both Florida State's offense and defense.
"This team may be in or may not be in with or without him," said the committee member. "More than anything, it may affect how you seed this team. But if this team were to burst into flames and it's clearly not the same team, then the committee has to look long and hard as to whether or not they should get in."
Florida State coach Leonard Hamilton said Sunday night that the team is going to miss Singleton's defense more than his offense, but added that he's confident the Seminoles will be fine
"We're confident that we have enough talent for everybody to pick up the pace," Hamilton said. "There's not one particular person who is going to replace Chris Singleton. Duke made adjustments without Kyrie Irving. I feel we're capable of doing the same thing."
Florida State has already had to go without key players this season: Junior forward Xavier Gibson missed nine games with a broken left hand; sophomore forward Terrance Shannon missed four with a knee injury; junior guard Deividas Dulkys missed one; and freshman guard Ian Miller missed all three games in the Diamond Head Classic and ultimately sat out 11 total games with a strained groin. Florida State didn't have junior forward Jon Kreft for the first nine games of the season since he was ruled ineligible.
"I'm not going to allow me or my players or my staff to get caught up in how many games we have to win," Hamilton said. "I'm not going to play the 'what if' game. We just have to keep winning. Thank God they don't make the decision this weekend. None of the guys saying we're not in don't have a vote. Who knows what goes on behind those closed doors."
Defensively, the Seminoles have a system in place that has been solid. The back line isn't the same as it was a year ago with Solomon Alabi, but teams still have a hard time executing against Florida State. Not having Singleton means Hamilton does lose the versatility of using him as a defender from three of the five positions on the floor.
"Of course we have to evaluate how we defend and it will be different without his versatility," Hamilton said. "He has the quickness to guard the 2, 3 or 4. That is a luxury that we will miss, but we have Xavier and Terrance back and that gives us some pluses."
Florida State has been the second-most successful team in the ACC the past three seasons with 30 wins (Duke has 36, North Carolina has 27).
Hamilton is confident the success will continue with another NCAA tournament berth.
"I don't think it's time for anybody to panic," Hamilton said. "We're not going to make excuses. We will get the job done. There are still more road victories that could present itself. We still play Carolina at home. We've got more games and winning takes care of itself. I can't wait to get to practice."
Another committee member brought up precedent, such as when Cincinnati lost Kenyon Martin in the Conference USA tournament and was dropped from the overall No. 1 seed to a No. 2 or when Saint Mary's didn't have Patty Mills two seasons ago. When Mills returned in the West Coast Conference tournament, he wasn't the same player and neither were the Gaels. Saint Mary's didn't make the field that year.
"The toughest thing for the committee will be to play the 'what if' game. You can't say what if he was there or what if they had him," said another committee member. "You deal with what you have and if the individual is back, he's back. You have to look at everything: the RPI, winning games and if a significant player goes down you have to look at that, too. My guess is that the committee is going to spend a lot of time on Florida State. Or Duke, too, if Kyrie Irving were to come back -- or any other institution that is in a similar situation."