George Mason getting the feel of 2006 squad
February, 16, 2011
02/16/11
6:57
PM ET
George Mason coach Jim Larranaga didn't group this week's road games together as any more important than a pair earlier this season.
But I will.
The Patriots' 20-point win at VCU on Tuesday was quite a statement to the rest of the Colonial Athletic Association and the NCAA tournament selection committee.
[+] Enlarge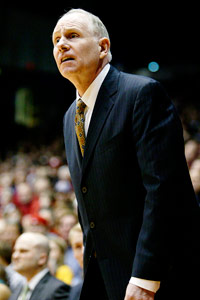 Tim G. Zechar / Icon SMIJim Larranaga's George Mason team is in control of the CAA standings with a two-game lead.
Beat Northern Iowa in Cedar Falls on Saturday in BracketBusters and the Patriots can likely book an at-large berth. But there's no reason to stop there. The Patriots (22-5, 14-2 CAA) end with Northeastern and at Georgia State before likely riding into the CAA tournament in Richmond as conference champs with a 15-game win streak.
That's the kind of momentum, save two losses to stubborn and quite frankly deserving of a bid Hofstra, that Mason was on in 2006 en route to an improbable Final Four run.
"I have found that this team has the ability to concentrate on one game," Larranaga said. "We don't talk about what's at stake, our RPI or where we stand in the league. All we're dealing with is how we beat this team and our guys have been focused."
The Patriots are a defensive-minded team, with only one blip since New Year's when Hofstra lit up Mason for 87 points on Long Island on Jan. 5. Only one other opponent has scored more than 69 points since then and that was James Madison at home -- in a 75-73 loss to the Patriots on Jan. 22. Old Dominion, which has a decent profile itself for a possible at-large, scored only 45 points in a 62-45 loss Feb. 5 after beating Mason 69-65 on Jan. 8.
"We've been hard to beat the way we've defended and rebounded," Larranaga said. VCU was 5-of-19 on 3s, shot just 37 percent and was outrebounded by the Patriots on Tuesday. "We have had a consistent and solid effort and execution."
There are no players left at Mason from the Final Four team. But seniors Cam Long and Isaiah Tate were recruited to come to Mason in the year after the Final Four. Long is the lead guard for the Patriots and Tate a key contributor off the bench. Ryan Pearson, the team's best all-around player and potential double-double forward, is a junior and further removed from the Final Four euphoria.
Larranaga isn't going to draw the comparisons to 2006. They are different teams, making unique runs. But there are similarities which can be hard to ignore.
Mason went on the road for a BracketBusters game five years ago and won at Wichita State, giving the Patriots another quality road win late in February. The same could occur at Northern Iowa on Saturday.
Larranaga did say that the two teams have plenty of shooters and the ability to stretch the defense. He added that the defense, rebounding and field goal percentage defense are similar, too.
"But the focus is to stay in the present and prepare for Northern Iowa," Larranaga said. "Being on a roll means your confidence grows, and as you put together a series of victories the team believes more in your system of what works."
Mason hadn't dealt with a pressing team for 40 minutes prior to VCU. Mason turned the ball over 11 times and the Rams had 11 steals.
"We reacted very well, we defended, rebounded and shared the ball," Larranaga said. "The year after the Final Four I thought we'd get back [to the tournament] but the chemistry wasn't good. It took a while to get the young guys to believe in the system. Once they did, we got back in the tournament."
Mason was 18-15, 9-9 in '07, back in the dance in '08 with a 23-10 record (12-6 CAA) before losing to Notre Dame in the first round, out in the first round of the NIT in '09 with a loss to Penn State and a 22-11 record (13-5 CAA), and then out of the CIT with an overtime loss against Fairfield to end last season at 17-15 (12-6 CAA).
"What did it for us this year was going to Italy for 10 days in August, that made a huge difference," Larranaga said. "This will be a great game [against UNI]. A month ago you had no idea what would happen when the games were chosen. These are great opportunities for teams like ourselves in the CAA and the Missouri Valley -- to get national exposure at the most opportune time."
And if Mason were to sweep this road week, the Patriots should be on the committee's radar even more as a team to pencil into the field and one that could be a threat to upset the bracket.