Jim Calhoun favors 16 league games
February, 17, 2011
02/17/11
7:38
PM ET
Connecticut could easily be a fifth seed -- or lower -- for the Big East tournament and yet earn a higher seed in the NCAA tournament.
Our Bracketologist Joe Lunardi has UConn as a No. 4 seed.
The Huskies are 12-0 outside the Big East, including wins against Kentucky, Michigan State, Wichita State, Texas and Tennessee. But they've lost five Big East games and have five more league games remaining on the schedule.
Would it make a difference if there were only three more games left and the Big East played 16 conference games instead of 18?
[+] Enlarge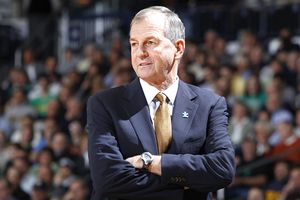 Joe Robbins/Getty ImagesUConn coach Jim Calhoun will push for a 16-game schedule at the Big East meetings, but the motion won't go very far.
UConn coach Jim Calhoun thinks the Big East should move back to 16 league games, and he's going to push for it at the May meetings.
But the motion isn't going to go very far. The Big East is contractually obligated with CBS and ESPN to provide 18 league games, with both networks getting a choice of a repeat game. The third repeat game is also a rivalry game, which may or may not be one of the games selected by CBS or ESPN.
When the Big East adds TCU in 2012-13, the league will have 17 members and the plan is for 18 conference games again with one less repeat game. If the league goes to 18 league members and adds Central Florida, which is a trendy name right now, then there will be a call to move to two divisions, Calhoun said, and possibly just 16 games.
But other coaches in the league, like Pitt's Jamie Dixon, Notre Dame's Mike Brey and Syracuse's Jim Boeheim, don't anticipate shutting out half of the teams on the schedule.
"We play Marquette, Louisville and Notre Dame twice, and it's not logical,'' Calhoun said. "Eighteen games creates a problem. In this league, we continue to beat each other up.''
Georgetown coach John Thompson III said Wednesday that the margin in the conference standings is incredibly thin, and there's no point in even looking at the standings. For example, St. John's was in 10th place Saturday. After beating Cincinnati on Sunday, the Red Storm moved to fifth. That speaks to the balance of the league, which makes it harder to separate teams and that can ultimately affect NCAA tournament seeding.
"That could happen where we'll be seeded higher [than in the Big East] because of our 12-0 record outside the league,'' Calhoun said. "I don't want that to happen [since it would likely mean finishing below fourth], but it could happen.''
Boeheim said he doesn't see the change occurring from 18 to 16 league games.
"If we add Central Florida, we'd almost have to go [to] two divisions, but even then who is in what division and who are you playing? It's going to be difficult to decide that,'' Boeheim said. "I don't think 18 league games or 16 league games makes it happen that you're seeded higher in the NCAA tournament. The bigger issue is who plays who in the league.''
And where will they play? That's the tough assignment for the Big East office as it tries to figure out the home-and-homes in the same season and which teams get the home and road split.
"I've said for years that we get lower seeds in the NCAA because our conference is so tough,'' Dixon said. "We play more good teams. But there are rewards for that because of opportunities. I'm not complaining about it. I'm saying it won't change from 18.''
"The only way it changes is if we stay at 17 teams and play everyone once,'' Brey said. "It's great to talk about 16 games, but I don't see it happening. All of us are prepared to play 18 games. You just have to survive it. I know the repeat games can make or break you. It can hurt your momentum. Sometimes it's good to play a team once and be done. I'm glad we played Georgetown on Dec. 29 and got them early.''
The Big Ten, Big East, the new 10-team Big 12 and the new Pac-12 will play 18 league games next season. Among the power six conferences, the ACC and SEC will not.
"[Calhoun] makes a great point, but it's probably unrealistic about changing it,'' Brey said. "If we go to two divisions, then maybe, but right now TV wants the inventory of an 18-league game schedule. And TV is driving the train. We know that.''