Stags, Catamounts focus on tourneys
February, 18, 2011
02/18/11
8:23
PM ET
The pressure to win two or three games in a conference tournament can be intense for a traditional one-bid league.
But the NIT rule guaranteeing the regular-season winner a spot in its 32-team field has actually taken the pressure off the fear that a conference champ would get frozen out of the postseason.
At least that's the approach Vermont coach Mike Lonergan has taken after the Catamounts, along with Fairfield, became the first two regular-season conference champs in college basketball.
[+] Enlarge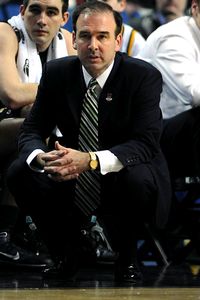 Richard Mackson/US PresswireMike Lonergan and Vermont have taken some pressure off by clinching the America East regular-season title.
"It does take the pressure off,'' said Lonergan. "We're definitely playing well but those [conference] tournaments can be scary even when you're playing well. It's great to know you've got a good spot, at the worst, in the NIT.''
Vermont has won 10 in a row and clinched the America East title Wednesday at Maine with a 13-2 record. After Saturday's BracketBuster game at College of Charleston, the Catamounts have one game left to play in the league -- against Boston University on Feb. 27.
Maine looked like it should be the America East's BracketBuster television representative -- at least I thought it did -- after the Black Bears won at Penn State in December. But since Jan. 29, they have lost five in a row.
Vermont has to go to Hartford for the first two rounds of the America East tournament. If it wins, it will host the final a week later in Burlington, like it did a year ago.
Lonergan is confident that the Catamounts, which played and lost at Connecticut and to BYU in Glens Falls, N.Y., in the Jimmer Fredette homecoming, will get a No. 14 seed in the NCAA tournament. If they were to land a seed like that, then they at least have a chance in the first round.
The problem is that Lonergan can also see the vulnerability of his youthful team which could get knocked off prior to the final. Binghamton is a wild card. So, too, is BU and maybe Maine if the Black Bears can get their act together. And if that happens, at least Vermont has an established postseason home.
Fairfield will feel more heat, though, after winning the MAAC regular-season title. The Stags finally wrestled the MAAC tournament from Albany -- home of Siena -- and will host at Harbor Yard in Bridgeport, Conn.
Siena beat Fairfield in the final seconds last season in Albany, and then won the tournament championship over the Stags in overtime.
Iona coach Tim Cluess said he could see as many as seven teams winning the MAAC tournament -- even in Bridgeport. Look for Iona, Rider, St. Peter's, Canisius, Loyola (Md.) and Siena to come into the tournament believing they can knock off Fairfield.
Fairfield coach Ed Cooley has done a tremendous job resurrecting the Stag program, and winning the regular-season title is quite an accomplishment. Closing the deal by winning the MAAC tournament, regardless of what happens versus Austin Peay on BracketBuster Saturday and the final two conference games against Siena and at Iona, will still be the ultimate judgment on the year. Getting the top seed and hosting, sets up Fairfield for its potential fourth NCAA tournament appearance in school history.
"I hope we win this year,'' Cooley said. "If we win, who knows, maybe we'll be a 13 at best. I'm just trying to win this game. I haven't been to the NCAA in five years [since leaving Boston College as an assistant]. I want to get there.''
Fairfield enters BracketBuster weekend at 21-5 overall and 14-2 in the league (three games ahead of three teams tied for second).
But like Vermont, Fairfield will at least be in the NIT, a safety net that ensures the regular-season champs are protected.