Derrick Williams dominates for Wildcats
February, 23, 2011
02/23/11
12:51
PM ET
Sean Miller played at Pitt and coached at Xavier, one of the more intimate and intense schools outside the power six.
He reached the Elite Eight with the Musketeers, but he has never experienced anything like Saturday's white-out game in Tucson between the Wildcats and Washington. "It was the best environment I've ever coached in,'' Miller said. "I had nothing to do with it. If there were 14,500 people there [at McKale Center], then 14,490 were all in white. It was amazing.''
[+] Enlarge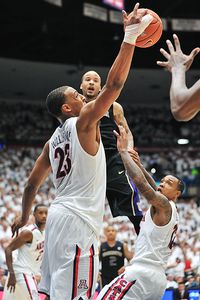 Chris Morrison/US PresswireDerrick Williams' play on both ends of the floor has helped Arizona win eight straight games.
The game certainly stood out on the television screens at ESPN while watching various broadcasts on Saturday afternoon/evening. Arizona's 87-86 victory over one-time Pac-10 title favorite Washington added to the drama. Of course, so did the ending with a walk-off Derrick Williams block and steal off the inbound pass in the final second to preserve the win.
"I'm not sure I've been around someone who is as clutch as Derrick,'' Miller said. "He's had an incredible year to this point. It will be interesting to see how he finishes things off.''
That point could also be made about the Wildcats. Arizona looked as well as a team can in a loss when it fell by eight points to Kansas in Las Vegas on Nov. 27. The Wildcats then got drilled by BYU, 87-65, in Salt Lake City on Dec. 11. There were some erratic moments mixed in, too. They won at NC State by 10, fell apart and lost by one at Oregon State before a humbling 17-point setback at Washington on Jan. 20.
Since then, though, Arizona has been on fire. The Wildcats have won eight in a row, including a triple-overtime victory at Cal and road wins at Washington State, Stanford and Arizona State.
But now comes the true test to put the conference title away. Sweep through USC on Thursday and UCLA on Saturday, and the Wildcats will claim the Pac-10 title outright at Pauley Pavilion. They probably won't cut down the nets, but they could.
Arizona is ranked No. 10 in the country. Of course the ranking is just a ranking, but it should signal that one of the premier programs in the country is back -- and much quicker than anyone expected.
Former USC and current UTEP coach Tim Floyd certainly helped the cause by resigning and essentially sending a handful of recruits, including Williams, to Arizona. But Miller still had to mold this group together, and the players had to perform over a two-year period at a high level, which they have.
Williams, who is averaging 19.7 points and 8.1 rebounds, will be the Pac-10 player of the year and is on quite a tear. He should be in contention for national player-of-the-year honors and is a lock for first-team All-America status.
He is shooting 63 percent for the season and 67.5 percent from 3 (27-40). That's just silly.
"He's a great player and a great kid and so unselfish,'' Miller said. "He has brought out the best in his team, and we're far from being a one-man team.''
[+] Enlarge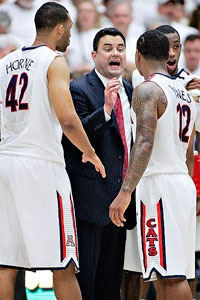 AP Photo/John MillerThe Wildcats' turnaround has been quicker than even coach Sean Miller had envisioned.
Lamont Jones has had plenty of good moments, like his play in the triple-overtime win at Cal after Williams had fouled out. Kyle Fogg, Kevin Parrom and Solomon Hill have all been major contributors as well.
The Wildcats have length, activity and now some toughness that will serve them well in the NCAAs.
"We've stayed with it well,'' Miller said. "Our rebounding has been a big surprise from the frontcourt and the backcourt. But now we have to finish up. We've got a two-game lead in the Pac-10, and if we're fortunate to win the Pac-10, then you have to put Derrick up there for player of the year [nationally].''
Miller, in his second season, said he had no visions of the program turning around this soon after missing the NCAAs in Year 1. He said the hope was to just make it one step closer to where the program was under Hall of Fame coach Lute Olson.
"Good things have happened, and a lot of that credit has to go to Derrick,'' Miller said.
"We've got a lot at stake this weekend at USC and UCLA and that's going to be a tough weekend, but then we come home to the Oregon schools for a great crowd and two great games to finish it up,'' Miller said. "It has happened quicker than I thought. But we've learned the reason Arizona is so special and why under Coach Olson it was so great to play at McKale. We've seen [this past weekend] how this is one of those special places in college basketball. So many people came up to me and said they hadn't seen an atmosphere much better than what it was Saturday. That says a lot about where we're at right now.''