Zags, Bulldogs eye another NCAA run
February, 28, 2011
02/28/11
1:54
PM ET
SAN DIEGO -- On Saturday, Gonzaga crushed San Diego, the team that beat Saint Mary's on the same floor at the Jenny Craig Pavilion.
The Zags moved well with the ball; held the Toreros to 31 total points, including 12 in the second half; and got plenty of star play from headline players Elias Harris, Robert Sacre and Steven Gray.
[+] Enlarge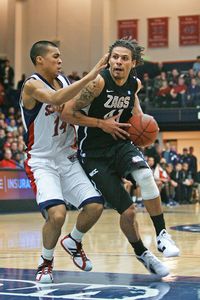 Phil Carter/US PresswireSteven Gray and Gonzaga have won six straight games to claim a share of the WCC regular-season title.
The complementary parts -- David Stockton, Marquise Carter, Sam Dower and Demetri Goodson -- had developed enough to help this team mature into a solid postseason edition.
Oh, and into a WCC co-regular-season champion with the suddenly erratic Gaels.
Meanwhile, in Indianapolis on senior day, Butler beat Loyola (Ill.) to claim a share of the Horizon League title with Milwaukee and Cleveland State.
Remember when these teams were tossed aside as potential NCAA teams, even conference champs, after the Zags got swept in the Bay Area by San Francisco and Santa Clara and Butler lost at Youngstown State?
"We're in this era where there has to be an immediate response to how a team is and where that team is right now," Gonzaga coach Mark Few said. "It's a journey to get to March, and there are so many games left for these teams. We live in this day where everyone has to make an immediate call."
Few and Butler coach Brad Stevens have been discussing their similar plights throughout the season. Each has been the target in his respective league for quite some time now. Anytime either goes on the road in conference play, it is the most intense crowd and most important game for the opposing team.
"He was the first one to call me after a tough conference loss," said Stevens, who is back with the team after a freak reaction to a bad pair of contact lenses that caused a corneal edema.
Stevens said he had trouble seeing during the game Saturday and told assistant Matt Graves that he was going to have to take over the game. Stevens said the light in the arena was giving him problems. He was given antibiotics and eyedrops and was ordered to rest, but he'll be back on the bench for Saturday's Horizon League tournament semifinal game against one of four teams: Cleveland State, UIC, Green Bay or Wright State.
"Mark knows how hard this is," Stevens said. "I know how hard it must be to go win at Santa Clara and USF. Saint Mary's got beat at San Diego. It's the same situation that Xavier has [in the A-10] and Memphis had [in CUSA]. I'm just so proud that our guys have been so focused to win the last seven straight and get us in the right direction."
[+] Enlarge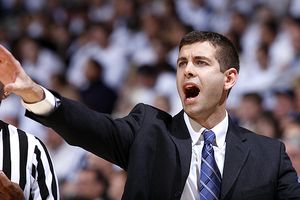 Joe Robbins/Getty ImagesAfter an ugly loss at Youngstown State, Brad Stevens' Bulldogs have won seven consecutive games.
Gonzaga and Butler won a share of the respective conference titles, but because of the tiebreakers, neither will be the top seed in the upcoming conference tournaments. Saint Mary's is the top seed in the WCC, and Milwaukee, which swept Butler, will be the top seed in the Horizon. The WCC tournament is in Las Vegas; UWM will host the Horizon League tourney. But the importance of the No. 2 seed for Gonzaga and Butler is that each still gets a double-bye into the semifinals and is in an advantageous situation to earn the automatic berth.
Both teams played a nonconference schedule among the tougher in the country. Winning their share of those games ultimately could put their résumés in the right spot to earn at-large berths (if they don't win their respective conference tournaments). If you watch Gonzaga and Butler, you'll probably see NCAA-caliber teams.
"Brad and I have been talking about this whole journey and that the kids in our programs are such high character that they're going to figure out how to do this," Few said. "He was right about us, and I was right about them."
The profiles for Gonzaga and Butler are strong enough to warrant bids.
Joe Lunardi has Gonzaga in as a No. 11 seed and Butler in as a 12. "I don't think people realize how hard these games are," Few said of the WCC slate. "People give us a pass if we lose to a Big East or a Big 12 [in nonconference play], but in conference and it's 'Oh my God,' what's wrong with them? This league is better than I ever remember it being in a long time."
Stevens said the same thing about the Horizon League. He said the Horizon is as good a league as he has seen, even if the conference might not get four bids the way it did at one point.
Cleveland State has one of the top players in the country in Norris Cole. Butler big man Matt Howard and guard Shelvin Mack are arguably as good at their respective positions as others playing the same spots.
The talent hasn't dipped. The competition has risen. That doesn't excuse losses to middling teams, or even a bottom dweller, in either league. But it also should not have ruled out an NCAA berth for either team in January.
Few and Stevens kept in touch throughout the season. They were confident they would figure out how to get a bid. And, barring a collapse, it looks as if they've done so. And don't be surprised if, in a couple of weeks when they're out of the shackles of playing teams in the WCC and Horizon, Gonzaga and Butler win a game -- or two -- in March.