Source: Brandon Davies very remorseful
March, 2, 2011
03/02/11
11:27
PM ET
BYU sophomore forward Brandon Davies was so distraught over breaking the school's honor code that he has spent the past 24 hours being extremely remorseful, according to a source with knowledge of the situation.
Davies isn't expected to be around the third-ranked Cougars publicly -- on the bench, at practice or traveling to postseason tournaments -- but privately is still being considered part of the team, and the coaching staff or players won't shun him, according to the source.
[+] Enlarge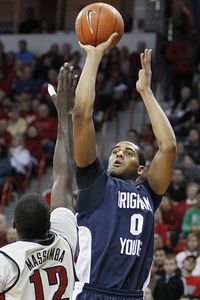 AP Photo/Isaac BrekkenBrandon Davies (11.1 ppg, 6.2 rpg) was BYU's primary post threat.
But like all his teammates and staff, whether they are members of the Church of Jesus Christ of Latter-day Saints or not, Davies had to sign the honor code. He has been at the school for nearly two full years, so he was well aware of the penalties. He's also from Provo, Utah, the home of BYU.
A BYU staffer said, "We all sign the honor code, and we all know the consequences.''
The school has a history of not bucking a violator. That was the case this past football season, when top running back Harvey Unga (who rushed for 1,087 yards in 2009) withdrew from the team for a violation of the honor code. The football team began the 2010 season 1-4 as a result.
According to the source, Davies admitted to making the mistake but knew that as hard as it is for the program, he had to live up to the consequences of breaking the code.
Reaction, according to the source, has been mixed with alumni applauding the move of upholding the code and other outsiders wondering why Davies couldn't be suspended in six weeks. But as one source said, "We are who we are, and that's not going to change. We represent the [Church of Jesus Christ of Latter-day Saints].''
On the court, though, this has the potential to be a crushing blow.
Heath Schroyer, who was fired as Wyoming's coach last month, said the 6-foot-9 Davies (11.1 ppg, 6.2 rpg) was the primary post threat for the Cougars to offset national player of the year favorite Jimmer Fredette and his senior backcourt teammate Jackson Emery. The Cougars were already thin in the frontcourt after losing post player Chris Collinsworth in January to an injury.
"I always thought that Davies was the next pro on their roster after Jimmer,'' said Schroyer, who worked at BYU as an assistant with current head coach Dave Rose when the two were under then-head coach Steve Cleveland. "Not having Davies in the post to offset Jimmer will hurt them.''
Schroyer said the onus will be on 6-8 forward Noah Hartsock (9 ppg, 6 rpg) to produce even more. Schroyer could see the Cougars going smaller by moving 6-5 guard-forward Charles Abouo (6.6 ppg, 4.8 rpg) to power forward. And he was aware that seldom-used 6-10 forward-center James Anderson would log more minutes for size purposes. Although the Cougars might be able to run with Fredette, Abouo and Emery, Schroyer said that taking Davies off the court means teams will be less likely to react to a post feed and not leave Fredette.
"They'll be able to stay longer on Fredette,'' Schroyer said. "You can double-team off a ball screen now. Davies was someone who could score on the low block.''
Schroyer said the Cougars likely will be at a disadvantage on defense with Abouo trying to guard a traditional power forward. Davies did a solid job of defending San Diego State's frontcourt, notably Malcolm Thomas and Kawhi Leonard, on Saturday at Viejas Arena. After the game, Davies told ESPN.com that everyone on the Cougars was trying to do his part to take pressure off Fredette.
"There could be a lot of matchups that will be a problem for them,'' Schroyer said. "Can Abouo guard a 4-man on the block? I think you'll see a lot of zone. I feel really bad for Dave [Rose]. I watched that San Diego State game [on Saturday and] said to myself that they could really make a run to the Final Four.''
But according to a former member of the NCAA tournament selection committee, BYU's seeding may not be affected if the Cougars continue to win in the next two weeks. The Cougars may have to win the final two home games against New Mexico on Wednesday and Wyoming on Saturday and then the Mountain West Conference tournament next week in Las Vegas to earn a No. 1 seed, with or without Davies.
The former committee member said that if the Cougars lose any of their final five games, it will force the current committee to decide whether this was the same team that beat San Diego State twice this season.
But trying to evaluate a team that is missing a player is always a tough call this late in the process, the former committee member said. Sometimes, for example, you don't know whether a player might have had a bad cold or personal issues, and that's why he didn't play well in a game. So it's hard to evaluate a team that suddenly loses a player for other reasons.
The former committee member said that a replacement can be found, and it's not four-on-five basketball. The committee will evaluate Florida State much in the same way as it plays without its top player, Chris Singleton, who is out with a fractured ankle. Singleton was playing when the Seminoles won their signature game against Duke. Now he's not playing. So Florida State still could get into the tournament, but its seeding could be affected.
BYU is further along in the process and on a higher seed line. And according to the former committee member, if "BYU wins its last two games and wins the Mountain West Conference tournament, then the loss of Davies won't be a factor in the seeding, and BYU will have earned a No. 1 seed.''