Could Red Raiders call on Billy Gillispie?
March, 7, 2011
03/07/11
9:07
PM ET
Quick hits for a Monday:
1. North Carolina was the team of the week after the Tar Heels won at Florida State on a 3-pointer by Harrison Barnes and then ran away from Duke at the Dean Dome to win the ACC regular-season title. UNC is trending up at the right time. The Tar Heels should be a Final Four contender when the selections are announced on Sunday. This team is relying heavily on two freshmen, Kendall Marshall and Barnes. Both have gone through a more normal maturation process than Jared Sullinger or (Kentucky's) John Wall did last season, when they were stars from Day 1.
[+] Enlarge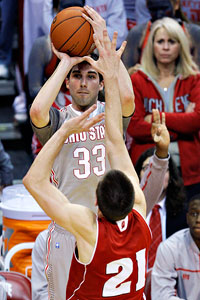 AP Photo/Jay LaPreteOhio State's Jon Diebler had a week to remember after going 17-of-20 from long range in two games.
2. The player of the week is Ohio State senior Jon Diebler. Diebler had a week to remember, which included a final home game that will be kept on video for the rest of his life. He started the week with 30 points, making 10 of 12 3s in a 21-point win at Penn State. That victory set the Buckeyes up with a chance to clinch the Big Ten title outright. Purdue's stunning loss at Iowa Saturday handed the regular-season title to OSU. But Diebler made sure Wisconsin was put in its place on Sunday, anyway. He hit 7 of 8 3s and finished with 27 points in a 93-65 rout of the Badgers. So in two games last week, Diebler was 17 of 20 on 3s for a combined 57 points. How about that for balance from the Buckeyes?
3. Tremendous win for Indiana State coach Greg Lansing, as the Sycamores shocked Missouri State for the Missouri Valley Conference title on Sunday. Lansing was essentially dismissed from the Steve Alford staff at Iowa and then hired as an assistant at Indiana State. Winning the Valley is quite a comeback for Lansing, who had to question where his career was going at one point. He is a well-respected coach in the Midwest and should have Indiana State as a contender for quite some time in the Valley.
4. Coastal Carolina lost to UNC-Asheville in the Big South tournament final, which spared the NCAA from dealing with a newsy element to a lower-level seed as it looks into recruiting and extra benefits against Coastal Carolina.
5. Good thing Harvard stormed the court Saturday night in Cambridge. Penn certainly can knock off Princeton Tuesday night at the Palestra. If that happens, Harvard would clinch the outright Ivy title and the league's automatic NCAA berth without much celebration.
6. Texas Tech fired coach Pat Knight Monday, effective at the end of the Big 12 tournament. This shouldn't come as a shock. The apathy with the program in Lubbock is an ongoing issue, and Knight singled himself out in the preseason as being on the bubble for his job. When the Big 12 becomes 10 teams next season, the job will only get tougher. Iowa State has a host of transfers ready to roll (always a gamble), and Fred Hoiberg will have talent at his disposal, with Royce White and Chris Allen leading a group of former Big Ten signees.
[+] Enlarge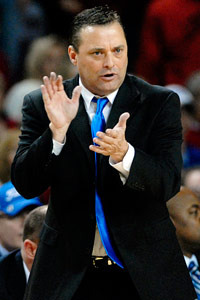 Icon SMIBilly Gillispie wasn't the right fit at Kentucky. Could he be at Texas Tech?
The easy name to toss out for the Red Raiders' job is former Kentucky, Texas A&M and UTEP coach Billy Gillispie. If the Red Raiders go with Gillispie, they will certainly get a coach with strong Texas ties. But if it's not Gillispie, the job may be wide open. With athletic director Gerald Myers retiring, the university president will likely make the call. Gillispie didn't forget how to coach at Kentucky. He wasn't the right fit for the Wildcats but did wonders at UTEP and A&M.
7. This will be an interesting week at a number of schools, as athletic directors and presidents decide if buyouts are worth a change in direction. Decisions could be made on this front at Utah, Oklahoma, Arkansas, NC State, Georgia Tech, Providence and South Florida. If the funds can't be found, that can help save a coach and his staff for another year. But it would behoove some to try to get out before there are more moves made.
8. Wyoming, Monmouth, Georgia State, Bradley, Towson and Texas Tech are open (Pepperdine is likely staying in house and going from Tom Asbury to Marty Wilson), and none are likely to create a domino effect. The jobs that could are at Arkansas, NC State and Georgia Tech, where coaches could leave quality jobs to take on those challenges.
9. The Minneapolis Star-Tribune quoted Tubby Smith as saying he's staying put at Minnesota. He should. He needs to continue to rebuild the Gophers. Meanwhile, the most intriguing name out there who isn't in trouble is Arizona State's Herb Sendek. Sendek left NC State before he was pushed out and landed at Arizona State. He's certainly a coach who would be high on some lists because of his overall credibility.
10. Well, that was foreshadowing. What am I referring to? Vermont's Mike Lonergan and Fairfield's Ed Cooley told me recently what a good thing it is for teams to have the NIT automatic bid for winning the regular-season title (read more here). They agreed it takes some pressure off playing in the conference tournament. Both teams will be in the NIT now that they've lost their respective conference tournament semifinals.
11. In this soft bubble season, Virginia -- with a full complement of players, notably Mike Scott -- could have been in this field. Tony Bennett has done a tremendous job.
12. Class move by Washington State's Klay Thompson, who stood up and spoke to the crowd about being cited for marijuana possession after being busted following the USC win Thursday night. Thompson was suspended for the UCLA loss on Saturday, and Washington State coach Ken Bone said the decision to speak was Thompson's idea.
BYU showed that Brandon Davies violated the honor code, not that he did something egregious in society, by still sticking by him and allowing him to be part of senior day on Saturday. Davies is, and apparently will be, a part of the program next season if all goes as planned during his review process.
14. I was surprised that the Big East coaches didn't have Connecticut's Kemba Walker as a unanimous all-conference selection.
15. So after everything is all said and done this season, the only two preseason top 10 teams that were discussed as preseason Final Four teams but instead have bombed are Michigan State and Villanova. Florida and Kansas State had some bumps, more so from the latter, but are both fully capable of making a run to Houston. North Carolina was No. 9 and is in the thick of the chase for a Final Four berth, and there's no reason to count out No. 10 Kentucky, either.