Plenty of questions surround Vols
March, 18, 2011
03/18/11
8:59
PM ET
Quick hitters on Friday night from Charlotte, N.C.:
• Tennessee coach Bruce Pearl expects freshman Tobias Harris to enter the NBA draft, or at least test the waters. Harris was non-committal after the Vols' 30-point loss to Michigan on Friday. But he did say he would investigate his options after the season. If Pearl is out as Tennessee's coach, as expected, then it's hard to see Harris returning regardless. In a weak draft, Harris is a lock for the first round.
[+] Enlarge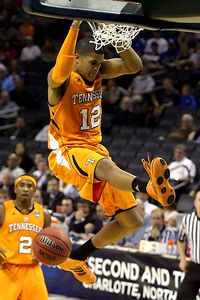 Streeter Lecka/Getty ImagesTobias Harris could take his game to the NBA next season.
• Junior guard Scotty Hopson may also test his draft stock, but Hopson has been so inconsistent this season that he's likely to go undrafted if he were to enter the draft.
• Kyrie Irving's return for Duke, albeit against Hampton, makes an even stronger case that he will go into the NBA draft. Irving is a top-three pick, and possibly the No. 1 pick overall. It's hard to see anything Irving does from this juncture hurting his position in the draft.
• If Memphis doesn't lose any underclassmen and with another elite recruiting class coming in, the Tigers will start next season as the Conference USA favorite and a lock for the Top 25. Memphis coach Josh Pastner did a fantastic job coaching the Tigers into the NCAA tournament, including a near upset of his alma mater.
• Hard to see Arizona's Derrick Williams returning next season. He has to be in competition with Irving and Enes Kanter, who was ruled ineligible at Kentucky, for the No. 1 pick.
• One of the overriding themes of the early part of the NCAA tournament is that the regular-season was an indicator of what was to come in this tournament. Michigan State, Villanova and Missouri had average, erratic seasons and as a result are gone after one game. The Colonial was the best conference outside the power eight. George Mason and VCU advanced and Old Dominion came within a bucket of moving on.
• Jobs in the CAA are suddenly at a higher premium. The league has become the new Missouri Valley. Athletic directors should lock in coaches as much as possible (Shaka Smart of VCU).
• The WCC should be ecstatic that Gonzaga and BYU are in the third round against each other. This is the start of a new rivalry that should be one of the best in the West for years to come.
• No one is chasing Butler's Brad Stevens this coaching carousel. They shouldn't. He has made it clear his perfect fit is at Butler and that he loves being with the Bulldogs. Stevens is not going anywhere.
• USC coach Kevin O'Neill was fortunate to just get the one-game suspension from new AD Pat Haden. There are private penalties that will be implemented, O'Neill said, but it's clear Haden isn't going to tolerate any kind of misbehavior.
• Richmond's Chris Mooney will become the hot name next week in the coaching carousel. But he's no fool. NC State and Georgia Tech are worth jumping too, but he doesn't fit in any of the Big 12 spots.
• I'm not sure I've seen a coach who is as passionate about his alma mater as Sydney Johnson has been for Princeton. His emotions were let loose after beating Harvard in the Ivy League playoff, and it was genuine after losing on a final possession to Kentucky. This coach loves his school. And he has done a tremendous job resurrecting a proud program in such a short time.
• The First Four concept worked -- for me -- but the timing of the games for the winners was simply not fair. It's an easy switch. The teams that play Tuesday night should play Thursday night and the same goes for Wednesday night teams playing Friday night. Clemson playing at noon in Tampa on Thursday against West Virginia after playing Tuesday night was just wrong.
• The pod system has been in place now for a few years and it does work in helping with attendance or at least keeping interest in some of these locales. If the pod system caught on then the First Four will, too.