Golden Eagles take advantage of matchups
March, 22, 2011
03/22/11
8:06
PM ET
Marquette in the Sweet 16 is a stunning development.
The Golden Eagles beating Xavier and Syracuse is not.
Take a step back and just digest who Marquette defeated. For a moment, forget the Golden Eagles' No. 11 seeding or that they were one of the last teams in the field on Selection Sunday or that they remain one of the 16 left in the NCAA tournament.
[+] Enlarge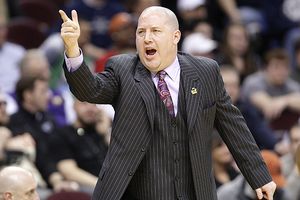 AP Photo/Tony DejakBuzz Williams' team is playing up to its potential at the right time of the season.
So much of advancing in the tournament is about matchups and seeding. And Marquette simply took advantage of beating a similar team in Xavier and then taking out a Big East team it had already defeated this season.
"I wasn't fired up when I saw we could be playing Syracuse, but if you had asked me 12 days ago that we'd be playing Syracuse in the second round, I would have said, 'that's fine,''' Marquette coach Buzz Williams said. "Xavier had been [14-2] in [its] last 16 games, won the A-10 [regular-season title], and Chris Mack has done a great job and Tu Holloway is really good. And we were playing them in their home state [Ohio] but it wasn't like something we haven't seen in our league. I told our team that this is the A-10's Kemba Walker in Tu.''
VCU's run to the Sweet 16 after knocking off brand-name schools in USC, Georgetown and Purdue jumps off your bracket. Florida State beating Texas A&M and Notre Dame shouldn't stun you, though.
The Seminoles could have lost to either team as a No. 10 seed because they haven't been consistent. The same theory could have applied to the Golden Eagles, as Xavier or Syracuse could have easily knocked off Marquette.
"In this tournament, matchups are just as critical as any other factor leading up to a game,'' Williams said. "We could easily have lost. Are we Cinderella? Maybe out of the Colonial, but we were in the Big East. We played the best [teams] all year long.''
The Golden Eagles' tourney run isn't a total shock, but if they knock off North Carolina on Friday it will turn more heads.
Marquette may seem like the odd team still playing with Connecticut among the 11 Big East teams that received bids. But should you really be surprised by the Golden Eagles beating Xavier and Syracuse?
"It's still a surreal thing for us and this program to be in this position,'' said Marquette's Darius Johnson-Odom, who hit the 3-pointer that essentially defeated the Orange. "We're in a position that we haven't been in [Marquette last made the Sweet 16 in 2003]. We did struggle at times in the Big East, but that's because all 11 teams kept beating each other up every night.
"But it shouldn't be that farfetched for our team,'' Johnson-Odom said. "We play hard-nosed, and we're a tough team.''
The Golden Eagles' toughness has defined Williams' tenure at Marquette. And if they beat North Carolina, it will be because Marquette won the 50-50 plays and competed on the offensive backboard. Johnson-Odom loves to bring up the fact that this is a collection of a number of junior college players who aren't expected to be in this position.
"We're always fighting to show what we can do,'' Johnson-Odom said. "We've gone through a lot to get in this position.''
Once the Eagles won, Williams broke down in the locker room. He pours his soul into this job, and "it showed with what we did in Cleveland,'' Johnson-Odom said.
He is now a hot commodity in the coaching carousel. Oklahoma wants him, and Arkansas would definitely give him a strong look. But Williams is extremely happy at Marquette because he has created a brand, a style that is now defined by his work ethic. If Arkansas was interested in Texas A&M's Mark Turgeon and were to hire him, then the Aggies' job becomes an intriguing position for Williams. He would have to listen. But now that he's reached this level, there's no guarantee he would bolt on Marquette. Jobs in the Southwest are in his comfort zone, but Williams shouldn't go somewhere to rebuild. He has already done that. If the job is built and he only has to add his imprint, then it will cause him to pause and consider.
But for now, Marquette is winning the games it can in the NCAA tournament. No one is ready to say it should win these games, but beating Xavier, Syracuse and even North Carolina is not out of the question. This is not some team that hasn't done much. The Golden Eagles are for real, always have been this season, but they just hadn't played up to their potential -- until now.