College hoops was better with Jimmer
March, 25, 2011
03/25/11
6:09
PM ET
NEW ORLEANS -- The season started with a question about who would be the face of the sport.
The answer then was no one.
[+] Enlarge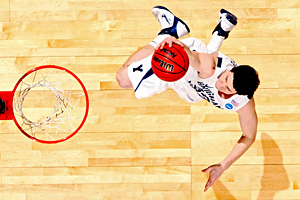 Doug Pensinger/Getty ImagesJimmer Fredette captivated the college basketball scene with his ability on offense.
It was hard to predict, at the time, because no one stood out yet.
But as the season progressed, the faces emerged, stars were created and names became known.
Players such as Kemba Walker, Jared Sullinger, Marcus Morris, JaJuan Johnson, Nolan Smith, Kyrie Irving, Derrick Williams and Jimmer Fredette emerged.
Fredette's career came to a close Thursday in New Orleans. They weren't his finest two hours. But he still captivated the crowd for a few possessions and he was always a threat to win the game. Had he been given one more shot, he may have pulled off an iconic BYU moment with a winning shot that would have propelled the Cougars to the Elite Eight. But he didn't have the chance.
Nevertheless, we should take a moment to appreciate what Fredette did for the sport this season. His 47-point effort at Utah on the night after the BCS National Championship Game was the perfect segue for mainstream fans searching for a fix. "SportsCenter" picked up on Jimmer-mania from that point forward.
His unique name, deep range, ability to score in bunches and story from pudgy little brother to potential lottery pick was headline material. Comparisons to Stephen Curry at Davidson were fair, and Jimmer was potentially one shot away from taking BYU to the same destination as Curry in 2008 -- the regional final.
Whether he is a success or failure in the NBA is not the point here. He was critical to the sport's health this past season.
Walker dominated the East Coast with his thrilling play in the Big East and an iconic run through the Big East tournament. Walker led UConn to the Elite Eight.
Williams' power play was almost silly it was so special in Arizona's win over Duke in the Sweet 16. He continues to make himself plenty of money as a possible top-three NBA draft pick whenever he decides to come out. But Arizona's lack of national attention for most of the season kept Williams a bit of a secret to the mainstream. He is no longer an unknown.
The Duke players always were going to get attention, whether they were injured or not. Sullinger and Johnson each took a turn in the spotlight in the Big Ten. North Carolina's Harrison Barnes came on strong, but it was later in the season.
Fredette, like Walker, was one of the most compelling names from October to March. And some may not remember that he was a preseason first-team All-American. He lived up to the hype and even more.
His career is over at BYU. He has a chance to be a specialist in the NBA or maybe more if his overall game improves. But he certainly will be an attraction, especially if Utah selects him with one of its two likely lottery picks.
Jimmer is done in college. But his one-name reference proved how he had become part of the vernacular in not only college basketball, but American sports as a whole. After being gutted by so many early entrants to the NBA, the game needed him this season.
And he delivered.
Now onto the quick hitters:
• Isiah Thomas is extremely interested in the Loyola of Chicago opening, according to multiple sources. The Florida International coach would love to get back to Chicago, where his recruiting base is located and his name can still have significant relevance. Schools in the Horizon are looking for a splash to compete with Butler. But the question of how much Loyola would be interested in Thomas remains. FIU finished in last place in the Sun Belt East at 5-11, 11-19 overall in Thomas' second season at the school.
• ESPN analyst Mark Gottfried, a former Elite Eight coach at Alabama and one-time UCLA assistant, is in the mix at Utah. Gottfried was a potential fallback candidate at Oregon last spring. I still won't be surprised if LSU's Trent Johnson is involved, since he was a success in the Pac-10 and hasn't had traction the past two seasons in the SEC after winning the SEC West in 2009.
• Oklahoma will give BYU's Dave Rose a strong look, according to multiple sources.
• Missouri has a lengthy list for its next coach, as the Tigers look to replace Mike Anderson, according to a source. The list was too lengthy to mention every coach as a serious candidate, but the process will narrow down potential candidates in the next week. Missouri should be able to land a quality hire. It's hard to argue that this isn't one of the top-four jobs in the Big 12. The fan support is one of the strongest in the conference.
• Pitt coach Jamie Dixon said Nasir Robinson has had tremendous support since he committed the foul against Butler's Matt Howard as time expired that put Howard at the line to beat top-seeded Pitt in the third round last weekend.
Dixon said the loss to Butler still sticks with him but every end-of-season loss does because of the finality.
"To me they're all the same, the season ends," Dixon said. "Everyone talks about how emotional senior day is, but you know you still have three more weeks or more of playing. It's like starting over in the postseason."
Dixon moved on quickly by going on the road recruiting this past week. The Panthers lose three seniors -- Gary McGhee, Brad Wanamaker and Gilbert Brown.
"We're always consistent; we lose three guys every year. We're never old, never young," Dixon said. "It seems like we just have two or three seniors every year."