VCU focused on keeping Shaka Smart
March, 28, 2011
03/28/11
11:08
AM ET
Butler made the move last year to keep coach Brad Stevens, signing him to a 12-year deal soon after the Bulldogs' historic run to the Final Four.
Richmond didn't wait for coach Chris Mooney to be wooed by Georgia Tech. As soon as the Spiders reached the Sweet 16 last week, athletic director Jim Miller and Mooney met to discuss upgrading game and practice facilities, academic support, team travel, recruiting, staff compensation, strength and conditioning and public relations. Miller said he had the endorsement of the university administration to get a deal done. Mooney signed a 10-year contract extension with the Spiders.
[+] Enlarge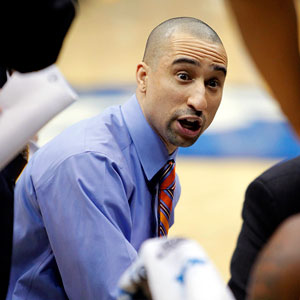 Bob Donnan/US PresswireAfter a remarkable run to the Final Four, it's VCU's turn to make a move to keep coach Shaka Smart.
So now it's VCU's turn to make a move to keep coach Shaka Smart after its improbable run to the Final Four with Sunday's victory over top-seed Kansas in San Antonio.
Tennessee didn't wait and made a quick move to replace Bruce Pearl by hiring Missouri State's Cuonzo Martin over the weekend. And Georgia Tech made a stunning hire Sunday by selecting Dayton's Brian Gregory, who didn't even make the postseason, after paying an estimated $7 million buyout to Paul Hewitt.
That leaves Missouri, Oklahoma and NC State as power-six jobs that are open and could be in Smart's comfort zone. But after reaching the Final Four, would Smart really leave for a position that isn't a top job in either the Big 12 or the ACC? Would he do it just for more money?
VCU athletic director Norwood Teague has had a number of conversations with Smart about his career path, even before the run to the Sweet 16, Elite Eight and now Final Four.
"He values greatly how much we support his program, and we do more than a lot of high majors," Teague said Monday morning. "We want to this to be in the same fraternity as Xavier and Dayton, in these only basketball schools. Shaka values the basketball-only experience. It's a big deal, and he understands that."
Teague said he met with VCU president Michael Rao about being more aggressive.
"I don't think Shaka would just go for a money grab. He's not going to do that; I know people around him, and we're going to do all we can to keep him," Teague said. "After we won last night, I think he's more likely to stay. This is a different program now. This place will never be the same again."
George Mason's Jim Larranaga stayed after he led the Patriots to the Final Four. He was a hot ticket on a speaker's list. He was wooed by Providence, his alma mater, prior to Keno Davis getting the job, but decided to stay put.
Would Smart do the same? Obviously they are at different stages in life and in their coaching careers. But VCU will try to ensure him it is no longer just a stepping stone to higher-profile jobs, which is what occurred with Jeff Capel going to Oklahoma and Anthony Grant going to Alabama.
Teague said Smart makes a base salary of $325,000 with bonuses that push him to $350,000. Incentives have already garnered him $500,000 so far this March. Teague said an annuity also pushes Smart past $500,000. He said Grant left VCU making a base salary of $750,000, before Smart was hired two years ago.
"We will be aggressive again," Teague said. "We couldn't pay what Alabama did [estimated at $1.8 million]. But for Shaka it's going to have to be a really good one. We're renovating the offices for the staff and assistants. We're putting in $4 million worth of club seating in the arena. It will be a big-time renovation. We're doing things. We're not just paying lip service."
Smart led the Rams to a CBI championship win over Saint Louis in his first year in 2010, finishing with a 27-9 record (11-7 in the CAA). Teague then added two more years to an original five-year deal, so Smart has five more years left on his contract, according to Teague.
"Anything is possible, and I do think that we do things for our basketball program that are at a high-major level and our fan base is significant for a major metro area that would rival a lot of BCS conference teams," Teague said. "We charter a significant amount and I would think we charter more than half of the ACC. This can be a destination [job]. Our model has been to hire the top assistant in the country, and it has served us well. But things change. I'm looking at this differently to become a destination."
Some quick hitters
• It was really weak that Georgia Tech assistant athletic director Wayne Hogan went out of his way to deny reports that the Yellow Jackets were hiring Brian Gregory. Clearly this was in the works, and Georgia Tech looks small in the way it handled things over the weekend.
• Hiring Gregory is a questionable move. So let's get this straight: The Yellow Jackets pay $7 million to buy out Hewitt and then hire Gregory, whose Flyers finished 7-9 in the A-10 (eighth place) and 22-14 overall. Gregory did win the NIT championship in 2010 with a victory over North Carolina, but he reached the NCAA tournament only twice in eight years. Hewitt made the NCAAs last season, and won a first-round matchup with Oklahoma State. Hewitt also made four other NCAA appearances, and reached the national championship game in 2004. Should he have been let go? You can make that argument. But to fire him, pay him money and get a coach who hadn't done nearly as much as Hewitt at a lower-level conference? How does this make sense?
• Martin made a correct move and capitalized on his success of winning the Missouri Valley Conference to get the job at Tennessee, just like Davis did when he won at Drake and landed at PC.
• Money could fly around quickly, but it looks like Buzz Williams isn't leaving Marquette for Oklahoma or Missouri. His assistants don't expect him to leave.
• BYU's Dave Rose isn't going to Oklahoma. That doesn't mean he won't land somewhere else. But OU is out, according to multiple sources close to the situation.
• Dayton and Kent State would be wise to look at Ohio State assistant Jeff Boals, who has had a lengthy experience in the Midwest and has helped Thad Matta build one of the best programs in the country.