Who should succeed Jim Calhoun?
March, 30, 2011
03/30/11
9:08
PM ET
STORRS, Conn. -- Jim Calhoun seems as energized coaching Connecticut this season as I've seen him in the 11 years I've covered the Huskies. He has a youthful look about him, an unbridled enthusiasm for the job.
[+] Enlarge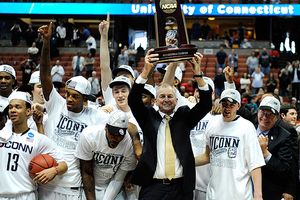 Kevork Djansezian/Getty ImagesJim Calhoun is enjoying one of his finest coaching efforts this season.
He has a star in Kemba Walker, who likely will leave for the NBA when the season is over, regardless of whether there is a league lockout after this season. Walker has one more year of eligibility, but it would be hard to top what he has accomplished this season, beginning with a run through Maui, and ending with a Big East tournament title, a Final Four berth and a possible national championship this weekend in Houston.
The Huskies, even without Walker, should be a strong contender in the Big East next season with the development of Jeremy Lamb and Shabazz Napier on the perimeter and Alex Oriakhi inside. There's also the chance that UConn could land the top 2012 player, Andre Drummond, who is at St. Thomas More School (Middletown, Conn.) and could, according to sources, potentially graduate early and be ready to play next fall.
Drummond is considering UConn, Duke, Kentucky, Georgetown and Pitt, according to ESPNU recruiting analysts.
The NCAA investigation is over. Calhoun has his penalty in place, a three-game suspension to start the Big East season in 2011-12. He might be 68 years old, but he is genuine in saying he loves this team.
Why would he walk away? Well, he might not. Calhoun has left the question of his future open, saying he will make a decision after the season -- win or lose this weekend in Houston -- to evaluate what he wants to do going forward. He still has three more seasons on the four-year contract he signed last year.
But the one thing that seems more certain after observing the program and being around the team is that first-year assistant Kevin Ollie is ready to take over for Calhoun. It would require the help of a strong staff, perhaps bumping Glen Miller from director of basketball operations to associate head coach. Miller, the former Penn and Brown head coach and one-time Calhoun player at Northeastern, would be a perfect complement to Ollie. Of course, this doesn't mean that Calhoun and/or associate head coach George Blaney are ready to step down. They might not be, but for the first time in years, there appears to be solid footing underneath Calhoun, making any decision he deems necessary available to him and the UConn administration, including athletic director Jeff Hathaway.
If Calhoun decides to step down (whether that's in the spring, fall or several years), it's still unclear who would make the ultimate call as to who his replacement would be. But Ollie clearly has moved ahead of the rest of Calhoun's coaching offspring. UConn can't hire former assistants such as Karl Hobbs (head coach at George Washington), Tom Moore (Quinnipiac) and Dave Leitao (former head coach at Virginia). Well, it could, but each of those résumés has flaws and none of those coaches is on an upward swing. Moore is the closest but has fallen short of winning the NEC tournament title the past two seasons.
When Ollie retired from the NBA last summer and joined Calhoun's staff, I was convinced he could be the next head coach at Connecticut, whenever the timing works out. He is beloved here in the state, is a well-respected former NBA player who earned his way through hard work and has strong connections with UConn alumni, who either played or are playing in the NBA. He has a great relationship with the current players and prospective recruits, most notably Drummond. He'd be a huge hit if he were to land the job.
This year's run to the Final Four makes it seem even more important to keep this job in the Calhoun-UConn family. There has been too much built up in Storrs to let it slide when Calhoun does eventually retire. Few programs have similar pressure in replacing an iconic coach, with Syracuse, Duke and North Carolina topping the list. Adding Connecticut makes sense.
Lute Olson didn't prepare well enough for his eventual departure from Arizona. The Wildcats were saved by Sean Miller's arrival and a subsequent strong recruiting class, helped by several defections from USC. It was a perfect storm to put the Wildcats back on top of the Pac-10 with only a one-year transition period.
Calhoun has been a survivor in every sense of the word -- battling multiple bouts with cancer, the deaths of a number of people close to him and dealing with an NCAA investigation. His coaching of this team has been perhaps his best in his career. His relationship with Walker is good as he has had with any player. Calhoun is suddenly in a good place. That might carry him into another season or lead him to decide that he can walk away on top. And if that's the case, Ollie should be ready to take the lead. He has been groomed for this by Calhoun, through his life experiences and in the NBA, and would make for a smooth transition.
This might not happen this spring, this summer or next fall. But the seeds seem to have been planted so that it could occur in the not-too-distant future. And if it does, it seems like the right move to make for a school that has reached an elite status in the game and doesn't appear to be sliding back anytime soon.