Kentucky's future on display in Portland
April, 11, 2011
04/11/11
5:34
PM ET
Connecticut won the national championship last week in Houston, but Kentucky won the offseason's first weekend with a dominating presence at the star-studded USA Men's Nike Hoop Summit in Portland, Ore.
[+] Enlarge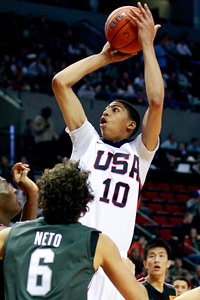 AP Photo/Rick BowmerAnthony Davis moved up to No. 1 in the ESPNU 100 and promptly put up 16 points and 10 boards for Team USA this weekend.
UK-bound big man Anthony Davis led the USA team with 10 boards (and 16 points) while fellow signee Michael Gilchrist scored 16 and had five blocks. Point guard Marquis Teague didn't have a solid shooting game at 3-for-10, but was still a starter. And the fourth member of this class -- Portland native Kyle Wiltjer, who has dual citizenship between the U.S. and Canada -- made a pair of 3s and finished with 12 points for the Canadians.
"The greatest thing is that all four kids are great kids," Kentucky coach John Calipari said Monday morning. "It'll be fun. They want to do this together. They take on a roll, a swagger and an arrogance, but that's based on their talent. They've got a ways to go. They all want to win, not just want to play."
In the Americans' 92-80 victory over the World team, Duke incoming freshman Austin Rivers led the way with 20 points and future teammate Quinn Cook added 12. But there's no debating that the nation's No. 1 recruiting class will again call Lexington home. All four Wildcats signees are in the top 18 in the final ESPNU 100 rankings, with Davis moving up to No. 1 and Gilchrist (No. 3) and Teague (No. 7) not far behind.
Now the only question is who will be on campus to greet them.
Kentucky freshman point Brandon Knight, who hit game-winning shots to beat Princeton and Ohio State in the NCAA tournament and led the Wildcats in scoring at 17.3 points a game, as well as classmate Terrence Jones, who averaged a second-best 15.7 points a game, haven't decided if they'll declare for the draft.
Calipari talked to both players last week after returning from the Final Four, and said he would meet with them again Monday or Tuesday. Underclassmen have until April 24 to declare and May 8 to withdraw from the draft.
"They probably need to test the waters and see where they are before they make a decision," Calipari said. "They have to find out where they would fall. But this [NBA] lockout looms. Normally I would suggest that you've got to do this, but if an agent is paying you [during the lockout] then you're going to have to pay him back and probably with interest.
"I'm not going to influence them -- I'm going to give them my opinion," Calipari added. "These kids have to live with any of these decisions. I don't want a player coming back if his heart isn't into it or thought he should have left. Daniel Orton chose to leave [last year]; no one forced him out the door."
Orton was the last of Kentucky's five first-round picks in 2010 (behind John Wall, DeMarcus Cousins, Patrick Patterson and Eric Bledsoe). Orton went No. 29 to Orlando. He hasn't played for the Magic this season while nursing a left knee injury, although he did make a D-League appearance. Orton averaged 3.4 points and 3.3 rebounds for the Wildcats last season.
In 2010-11, the Wildcats leaned heavily on six to seven players throughout the season, going with a lineup that included three freshmen in Knight, Jones and Doron Lamb (the three leading scorers), two returning juniors in Darius Miller and DeAndre Liggins, a senior in Josh Harrellson and a fourth-year transfer in junior Eloy Vargas of Florida.
Harrellson was the replacement for freshman center Enes Kanter, who was deemed permanently ineligible by the NCAA for accepting extra benefits while playing for a club team in Turkey.
[+] Enlarge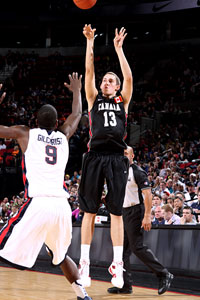 Sam Forencich/NBAE/Getty ImagesFuture teammates Kyle Wiltjer (shooting) and Michael Gilchrist faced off on Saturday.
Harrellson was a pleasant surprise, but he is gone now. But if Knight and Jones were to return that would give the Wildcats nine to 11 legitimate players with no scrubs. If one or both bolt, then the Wildcats are still fine in terms of numbers, just not as deep -- and with a new starting point guard yet again (Teague).
"We're going to be in good shape," Calipari said. "These guys all like each other. They've played together or against each other in the McDonald's game, in the Summit game and will in the Jordan game. If Brandon chooses to come back, then he and Marquis can play together. We only had one point guard [this past season] and we were lucky there was no foul trouble or no injury. We didn't have any issues. We had a bunch of good players. I don't have problems dealing with egos because I go right after them. We had a trip to Canada, and then three months before this past team got it together.
"How quickly this one will? I don't know. But I do think it will happen faster because those four [freshmen] have been playing together and I'm coaching guys who have been here."
Calipari said the Wildcats were tight in the Final Four semifinal loss to Connecticut. The team shot just 33.9 percent overall and was 4-for-12 from the free throw line in the 56-55 loss April 2 at Reliant Stadium.
The heralded four-man freshman class won't solve every issue for Kentucky, but they do bring something different to the table.
"Michael brings a viciousness to his game, a desire to get balls and get to the rim and a toughness," Calipari said. "Anthony brings a skill level, a [Marcus] Camby-esqueness to him where we can press more and run the lanes more. Marquis Teague brings speed and a physical athleticism to the guards spot.
"And then there is Kyle Wiltjer and he has a skill level where we just have to figure out how to plug him into the system and dribble drive. Do we have him trail like a Larry Bird, pick-and-rolls and use his great passing, too? Where do you play him to take advantage of his skill and shooting ability? Anthony and Kyle can really shoot the ball so that gives us two more scorers."
Calipari coached a freshmen-led team to an Elite Eight in 2010. The team was not a great shooting team, but if John Wall couldn't get to the basket then the Wildcats would overpower teams with DeMarcus Cousins and junior Patrick Patterson. This past Final Four team worked the dribble drive well and had a late-game, go-to scorer in Knight, wings who could drive in Jones, Miller and Liggins, and a hard worker inside in Harrellson.
"This team [in 2011-12] will be deep and can shoot," Calipari said. "That will be nice to have. I've heard it's the best recruiting class I've ever had. But let's let them play. Even before they play, they are one of the best. If they're the best, they'll have to perform on the basketball court."