The collapse continues for Bill Grier, USD
April, 12, 2011
04/12/11
5:56
PM ET
Quick hitters on a Tuesday morning:
• Bill Grier had a clause in his contract to succeed Mark Few at Gonzaga. It was an agreement that the two and athletic director Mike Roth had agreed to years ago, but once it became clear Few wasn't going anywhere, Grier got his own gig at the University of San Diego.
Grier is one of the most well-liked coaches I've come across and has a slew of friends in the business. I've never heard an ill word about him from anyone.
[+] Enlarge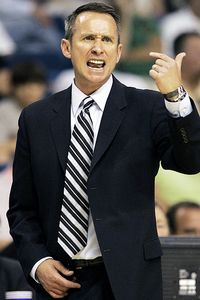 AP Photo/John RaouxThings have gone south quickly for Bill Grier and USD.
That's why it's difficult for so many to witness what has happened at USD over the last few seasons. The bad run that has befallen Grier since the Toreros upset Connecticut in the 2008 NCAA tournament -- Grier's first season on the job -- is hard to fathom.
His teams have fallen off the map on the court, following that NCAA tourney momentum with a disappointing 16-16 season, then 11-21, then a horrific 6-24 this past season. The Toreros did have one highlight this season, beating Saint Mary's at home when the Gaels were atop the WCC. But there have been costly defections, notably losing the team's top rebounder and inside presence in Rob Jones to the rival Gaels.
And now this -- a point-shaving scandal that led to the arrests of former assistant coach Thaddeus Brown and the school's all-time leading scorer, Brandon Johnson.
There is no way anyone could have guessed that this quaint Catholic school up on the hill in a scenic part of San Diego would be a part of such a sordid scandal.
This is a crushing blow for the West Coast Conference, which had been on a roll as of late. BYU joined the league and just locked up coach Dave Rose with a lucrative new deal. Gonzaga continues to roll along. Saint Mary's survived another coaching carousel and kept Randy Bennett. And now USD, the worst team in the league, is embroiled in a scandal.
Grier wasn't named in the charges, nor is there any indication that he had any knowledge of the schemes. But Toledo coach Stan Joplin wasn't involved in a point-shaving scandal at that school, either. He was fired there because of a losing season, not the point-shaving scandal. But he's also still trying to find a job.
So the emotional stress on Grier has to be daunting. He was trying to rebuild the program in anonymity and now that's not possible. The point-shaving scandal will keep the spotlight on the Toreros -- and it's not a spotlight any program wants to be under.
• BYU really had no choice but to re-sign Rose. Athletic director Tom Holmoe couldn't afford to lose his successful head coach at a time when the Cougars are entering unchartered waters in the move to the WCC.
• If Reggie Theus can't get the head-coaching job at his alma mater, UNLV, where exactly is he going to get one? Theus was a successful coach at New Mexico State, making that program relevant again. He had a tough situation with the Sacramento Kings. The former Rick Pitino assistant at Louisville should be applauded for working his way up, instead of expecting a free pass to a head-coaching job. He's an NBA assistant now and desperately wants back in college, but can't seem to get a serious sniff outside being considered by UNLV and USC.
• Miami's Reggie Johnson declared for the NBA draft but didn't sign with an agent. If the Hurricanes have a chance to move up the ACC standings under their new head coach, Johnson has to return.
• Archie Miller's decision to hire Kevin Kuwik as an assistant at Dayton will go down as one of his best during his career as a head coach with the Flyers. Kuwik was the video coordinator for Ohio State the past two seasons under Thad Matta. I have documented many times what Kuwik has done in his career, from serving two tours in Iraq with the Indiana National Guard while an assistant at Ohio to his best work, helping change commuter airline legislation after the tragic death of his girlfriend Lorin Maurer and the other victims on Continental Flight 3407 from Newark, N.J., to Buffalo two years ago. Matta's decision to have the Buckeyes wear 3407 patches the past two years to honor the victims was one of the best gestures I've seen in my two decades of covering the sport. It was all class. Ohio State will miss Kuwik, but he deserved a chance to be a full-time assistant. Few will work harder. Dayton got better the moment Kuwik got the job.
• Baylor will almost certainly be in the preseason top 25 now with the surprising return of Perry Jones III. But let's not dismiss the importance of losing LaceDarius Dunn. The Bears had some leadership issues on last season's team and really didn't beat anyone of significance all season. There is still more work to be done, but getting Jones back was huge.
• I'm not sure you'll find a state without a major league baseball team that has more of a divide than Connecticut does with the Red Sox and Yankees. And that's why it was fitting that the national champs decided to split the first-pitch offers from the Red Sox and Yankees. Die-hard Sox fan and Boston-area native Jim Calhoun was in his element throwing out the first pitch at Fenway Park. Kemba Walker and the players will do so at Yankee Stadium on Wednesday. Calhoun won't be in the Bronx and the UConn players weren't at Fenway. The majority of the players, save Alex Oriakhi and Shabazz Napier, are Yankees fans.
• In case you didn't notice, BYU's Jimmer Fredette won every player of the year award. Seems like that went by quietly as Fredette took home the Wooden, Naismith, Oscar Robertson, Rupp and AP national player of the year honors. I thought at some point there would be one that would go to Walker, but Fredette swept all of them. Both Fredette and Walker should be applauded for how hard they worked to get to the top of their sport this season.