Tommy Amaker is content at Harvard
April, 13, 2011
04/13/11
9:00
PM ET
Quick hitters for Wednesday:

• Harvard coach Tommy Amaker now has a good grasp on who he is and where he fits, just like Gonzaga's Mark Few, Butler's Brad Stevens and VCU's Shaka Smart.
Amaker has been to the top. He played at Duke, coached at Duke, coached at a high-major at Michigan and Seton Hall. He didn't need to jump to a middling high-major in Miami.
"I'm happy," Amaker said Tuesday night after spurning an in-person overture from Miami officials. "I'm comfortable. I'm OK with the money I make. I've made money. I want to see this through. I find it really fascinating the interest we've had here."
[+] Enlarge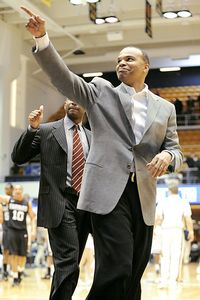 Mitchell Layton/Getty ImagesTommy Amaker's Crimson will be favored to win the Ivy in 2011-12.
Harvard didn't care about men's basketball prior to Amaker's arrival. But it now is recruiting a higher-level player. The Crimson have knocked off Boston College three years in a row and beat Colorado at home. And for the first time, they won a share of the Ivy League title this past season before falling to Princeton in a playoff game at Yale.
"I think our people really see now what it's like, what it means [to have a successful program]," Amaker said.
The next step is to get an NCAA tournament berth. The Crimson will be favored to win the Ivy in 2011-12. The last time, the only time, the Crimson were in the NCAAs was in 1946.
"It's going to be great to hang a banner in our facility [as Ivy champs] for the first time in the 100 years they've been playing basketball," Amaker said. "It's not that we have unfinished business. We've now done something we haven't done in winning the Ivy. We've got a strong team coming back. We've got support. I'm committed here and very happy. I'm not running or looking for anything else."
• Amaker is having a hard time getting games now. The Crimson will be in the field for the new eight-team Battle for Atlantis tournament at Paradise Island in the Bahamas over Thanksgiving, joining Connecticut and possibly Florida State and UMass. Gonzaga has been approached as well. The entire eight-team field is still being set. The Crimson also will visit Connecticut and will get George Washington at home. But after beating BC for three straight seasons, the Eagles have passed on playing the Crimson next season. The only other "up" game on the schedule so far is at Fordham of the A-10.
• Miami officials still haven't reached out to Kansas State's Frank Martin now that Amaker is out of the running, according to multiple sources. If Miami can offer only close to $1 million or $1.1 million, that's $500,000 less than what Martin will receive at K-State. According to sources, even if Martin were approached, he wouldn't go for a major pay cut.
• Milwaukee's Rob Jeter has been contacted by Miami officials and is expected to hear about a possible interview soon, according to sources. Jeter didn't work with new Miami athletic director Shawn Eichorst at Wisconsin, but both know each other well through contacts in the state. Jeter already had gone to Milwaukee (from Bo Ryan's Wisconsin staff) when Eichorst was hired to be Barry Alvarez's assistant athletic director with the Badgers. Eichorst said he is taking control of the search. Let's see whether that means Dan Parker's Atlanta-based search firm gets pushed to the back, instead of the front-row seat it had occupied earlier in the search.
• Impact basketball director Joe Abunassar confirmed Kansas freshman guard Josh Selby is working out at his facility in Las Vegas, despite missing important second semester class time. But Abunassar said he doesn't know whether Selby will declare for the NBA draft. Neither does Kansas coach Bill Self, although Self won't be surprised if Selby declares and stays in the draft at this juncture. Clearly, Selby hasn't shown that he's committed to KU by working out with Abunassar instead of finishing out the semester on KU's campus. Selby was fifth on the team in scoring, averaging 7.9 points and 2.2 assists in 26 games. Selby dealt with eligibility (suspended first nine games for extra benefits) and injuries (missed three games) during the season.
• Former UConn player Nate Miles, who told The New York Times that he was willing to talk to the NCAA while telling the Times and Slam Magazine that coach Jim Calhoun knew more than was said during the NCAA investigation about improper benefits, has blown off the NCAA and other forms of electronic communication. An NCAA official told ESPN.com that an investigator went to Toledo, Ohio, Miles' hometown, to meet with him just prior to The New York Times story coming out two weeks ago. But Miles never showed up. The investigator then talked to Miles on the phone when a friend of Miles' picked up the call. Miles didn't want to speak with the investigator then, either. So any attempt to get further information from Miles, open a new investigation or even deem whether he's credible, is indefinitely on hold.
• The NCAA puts out these 15 warning signs for a coach to see whether a player is involved in gambling:
1. The student-athlete is always in need of money.
2. The student-athlete has extreme cash flow swings characterized by unexplained mounting debts or the display of large amounts of cash or other material possessions.
3. The student-athlete sells personal belongings to get money.
4. The student-athlete repeatedly borrows or steals from family, friends, teammates, coaches or the institution.
5. The student-athlete seems distracted, moody, sad, worried or nervous.
6. The student-athlete misses commitments with the team, at home or at school, or experiences a sudden drop in grades.
7. The student-athlete demonstrates a loss of appetite or sleeplessness.
8. The student-athlete jeopardizes a significant relationship, job, educational, athletics, or career opportunity because of gambling.
9. The student-athlete makes excessive inquiries about the health of athletes on a team.
10. The student-athlete gets extremely agitated and/or nervous when watching sporting events and is excessively upset when other teams or players lose.
11. The student-athlete frequently uses gambling terminology or the word "bet" in conversation.
12. The student-athlete seems preoccupied with gambling and/or betting.
13. The student-athlete has a relationship with a bookie or an account with an Internet or telephone gambling service.
14. The student-athlete goes to gambling establishments, such as casinos or betting parlors, with friends.
15. The student-athlete receives gambling paraphernalia from Internet sports betting sites or possesses gambling-related items, such as lottery tickets, betting sheets, casino chips or other souvenirs from gambling locations.
• A key point to note in the San Diego point-shaving case is that the assistant coach allegedly involved, T.J. Brown, worked for former USD coach Brad Holland, not for Bill Grier. Still, the involvement of a former assistant coach would take this to another level since it wouldn't be just players looking to influence a game.
• According to multiple sources close to Grier, he had no knowledge of the point-shaving until the FBI was about to make arrests early this week.
• Former Toledo coach Stan Joplin, now a candidate for the opening at Eastern Michigan, said his reaction to point-shaving during his tenure was shock and disappointment. He said he had no idea. That's likely to be the response of Grier, too, whenever he's allowed to talk. Joplin said it's a tough position to be in as a head coach since there aren't indicators (despite the laundry list that the NCAA provides). Joplin should get a second chance, just like any other former fired coach.
• Grier shouldn't be fired for this. If he is reviewed, it should be only about the win-loss record. But if he's thinking long term, he should try to pursue the assistant opening at UCLA under Ben Howland. There will be more security there.
• Credit Florida's Billy Donovan for making sound hires for his staff this week. Donovan added experience in Norm Roberts, formerly of St. John's, and his good friend and former assistant John Pelphrey, formerly of Arkansas. Donovan leaned heavily on Larry Shyatt before he left for Wyoming. Losing Rob Lanier, another former head coach who left to be an associate head coach at Texas (replacing Rodney Terry, who left to be the head coach at Fresno State), meant adding experience to the coaching staff was important. Florida has as much experience as any staff in the country now.
• Missouri's Frank Haith made a strong recruiting hire in his good friend Tim Fuller, who was just at Louisville. Haith was at Wake Forest when Fuller was with the Demon Deacons.