Time for the annual draft deadline changes
April, 14, 2011
04/14/11
8:50
PM ET
Many underclassmen are hoping to test the NBA draft process later this month. But if the NCAA board of directors passes a sweeping change to the draft policy when it meets April 28 in Indianapolis, this group will be the last of its kind.
If the ACC-sponsored policy that the legislative council passed earlier this week is endorsed by the board of directors, underclassmen in 2012 will have to decide whether they are in or out of the NBA draft by April 10, the day before the spring signing period next year.
This deadline will be independent of the NBA's early-entry deadline of April 24 (that date can fluctuate a few days each year) and of the league's withdrawal date of 10 days before the draft (this year, that's June 13).
The June deadline is essentially limited to international players these days. If the NCAA makes this change, the late-April one will be as well. (It should be noted that those dates could change whenever a new collective bargaining agreement is reached.)
Testing the NBA draft waters under NCAA rules has been a fluid process for years, with legislation changing constantly. The ACC proposed the current May 8 deadline with the hope of getting decisions done earlier so that coaches could still sign players in the spring recruiting period. Now they want it even earlier.
There have been so many tweaks to the draft legislation in the past 10 years that it's hard to keep up: from having the withdrawal date be in line with the NBA's in mid-June, to allowing NBA teams to pay for workouts for underclassmen, to not allowing that, to making it OK for the NBA to pick up the tab for the pre-draft workout camp in Chicago, to one season forbidding it, to going back to letting the league pay for it again.
Got all that? If you don't, you're not alone. It has been confusing for all involved, and the NCAA enforcement team has had to go through plenty of cases and asked for expense receipts year after year.
Opinions are mixed on this latest change by the NCAA membership.
"The new rule will take away any opportunity to test the NBA draft waters,'' said Connecticut assistant coach Kevin Ollie, a 13-year NBA veteran. "As a player, you must be sure your stock is high before you declare.''
[+] Enlarge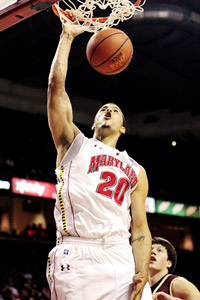 Jeff Fishbein/Icon SMIIf the proposed rule had been in place this year, players like Jordan Williams would've had to make a final choice by now.
"I just worry too many players will go in with the idea they're not sure,'' Maryland head coach Gary Williams said. "But every player thinks they can play their way into the draft if they're on the edge. For the basketball players, it's a little quick to make that decision, especially after the NCAA tournament. If you have a tough loss, it's not enough time to calm down and make a good decision.''
Williams said there was talk of this legislation at the ACC meetings two years ago, but now that it's on the doorstep, he thinks it will be met with resistance. Williams said he wasn't in favor at the time but didn't speak loudly on the subject.
"If you coach in the BCS leagues, you always know that it's a possibility that a player may leave or test,'' Williams said. "But you're not going to replace the player in the spring. I've lost players. Everyone has lost players.''
Maryland sophomore big man Jordan Williams is currently testing the waters without an agent.
Butler guard Shelvin Mack is testing the process this year, and former Butler small forward Gordon Hayward declared after two seasons last year. Bulldogs coach Brad Stevens said the rule would put an extra burden on the players.
"It would eliminate any true opportunity to test the waters and see where you stand," Stevens said. "It would be very hard for kids in that situation.''
The rationale from the ACC and the members is that NBA personnel directors and general managers spend countless hours and dollars traversing the globe and the country watching games and practices during the season, so why would they then need to watch more in the spring?
Well, for one, pro coaches rarely watch college basketball during the NBA regular season and aren't thinking about draft prospects. And during the brief "testing" process in late April and early May, if a team is in the playoffs, it would not focus on an underclassman who might not stay in the draft.
UCLA coach Ben Howland, who has lost a number of underclassmen to the draft and will lose two more this season in Malcolm Lee and Tyler Honeycutt, said it was a good idea to have one consistent date to enter the draft (much like college football has had).
Pitt coach Jamie Dixon said that having one early date and eliminating the testing process would make sense. Currently, a number of players work out in places like Las Vegas, Los Angeles, Florida and Chicago. Kansas freshman Josh Selby is currently in Vegas instead of tending to his second-semester classwork. He hasn't declared yet but has put himself into a position where he may not have a choice but to stay in the draft. This was also a contentious point a year ago when Mississippi State's Dee Bost worked out in Vegas. There were questions about who paid for the workout.
"This [new legislation] would take away the circus aspect of all of this,'' said Dixon, whose leading scorer, Ashton Gibbs, is going through the draft process this month. "It just takes away the speculation of who is in and who is out.''
A year ago, BYU's Jimmer Fredette had a handful of workouts during the 10-day window. He was told to go back to school and listened. But getting more than a few workouts during this tight period is generally unrealistic.
The rationale listed in the legislation -- that the change gives coaches a better idea of their roster for the coming year before the recruiting period is closed -- is a farce. Few coaches can replace a player who stays in the draft with someone comparable during the spring signing period on short notice. And if the school really wanted a high-level player still available, that school or coach would go after him well before the early-entry deadline.
Memphis coach Josh Pastner may have had the most astute comment on the pending legislation.
"We might as well do this if we're not going back to what it was [in June],'' Pastner said. "The May 8 deadline doesn't do anything. Players can't work out until they're done with classes, and that may not be until early May anyway. So if it's not going to be a date in June, then it might as well be in April.''
If the NCAA presidents sign off on the legislation, that's exactly what will happen. There will no longer be any testing of the waters. You will either be in or out in early April.