Larry Shyatt gets second shot at Wyoming
April, 26, 2011
04/26/11
6:46
PM ET
Who goes back to Wyoming if there is no tie to the state, the region or the school?
When has Wyoming ever been a destination job, rather than a step along a career path toward something grander, more mainstream or at the very least metropolitan?
Who does that? Who would go back?
Laramie, Wyo., is blustery. It can be downright frigid. The road from Fort Collins, Colo., can close down. Snow drifts can make it hard to distinguish road from shoulder.
"There are very few people who would do this that didn't have ties to this part of the country, people like myself," Wyoming athletic director Tom Burman said. "The weather is rough, and that's being polite."
But the university is still a drawing card. The fan base is still passionate about the Cowboys. Arena-Auditorium, the advantageous altitude and the rich basketball history are still worth promoting. Wyoming did win a national title, even if it was in 1943.
Not everyone understands that.
Larry Shyatt did, and does.
And that's why he's back, returning to the school where he earned Mountain West Coach of the Year while leading UW to the NIT in 1997-98.
"No coach in football or basketball has ever returned [to be head coach] at Wyoming," Shyatt said. "People always escape. I like the outdoors. I like small college towns -- Laramie; Clemson, S.C.; Gainesville, Fla. My wife, Pam, enjoys cool weather. She doesn't enjoy deep heat and humidity. I know everyone thinks coming back is odd."
[+] Enlarge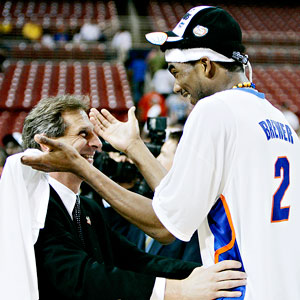 AP Photo/Jeff RobersonLarry Shyatt was a key component in Florida's back-to-back national titles in 2006 and '07.
The top assistant to Billy Donovan at Florida (where he helped the Gators to a pair of national titles) since 2004, Shyatt made the decision to leave his cushy job in the Sunshine State because of two reasons: Burman and a feeling that he cut out on Wyoming too soon.
In his first tenure with the team, Shyatt lasted one season. Burman's old boss, former AD Lee Moon, gave Shyatt his first head-coaching experience after 22 years as an assistant at Utah, Cleveland State, New Mexico, Providence and Clemson. And when Clemson called to offer Shyatt a head-coaching job and his top assistant and best friend in coaching, Scott Duncan, a spot on the bench, they both bolted for the ACC.
Shyatt lasted five seasons with the Tigers before being fired. Duncan cut out a few years earlier to go to Oregon as an assistant.
"I didn't like the way I left the first time," Shyatt said. "It was the right thing for my children. They wanted to go to Clemson. I wouldn't have changed it. But I can't say I felt good about it."
Nevertheless, Burman said the year Shyatt was head coach the Cowboys played with great passion and toughness that the fan base embraced, along with Shyatt's natural PR skills.
"He had an engaging personality that we needed then and we need it now," Burman said.
The fifth-year AD made the move to get rid of previous coach Heath Schroyer on Feb. 8, after four mostly mediocre seasons. In each of the last two years, Wyoming has finished 3-13 in the MWC and 10-21 overall.
"It was jointly made," Burman said. "He asked me, 'Am I going to get fired at the end of the year.' I said, 'Yes, unless there is a dramatic turnaround. We have to have a reason to sell to our fans.' He said, 'Then if that's the case, I want out.' I would probably have done it differently. I don't believe we gained anything to have seven weeks of games with an interim coach. [Assistant coach] Fred [Langley] did a good job of managing the program, but in hindsight I don't think I would have done it the same way."
Sophomores Desmar Jackson and Amath M'Baye left the team during the coaching change, and Burman said he wouldn't be surprised if the interim situation contributed to the team's two top scorers being wooed to leave.
As for the hiring, Burman wanted Shyatt from the beginning but wasn't sure he would or could get him. Shyatt wasn't going to talk to Wyoming until Florida lost in the postseason. The Gators reached the Elite Eight.
While Shyatt coached, Wyoming didn't want to wait and be held hostage.
"President [Tom] Buchanan wanted a comprehensive search and, at the end of the day, wanted something to compare to Larry," Burman said.
So the school hired Dan Parker's search firm. There were a number of inquiries made to see if head coaches who had no tie to Wyoming would want the job. None bit. The Cowboys made a serious push to lure Old Dominion's Blaine Taylor back to the region (he coached at Montana), but Taylor decided to stay put after the Cowboys flew East to talk to him.
Then, after Florida lost to Butler in the regional final, Burman and Buchanan met with Shyatt in Atlanta, where Parker's firm is based.
"I needed Larry to sell me and my boss," Burman said. "I needed to hear it from him, that he could sell me on what happened 13 years ago. It was important for President Buchanan to hear it from Larry."
He apparently liked what he heard, because Wyoming made a significant commitment, going from paying Schroyer $375,000 annually to just under $650,000 for Shyatt. The school also made sure the assistants were well-compensated.
Shyatt made sure Duncan was returning with him, too.
Not only did Shyatt leave a great situation at Florida to go to Wyoming, but Duncan put aside a secure deal at UCLA as Ben Howland's assistant to return to Laramie.
[+] Enlarge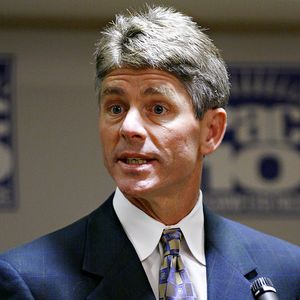 AP Photo/Danny MoloshokAs part of the move, Larry Shyatt was able to lure his pal, Scott Duncan (pictured), away from UCLA.
"Shyatt is my best friend," said the 55-year-old Duncan of Shyatt, who is five years his senior. "Not too many times in life can you share a last journey with your best friend. This could be a last challenge that we do together. Tom Burman is the other reason. He was our best friend when we were here. We thought in a coaching profession that hasn't been a lot of fun at times, this was a chance to have some fun. It was a no-brainer."
Duncan got the title of associate head coach and a multiyear deal. He's never been a head coach. There's always the chance he could succeed Shyatt long term.
A religious runner, Duncan has been at Oregon and UCLA most recently and now must adapt again to the weather in Wyoming.
"In honor of me, they built an indoor practice facility where Shyatt and I will run until May," Duncan said in jest.
Shyatt also got Wes Long to move from UCLA and assigned him as the director of player development and the strength and conditioning coach. Shyatt's son, Jeremy, who got his degree from Clemson in 2003, came over from North Florida and will serve as an assistant. So too will Allen Edwards, who was an assistant at Western Kentucky and played in three Final Fours at Kentucky in the '90s.
All of that sounds great, but before the return is romanticized too much, realize that Wyoming is in a serious down cycle.
As previously mentioned, the Cowboys have lost 42 games over the last two seasons, including a 6-26 record in the Mountain West. The top two scorers are gone. In the last 23 seasons, there's been exactly one NCAA tournament appearance (2002). Before that, Wyoming enjoyed plenty of success in the '80s (remember Fennis Dembo?) and since then there's been plenty of talent come through, such as Reginald Slater, Mo Alexander, Theo Ratliff, Ugo Udezue and Josh Davis. But not consistently. Not year after year.
And now, the league Shyatt returns to won't have historically dominant teams BYU and Utah anymore, as they will depart for the WCC and Pac-12, respectively. More changes are afoot with Boise State joining this season and Fresno State and Nevada in 2012, with TCU departing for the Big East.
"The geography hasn't changed about the job, but the rivalries have changed, and we're entering unfamiliar territory," Shyatt said.
San Diego State, New Mexico and UNLV are the new powers, with Colorado State on the rise.
Duncan said BYU and Utah leaving gives more hope to the rest of the league.
"I think it's realistic to compete for postseason play and compete in the upper half of the league and then every once in a while hang a banner," Burman said. "I'm not sure how often at this stage. We've got a ways to go and we recognize that. But with BYU and Utah leaving, it will be more balanced. Obviously, New Mexico, San Diego State and UNLV have done a great job. We have a better chance but we have a long way to go, no doubt about it."
Shyatt said he told the returning players he won't watch a single tape of their previous games. He said he's going to change the culture -- the catch phrase for every new coach. With a senior class that could be as crowded as seven this coming season, a major shift will occur with the program in terms of personnel. It will have to, if the Cowboys are to make a successful transition.
In the end, Wyoming ultimately got the one coach who will have passion for the job, a desire to fix what ails the program and a mission to leave more of a legacy than a one-year stopover can produce.
"They've been down, they were a last-place team and they've lost that love affair," Shyatt said of the fans and the program. "Everyone here was honest and open about where they're at now. I want to bring back that passion and fire and competitiveness. I wasn't going to just take another college job. It had to be for the right reasons. I loved working for Billy and [Florida AD] Jeremy Foley. But it was too easy. I had very little impact there. I can have a big impact here."