In celebration, UConn looks to the future
May, 17, 2011
05/17/11
10:23
PM ET
Editor's Note: To watch Andy Katz's White House interview with Jim Calhoun, click here.
WASHINGTON, D.C. -- The sun broke through just over the South Lawn of the White House amid a thick batch of humidity that had started to stifle the air Monday afternoon.
And as Connecticut coach Jim Calhoun made his way toward the presidential basketball court for a clinic with children from the D.C. school system, he couldn't resist talking on the phone to a recruit he hopes to sign up as a replacement for Jamal Coombs-McDaniel, who abruptly transferred earlier this month.
"I'm trying to fill that spot," Calhoun said.
A night earlier, while Calhoun was in a town car with his wife, Pat, after a function in New York City, he also was on the phone -- recruiting.
"I was talking the whole way back and she said, 'Is this when you're going to give me more time?' It really doesn't stop," said Calhoun, who turned 69 last week. "I don't mind recruiting. I certainly enjoy coaching. I just want to make sure everything is right at Connecticut so, when I do leave, that this ship is steady. So that when you say Indiana, Kentucky, and the great programs like Duke and North Carolina, you also say Connecticut. And you can say that the past 20 years that we have been. But I want to have this program so rock solid that it continues to win.
"I just want to make sure with my own situation that the program is in the best possible situation after 25 years of sweat and equity."
Calhoun has three more years on his contract that he signed a year ago. And if Monday's White House celebration of the 2011 national championship -- his and the program's third -- is any indication, he will continue to coach the Huskies for the foreseeable future.
But the visit to the White House also gave a hint as to what might be the succession plan.
[+] Enlarge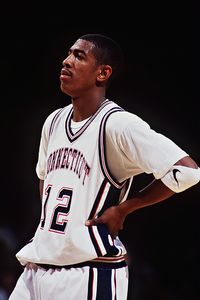 Todd Rosenberg/StringerFormer player Kevin Ollie might very well become Jim Calhoun's successor at UConn.
Assistant Kevin Ollie spoke to the D.C. children about his own personal story. Ollie came from South Central L.A., was not highly recruited, took a gamble and came across the country to Connecticut, went through the minor leagues of professional basketball, then spent 13 years in the NBA, playing for 11 teams and earning multiple millions.
He could have stayed in the front office with the Oklahoma City Thunder, but his wife, son and daughter had used Glastonbury, Conn., as a base since 1999, and the lure to go home was one of the tipping points in Ollie's taking Calhoun's offer to join the staff of his alma mater.
One year later, he was in the White House with the national champs, standing near Kemba Walker, with whom he worked throughout the season to elevate Walker's game to lottery-pick level.
"I should retire since I'm 1-for-1," Ollie said while standing in the East Wing. "The whole year has been great, working with the guards, working under Coach's tutelage, seeing how he micromanages things and on the basketball court and having a greater appreciation for what he does to get the team prepared."
Ollie's magnetic personality was clearly a draw for those at the highest level at UConn. New university president Susan Herbst has already built a strong relationship with Ollie, evident by their comfort level throughout the day at the White House. A few prominent boosters were also there, and their admiration for Ollie was easy to spot.
The season started with Calhoun in front of the NCAA committee on infractions. Penalties were handed down in February, including a three-game suspension for Calhoun to start Big East conference play in 2011-12 for failing to promote an atmosphere of compliance during the recruitment of former player Nate Miles.
The season then began with a Maui Invitational title and a 12-0 nonconference run (including a win at Texas) before an erratic Big East season ended with a 9-9 finish. All of that was wiped out, however, with 11 improbable wins -- five in five days at the Big East tournament and six more in the NCAA tournament, capped by a title win over Butler in Houston.
Calhoun said he had been on the road for 21 out of 25 previous days with various functions related to the title or recruiting.
Walker is gone to the NBA. Coombs-McDaniel is leaving in part because of an arrest for marijuana and ultimately because he wasn't happy that he wouldn't play in front of Roscoe Smith next season. Jeremy Lamb decided against the NBA draft after his freshman season. Shabazz Napier is back as the top defensive guard and will be joined by freshman Ryan Boatwright in the backcourt. Alex Oriakhi will be the enforcer inside, and there is hope that a trio of Michael Bradley, Tyler Olander and Niels Giffey can form a crew that will develop into a productive threesome up front.
And there is a clear shift in the staff that puts Calhoun even more at ease for the future. Andre LaFleur, who was at the White House on Monday, moved on to Ed Cooley's staff at Providence, allowing Calhoun to bump up Glen Miller. George Blaney is still the associate head coach to Calhoun, but the Ollie-Miller emphasis on the staff bodes well for the future, and another former UConn player will be added to the staff soon.
"Every day, it gets much stronger," Calhoun said about the succession plan. "With Susan [Herbst] coming aboard, I feel great about the future. We've been the leader of the Big East in practice facilities, the first team in the league to charter, and I want to make sure we get back to that. We are, winwise, but I want to make sure that we do a lot of things to continue to win. I'll feel comfortable. We've got a lot of good players in the program coming back.
"There aren't too many days when I don't have my mind on the program, asking George about the field in the Atlantis tournament [in November], should we play Kentucky in Madison Square Garden in the Big East-SEC again," Calhoun said of a possible matchup. "I know we'll have a good basketball team next year. The only team that has more coming back is Syracuse in the Big East. See? I have thought about this."
Three of the key returnees -- Oriakhi, Napier and Lamb -- spoke about learning to play without Walker as they were getting ready to exit the White House. They all said that the ceiling is going to be high again next season and said the right things about working hard and playing together to ensure the Huskies are right back in the national mix.
Calhoun doesn't doubt it, either. Neither does Ollie.
Both are in a good spot going forward.
"It's a good time for me right now to reflect," Calhoun said. "Listening to Kevin talk to those kids, it makes me even more reassured that we have the right guys in the program."